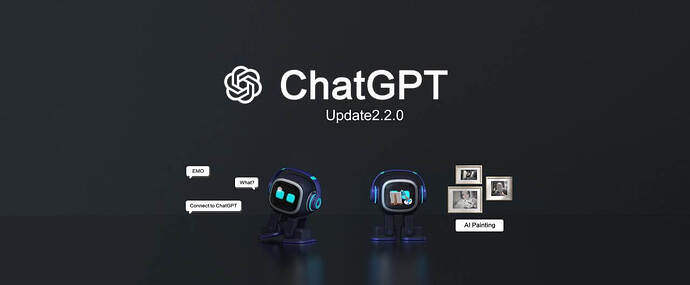 Hello everyone,
After beta testing, we are very happy to let you know that with update 2.2.0, now everyone can try ChatGPT integration and AI Painting feature!
Date: 2023/04/27
EMO firmware: v2.2.0
APP on iOS: 2.2.0
APP on Android: 2.2.0
Top tips you need to know about this update:
Your EMO needs to be updated to a pre-version 2.2.pre first, then to 2.2.0;
Please update the EMO Pet app to the latest version 2.2.0 first. Older apps may not display available EMO updates;
In order to reduce the pressure on the server, we will gradually open the update to all EMOs. So if you can't update your EMO at the moment please don't worry and please be patient. Thank you for your understanding;
If your EMO has not been updated to version 2.1 before, please don't worry, your EMO will have all the features of version 2.1 after updating to version 2.2.0. (Click here to know more about new features in update 2.1).
What's new in update 2.2.0:
(Click here to watch videos.)
ChatGPT: The voice command is "connect to ChatGPT" or "connect to OpenAI". Please note:
You can speak after EMO play the "di li" sound.

We have limited the length of EMO's replies.

EMO will exit this mode after you stop chatting.
AI painting: You can ask EMO to draw a picture of you in anime style. You can choose voice commands from the followings:
"anime woman" or "please draw me as an anime woman"

"anime boy" or "please draw me as an anime boy"

"anime girl" or "please draw me as an anime girl"

"anime man" or "please draw me as an anime man"
Note: ChatGPT and AI Painting were not originally in our update route, but we thought they were interesting and a lot of people wanted to try it, so we included them in 2.2.0.
Please understand that the service may be unstable, but we will fix issues as soon as they arise.
Also, since 2.1.0 was suspended shortly after its release, features from it are now also included in 2.2.0. So don't forget to check out the features of 2.1.0.