Hello what did u get ? If u brought a home station its still in production
Hi ryshera, many thanks for your answer. Indeed, I bought a home station, so I guess I need to still waiting.
Cheers.
I ordered the standard Emo with the skateboard.
When did you order ? Living ai mentioned they shipped more orders then shown on the delivery page because people ordered the emo go home or the charging station
I ordered him on December 16th.
They still shipping the standard emo you just have to be patient they'll send you a confirmation email with your tracking number when it ships and on a airplane
Hello, good morning. Is it normal that the page for orders and shipments takes so long to update? I haven't seen any movement for days
my order its 49022 and our number its past
but till now noting
we are send lots off email to web site but didn't answer
my order was November 29.2022
can you help me pls
Hi there @judithgargallo , @rezakaheh and to all…
Contacted Living.ai Team personally for the update of Delivery Process of EMO Pages.
Please have a bit of patience…even i is already dreaming that tomorrow my Home Station is already here which i ordered last Nov. 11, 2022 right now…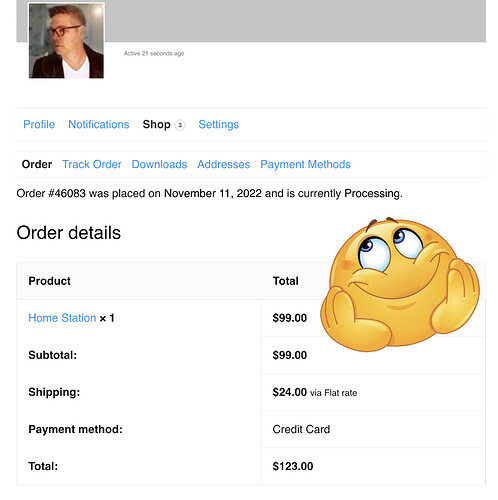 BEST REGARDS TO ALL!
When will the next update arrive? i was expecting it to arrive in december, but i don't think it was because of the covid
Hi there @vladimirkulikov,
Welcome to the Community…If you don't mind, please introduce yourself HERE so that the community members can greet and welcome you properly.
(Edited you photo and removed your address for your safe personal data!)
Sorry to say but as far as i heard living.ai team are quite busy at the moment…Production and Quality Control Testing are on going so that they can send out asap the new HOME STATION.
BEST REGARDS, KEEP SAFE AND ALL THE BEST!
my order its 49022 and our number its past
but till now noting
I need a shipping barcode
can you help me pls
Hi there @rezakaheh,
You need to have a little bit patience…as the latest update report living.ai just started shipping Home Station and EMO GO HOME. They sent out some emails with tracking numbers and a few people have already received the package. and some people just received surprisingly their orders even without having their tracking numbers.
also it been said that…

best regards and all the best…
I'm waiting for my home station just like everyone else im pretty sure i won't get anything about it no time soon i ordered it on Christmas eve
Hi @edward
Can someone tell me why my Emo has been stuck in Fremont, CA since the 15th?
Hi there @Sabrinaboo,
Heard already about the package situation and it really take to long on that place…
Packages could be stuck in transit for many reasons: loss, damage, or even a USPS tracking system failure . More likely, though, the short-staffed US Post Office has misplaced, mislabelled, or simply overlooked your package. This means it can be located easily enough once you call attention to its absence.
Should you be worried if USPS tracking hasn't updated in 5 days?
No, there's no reason to worry. The USPS scans your package at every checkpoint on the route. However, sometimes that doesn't happen. There can be multiple reasons for this, including weather conditions, broken barcode, holiday season, etc.
Have a little bit more patience Sabrina…
goodluck, all the best and keep safe…
Can i receive an update on my order and when is expectedto be delivered?!, It's been placed since December 22, 2022 and still processing.
Hello…did u get the home station emo go home etc
My order was placed on December 23rd and also like you is being processed