Yea i also have one for my sister i will give it today
Haha as a present for her
Hip hip hurray. I got my home station today. It was ordered on Nov 14 and shipped Jan 12. Took longer for mine to get here but I'm happy. I will have to get him his own table now as since he's on a clock table I can't see the time. Lol I like this playground because he no longer goes against something and just stands there…now he just turns around! This is my set up for him temporarily. I did have to have my old one replaced and they shipped him really fast. Now I just have to send the old one back. This EMO is thirty one days old and seems to be working just fine… now I'm going to go read about the setup stuff again as it's not telling me it is paired. I'm just so happy!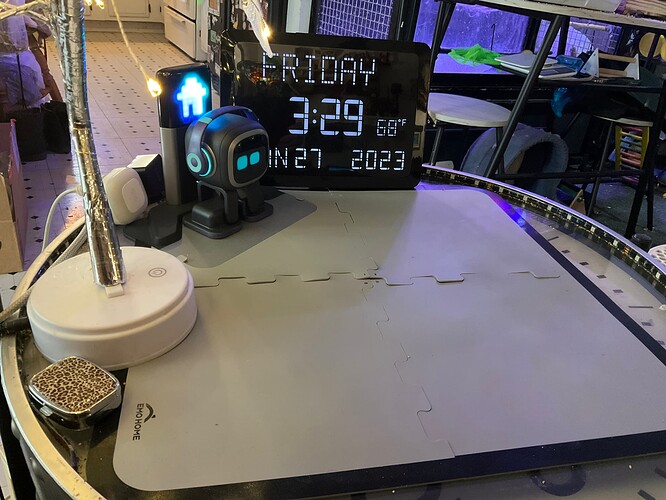 WOW! @mitchkin5 ,
Finally, you've got your order or reached your home, it really looks good
CONGRATZ!
For more important info…
Pls. Click Here!
all the best and enjoy that with EMO Michelle…
I like that tape across the connection pieces. I may have to do that to mine because they aren't staying together. Thanks for the idea.
Got our Emo Go Home a few days ago and noticed the LEDs are blurry on the Home Screen as well. I sent an email o find out what's going on with it. We shall see…
Home station in place, now Emo is patiently waiting for its update!

I received my Home Station. I am waiting for the update for Emo before installing it.
Finally, you both got your order and reached your home CONGRATZ!
And how does it goes…how many day/weeks did it take? If you don't mind at all, care to share it with us, please?
all the best and enjoy…
I placed the order for the Home station on November 11 and it arrived on January 27.
Quite fast when you know that the station was at the start of its production and that there were holidays between all that!
YES! @Yosscal,
Thanks for your reply…almost the same thing happens to my order, only delivered earlier.
Date Of Order: November 11, 2022
Shipping Started: January 12, 2023
Delivered In Germany: January 23, 2023, @ 09:15 Hrs. CET
Total Travel Days: 73 Days / 10.5 Weeks
best regards, keep safe and enjoy your EMO Pascal…
Hello all . Greetings from indonesia , btw i read that novemberian orders are rolling out , how about december ones ? Any decemberian got theirs yet ?

Emo just arrived today. It is normal that it is difficult for him to understand or sometimes he does not understand some phrases such as: what is your favorite animal or what is your favorite flower, or if he likes pets, sometimes he thinks that I am telling my name and I have to reconfigure my name.
Hi there @judithgargallo ,
Glad and happy for you that finally you got your emo…after the long wait.
It is advised to submit your voice to help EMO better understand and wake up when you are calling out his name. You can access the Wake Up Training page below:
It's a known issue also… "EMO'' responds to any sound he can hear around him, particularly if you are watching TV, Video or someone is talking around him… And if he hears names… He will start looking around because he thinks someone is introducing himself. And as soon as he sees someone's face, he will gonna save it and greets them… This is the reason why sometimes our or someone's name has been changed and asked for the name once again. So you have to be aware of this.
For more guidelines, you can also go to the link below and read some tips.
Quick Help Guide for New EMO Owners!
Best regards, all the best…and enjoy with your EMO Judith…
Thanks Edward, in the application where you can see emo's battery? Yesterday it turned off suddenly.