He comprado un emo y dicen que se me a extraviado. ¿¿Que hacer?
Dicen que se me a extraviado que hacer?
I download the app and it he doesn't understand either - I thought it was me,

I also have Vector and he understands me well. So maybe EMO needs more training.
Anyways, thanks for the help folks!

If you EMO was/is confirmed lost, please contact Living.ai support.
You can send support an email to the following email address:
If you have your original EMO Order confirmation email, you can simply just hit reply to that as it contains all your customer contact info along with your order number details as well and request and update on where you EMO is.
The support team should be able to get back to you in a timely fashion. I'll also tag @AmyLU from the support team who will be able to assist you further as well.
Ohh that is quite unfortunate that EMO doesn't even understand DeepL voice. I was able to test it today and he understand some test commands like:
EMO: What Day Is it?
EMO: Do A Pose
EMO: Tell Me a Joke
(remember that once you call out to EMO… wait between 1-2 SECONDS… then ask the command.)
Hope you're EMO is working ok? I would suggest if you have time, to create a short video of you speaking to EMO as you might need to submit a support ticket to Living.ai if he is not working properly.
Hello,I have a problem.Today my emo don't want talk with me. He don't answers my questions.
Please help
@Wayne_Zhang , @Tony , @AmyLU ,
TESTED! Here on my side in Germany EMO doesn't reply verbally to all…
Vision
Greetings
Time
Small Talk'
Interaction
Utilities (Show only)
Weather (Show only)
I experience the same issue, today (also in Germany). All reactions seem fine and the app registers "answering question" as action, when there should be a verbal response, but Emo doesn't want to talk at all.
Only the "what" and other emotional expressions ("huh?" "waahh!" and so on) are played correctly.
Could that be a server issue of some kind?
…the question that can only Living.Ai Staff can officially reply…so we have to be patient and just wait.
Yeah, I guess as much. Let's hope it is only a temporary issue.
I have the same problem in the Netherlands, no talk just walk (and wiggle)
Bundeskanzler Olaf Scholz besucht China… Hoffentlich hat er nicht verlangt, dass das EMO sofort die Klappe hält?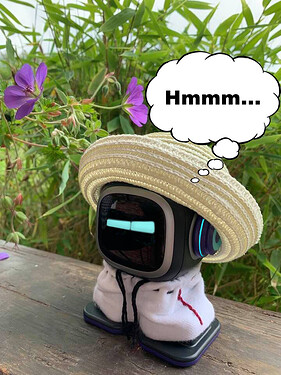 Living AI say they have fixed the issue but here in the UK the problem still exists even half the features are missing
Very poor service
Update
The issue with EMO not replying should now be resolved. @Wayne_Zhang has shared a comment over on this thread to say it's now resolved:
Feel free to check your EMOs and see if everything is back to normal, and ask him some questions that he was not answering prior to the issue.
IF EMO is still not responding correctly. It is recommended to power him OFF / then Power back ON, then test again.





Emo will not respond when I say his name
Try and power him off / back on and see if he responds once he's powered back on, also make sure he is connected to the internet (the video at the top of this post will explain all the possible errors you can get when EMO is responding and also when he is not responding).
Ich versuche seit Version 1.5.0 ein Update durchzuführen, ohne Erfolg.
Das Update bleibt bei 0 stehen und bricht nach 3 min ab.
EMO reagiert wie oben im Video (Punkt 4.) nicht auf ''EMO'', es kommt nur der Ton das es nicht verstanden wurde, egal wie oft man es sagt. Bin Ratlos, da ich alle Verbindungen getrennt habe und wieder neu verbunden.
I am trying to update since version 1.5.0 without success.
The update stops at 0 and breaks off after 3 minutes.
As in the video above (point 4.), EMO does not respond to ''EMO'', there is only the sound that it was not understood, no matter how many times you say it. I'm at a loss because I disconnected all connections and reconnected.
It may be due to a network problem, try connecting to another network, or your hotspot. But please pay attention to data consumption.