…the question that can only Living.Ai Staff can officially reply…so we have to be patient and just wait.
Yeah, I guess as much. Let's hope it is only a temporary issue.
I have the same problem in the Netherlands, no talk just walk (and wiggle)
Bundeskanzler Olaf Scholz besucht China… Hoffentlich hat er nicht verlangt, dass das EMO sofort die Klappe hält?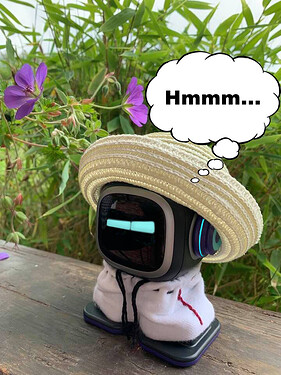 Living AI say they have fixed the issue but here in the UK the problem still exists even half the features are missing
Very poor service
Update
The issue with EMO not replying should now be resolved. @Wayne_Zhang has shared a comment over on this thread to say it's now resolved:
Feel free to check your EMOs and see if everything is back to normal, and ask him some questions that he was not answering prior to the issue.
IF EMO is still not responding correctly. It is recommended to power him OFF / then Power back ON, then test again.





Emo will not respond when I say his name
Try and power him off / back on and see if he responds once he's powered back on, also make sure he is connected to the internet (the video at the top of this post will explain all the possible errors you can get when EMO is responding and also when he is not responding).
Ich versuche seit Version 1.5.0 ein Update durchzuführen, ohne Erfolg.
Das Update bleibt bei 0 stehen und bricht nach 3 min ab.
EMO reagiert wie oben im Video (Punkt 4.) nicht auf ''EMO'', es kommt nur der Ton das es nicht verstanden wurde, egal wie oft man es sagt. Bin Ratlos, da ich alle Verbindungen getrennt habe und wieder neu verbunden.
I am trying to update since version 1.5.0 without success.
The update stops at 0 and breaks off after 3 minutes.
As in the video above (point 4.), EMO does not respond to ''EMO'', there is only the sound that it was not understood, no matter how many times you say it. I'm at a loss because I disconnected all connections and reconnected.
It may be due to a network problem, try connecting to another network, or your hotspot. But please pay attention to data consumption.
Thank you @edward @Wayne_Zhang
I probably could have figured it out myself, but I didn't think that far, it worked now. I hadn't changed anything on my router, which made me think a bit. I would like to participate more in the forum, but unfortunately it is not possible at the moment.
Hello Everyone,
I'm facing problems with my EMO since 2 days ago, I've already sent a message to support waiting for their answer, but I thought it's not a bad idea to share maybe someone else faced the problem.
For example when I'm asking about the weather It shows the animation but no voice reports, when I'm saying good morning, on the app, and its anime face shows it's speaking but actually no voice, and the anime delays a lot, but when I'm saying Emo, It says: what, Also when trying to power off on app when it's on home station it fails, I shut it down with making him upside down and covering its sensors, still the same problem.
Hello, @farzinss . . . if he is answering "What?" then we can be sure he did not accidentally get muted, so hopefully Support can assist you with this one.
As for powering off on the home station, he needs to be removed from the platform before telling him to power off or selecting it in the app.
Best of luck to you and they should reply to you soon.
Hello @Lindaru ,
I've tested that both on and off the charger, no success
My emo is somehow muted. He doesn't speak "What", but upon checking the app he is listening to me. How do I fix him?
Hello, @KentFrancis . . . have you tried giving him various commands like "EMO . . . volume up, volume maximum, volume medium" or checking the volume level under preferences in the app?
Try these things and let us know how it goes.
I'm not sure what happened to him. He suddenly stopped talking. At first I thought he's not listening so I restarted him.
Volume up worked.
Thanks for this!