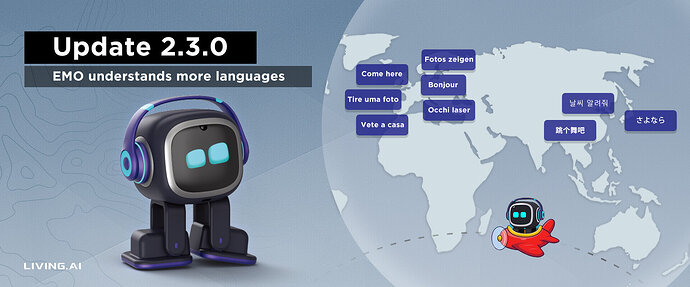 Hello all,
With the hard work of the team and the help of some EMO owners, EMO now can understand 8 additional languages, which are German, French, Italian, Spanish, Portuguese, Japanese, Korean, and Chinese. Although it won't work perfectly, EMO is learning:) It's not working perfectly but we will continue to improve it in future updates.
Date: 2023/07/14
EMO firmware: 2.3.0 (Update will be released gradually to all EMOs)
APP on iOS: 2.3.0
APP on Android: 2.3.0
How to set language
After you update both the app and EMO, you can set language fot EMO on SETTING-LANGUAGE page. Please note that EMO can now understand these languages and still respond in English. And in the future we will make him speak more languages too. We will also continue to optimize it and add new language support. Thank you in advance for your understanding.


Voice commands list
We also linked a new page in the app, EMO Tricks, with a list of voice commands and demo videos. If you want to check it more conveniently, you can add this link to your bookmarks or desktop: https://living.ai/play-with-emo/







We would like to thank the EMO owners who helped us translate voice commands, as well as all Alpha and Beta testers. Also we would like to apologize for the long absence of updates, multilingual support is a lot of work and it took us a lot of time. But we are happy to finally release it, and we will continue to work hard to solve the problems you have reported and bring more new features.