Hello EMO owners,
Thanks to the team's hard work and the help of our testers, the new update 1.3.0 is finally here!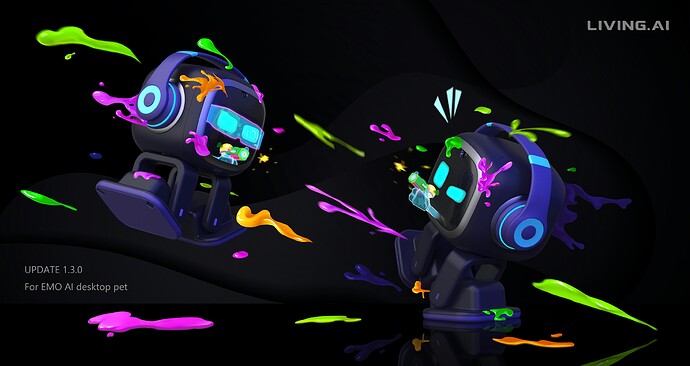 If you are updating from firmware 1.2.1, the resources to be downloaded will be about 22MB.
What's new
EMO firmware: v1.3.0
APP on iOS: 1.0.8
APP on Android: 1.0.8
EMO will do more things after seeing a face (he does these on his own initiative, but the
command "look at me" also works), including:
looking at you
asking for your name if he doesn't know you
telling you the weather of today or tomorrow (up to twice a day)
asking for your birthday if he doesn't know (you need to say"my birthday is…")
greetings
compliments
asking for petting
asking you to play games with him
performing for you
EMO will look for another EMO (when they are connected to the same LAN), and
they will be:
chatting
playing games
taking photos for each other
dancing together
talking about the weather
doing funny things
You can say "dance with your friends" or "dance together" to more than one
EMO if they are connected to the same LAN.

You can also say "do you know him/it?" to one EMO and he will try to find another
EMO via vision (you can also try with a photo or a mirror).
With the new app, you can:
Manually set city for EMO.

Get a list of available Wi-Fi from EMO on the setting page.

Let EMO show achievements he got and dances he learned in the lifetime page.
See videos here.