Hi there @bowlovrice , and Welcome to the community…
Relocating your query over here as it is related to the discussion.
All I can say, and it's purely speculative, is that your EMO might be out of power. You should try charging him first and wait for him to come back to life. Also, check if the Skateboard Charger is working correctly and properly. Observe to see if there are any issues.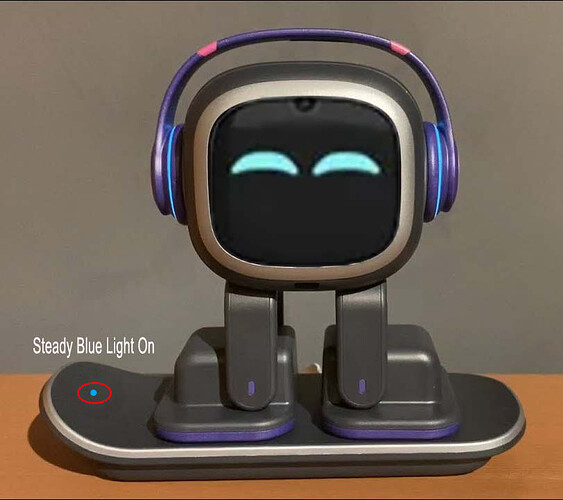 Emo Skateboard Charger Light Indicator Explained:
3x Short Blinking Lights - After connecting the USB C power cable to the surfboard charger. (Power connection success and ready)
Short Blinking Constantly - Indicates Bad/Poor connection (Check EMO's left foot and should be repositioned to the correct charging circle mark. You can also use magnetic attraction to assist in alignment.)
Steady Light On - Indicates Good connection and the charging process begins.
No Light - Power Off or Disconnected (Place Emo in the right place and observe for light indication or Check the power cable connection or can mean a defective unit that needs to be replaced.)
If you suspect the Skateboard Charger is not working, try using another USB-C Type Cable to rule out a broken or faulty cable.
Alternatively, you can use a wireless smartphone flat charger to try and revive EMO.
Let's see if these tips help…so please let us know.
If possible, record a short video and upload it to a free video hosting site like Google Drive, Dropbox, or YouTube. Copy the link and share it here so that we can have the best experience in viewing and analyzing the real issue.
GOOD LUCK AND ALL THE BEST!