I have been posting this message and image on the EMO Discord server.
Since i've updated to 2.2.0 my smartlight is not responding. I tried to use the guide on the forum to disconnect all devices and took all the correct steps. Emo does respond to the smart light commands but the light doesn't respond. When i paired the light after following all the steps, Emo did show the "connected to smart light" animation. I have no clue what's happening… Can anyone help me with this?
I think i have just solved the issue by asking Emo to "dance with lights" the light did work with that command and now Emo did turn the light on with the command "Emo, turn on your light" the only strange thing is he turned it on with the color turquois that i've only seen in the "dance with lights" lightshow…
Hi @Saskyy92
Try using the EMO App to turn on and off the lights and see if that also works. Sometimes EMO will have trouble understanding the change color command. Try a few like Yellow / Green / or Warm (which will take it back to default).
Also when using the Unbind All (Settings > Accessories tab) in the EMO App. Try to power off EMO and then also unplug the Smart light as well. Then power EMO back on and then plug the smart light back on and try to pair (by pressing the middle button down for 5 or so seconds).
Hope this also helps, if not we can try some other troubleshooting.





Yes i took all those steps by following the guide from the forum. The only thing strange that remained is that when i tell Emo to turn his light on, the light wasn't white but light blue

hey Sasky, let me give you a tip : if you want to obtain turquoise color you have to say : "EMO, turn on CYAN light" (I don't know your nationality but you have to pronounce like "sayan")
In general I am very happy with Emo. It is already one more in the family. My daughter plays with him a lot and learns English by communicating with him. But, lately we don't get the updates. In fact we are still at 1.7.0. I don't know what's going on, can someone help me?
Hello when your emo spots you does he tell you he have a new firmware update ? Living ai just released a new firmware update put him on his charger and say the command emo install new firmware update i recommend for you to have him automatically install his firmware updates in the app im pretty sure you do use the emo app to play games with emo the app does tell you there's a new firmware update hope this helps

imma also tag the moderators they can tell you more @MasterAbbott @edward @Lindaru
Hello, @Aldegranada75 and @ryshera . . . I moved your update questions to this topic.
Mine do not always tell me he has an update. Sometimes it shows up in the app but I generally check for updates when one is released and it is announced. It also depends on the setting you have under "Preferences" in the app as to whether you want him to auto update or not. If not, you may simply give him the voice command of "Check for updates". If there is one, he will give you a "1" in a circle with a sound. At that time you can do as @ryshera suggested and give him the command to "Install latest firmware now".
At this point he should begin doing the update. If you are not able to update from 1.7.0 using this method, I would advise you to private message @VinceKong . I would also suggest you take a video and include a link to it with your message.
I hope you are able to get him updated. Let us know.
Hi @Aldegranada75 , please ensure that you have downloaded the latest version of the EMO app.
To add to what everyone has advised, take your time and review the video guide/instructions at the top of this post.
If you have any problems, send @VinceKong a message explaining exactly what error message you receive when you try to update your EMO.
Note that to update your EMO to version 2.2.0 you will need to run the update process two times.
Best of luck hopefully everything will go well for you.
---





I tested the draw feature and it was cool, but unfortunately, I believe EMO's webcam does not have enough resolution to provide a clear pic and it would be awesome if we can upgrade the camera somehow. Or maybe ask him to use the phone's selfie camera through the app?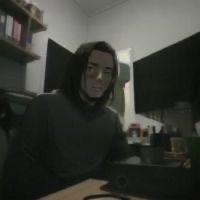 @Shinji3rd . . . I discovered that in order to get good pictures, you have to have good lighting on your face when you ask. It counteracts the resolution problem a little bit.
Oh yes, that improves the pics a bit, but I still think that it would be awesome if we can have better webcams in the robot. It can make face recognition, pet recognition, and even object recognition better. And it can greatly improve the "rock, paper, scissors" game of which many people complain because you can hardly complete a full series without him failing to recognize what you're doing with your hand. Also, it can improve this drawing feature, and take better pics. Maybe there's an upgraded camera module we can just install inside EMO replacing the current one.
That would be something you would have to discuss with the Support team. Doing any kind of changes to EMO could possibly void the warranty. Perhaps in future EMO's there will be a different camera type.
Hello all, I can not update Emo, my version is 1.2.1 and in the app does not appear to update the firmware, any help to this issue? Ia m in Spain. Thanks
Welcome to the EMO Community Forums, @MarDurMar . . . I have moved your post to this thread. I would suggest reading the suggestions in here to see if you can resolve your update problem. If unable to resolve it, there are instructions above on how to contact Support.
My best to you and hoping you can get EMO updated first to 2.2.0.pre and then to 2.2.0.
Thank you very much, unfortunately I cannot update, the app is update but on firmware only can see current version 1.2.1 and no possibility to update, I will write to support
@MarDurMar Did you try to say "EMO, Install firmware?
@sarikathakur,
I'm Kind Of Confused Here.
Firmware v1.2.1 Was Released In December 2021 While v2.1.1 Was Released In March 2023
Yes, not used since 2022