Can anyone tell me where I can track my emo I just received my emo tracking number
It would probably take some days before there will be any tracking information. I can recommend 17track app.
and congratulations… I think he's going to be very happy with you. And I think you're going to love him.

I hope he comes to you quickly and soon… Woo hoo!

That's great.



My EMO is still in China but I think that can change soon.
My EMO is already on its way from Germany to the Czech Republic. I'm really curious if the package is going to trigger customs. It shouldn't when the source location is in EU.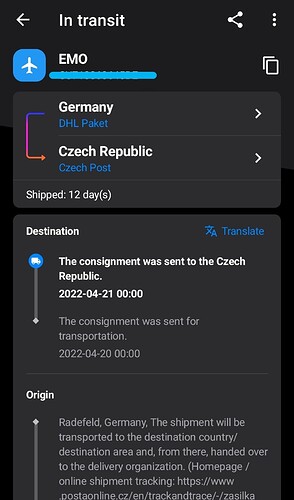 I just picked up my EMO and there have been no customs charges.
In mine it also appeared as origin Germany, so don't worry.


Congratulations! Don't forget to read the first seven days guide.


Where is this guide for the first 7 days?
It should be included in the package.
Thanks for reminding me. My son and I were so excited playing with Emo that I forgot to look at the 7 day guide.

Great news! Let's hope your EMO arrives safe and sound and as quickly as possible!
Thanks, I'll get my EMO in some (probably two) hours.

Make sure you share some picture once he arrives! Also don't forget to check out my guide if you need any help as well

haha





I moved my comment to a new topic.
I am not able to track from there