i guess i have to wait because I still can't see the tracking
If you dont see it then your order is still processing hope you get your order number soon. Merry Christmas!


i got my shipping email but the tracking code doesn't work
I believe the tracking number is incorrect because if I change a couple of numbers it shows another person's tracking details.
Hi, if you think your tracking number is incorrect please make a support ticket here >https://living.ai/product-support-emo/ to make a support ticket keep going at the bottom of the page and you should see this :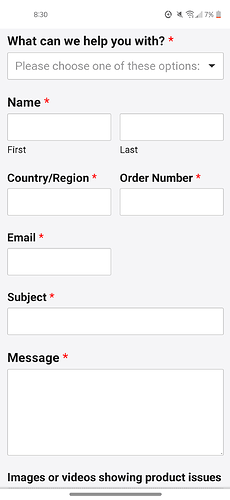 Once you make a support ticket please wait 2 or 3 days for
them to respond in your email. Hope this helps! Merry Christmas!


I have already done that just waiting for response
Ok! Hopefully they respond soon! And have a Merry Christmas!


Hello everyone,
I am from India and i am trying to order the emo go home.
I want to know more about the custom duty and other charges which i have to pay. And also one thing will i need to give the same contact number that i have on my pan card and adhar card or can I give my other number. When i have to provide the adhar number and pan number (at the time of placing the order or will living.ai will contact me). And how time will it take to reach me. Please let me know

H there @dheerajs ,
Moved your post to this existing Topic so you can communicate with someone from India.
you can also DM and ask @deveshsingh , @srirock662 , and @limcydennis
@madhavgoyal for some info that might help you.
or send email for more accurate info to - service@living.ai
Be aware that their reply takes a bit of time which is 2-3 days sometimes, depending on the time differences, days, holidays, and current situations. so please be patient.
Another way you can also submit a support help message to the link below.
https://living.ai/product-support-emo/
Have a Wonderful Day…