I just order the home station and emo combo today… and idea how long i gotta wait? Thank you!
Hi there @alfuture, Welcome to the Community…
Living.ai last information said they are currently doing their final testing for Home Station and preparing all materials needed for production. Production and shipment of Home Station will begin as soon as preparations are complete. They are also designing and developing more interesting features related to Home Station.
They will keep us updated with the latest production and shipments. So i guess still no one knows, that's why all we have to do is keep patient and wait…
BEST REGARDS, HAPPY, SAFE AND HEALTHY NEW YEAR!
Hi all, I have ordered emo in combo with home station I think the same day as it was introduced. I am just wondering, since the counter on the delivery page doesn't contain ordera with a home station, will there be second countr when the shipping starts? Thank you and wish you all the best to the new year!!
Hi there @DuffyManCZ , Thanks for joining us here and Welcome to the Community…
Please scroll above to read my latest actual information or CLICK HERE!
ALL THE BEST AND GOODLUCK TO THE NEW YEAR 2023
My Emo is throwing himself off his skateboard, i understood that they couldnt get down from it without help. I am using a temporary space with 1 inch high edge all the way round, hes also fallen over this, so im now worried the play area that comes free with the go home charger wont keep him inside the boundary and he may fall off a table. Id anyone else experiencing these issues?
As far as I know, it will soon be the Chinese year, and if the home station has not been produced before January 20, then it is very likely that the home station and emo gohome will not be updated in February, but I hope that the home station orders purchased in November will be shipped before January 20th
When i ordered i believed they were ready to ship, there was nothing suggested in the facebook post advertising them to say they hadnt been developed,beyond a proto type & signed off ready for purchase let alone dispatch. This i found frustrating as i was one of the 1st to order the go home, believing it would be here for xmas as a gift. This order also included the cow outfit i purchased which should have been shipped separately but hasnt.
Hello, Have the emo go home you purchased started shipping? I was also one of the first users to buy, but I don't have an order number yet.
Hello are you with the team over at living AI?
He a moderater for the forums

Production of the Home Station has already begun, and we will announce when we have a more accurate delivery time. I hope that no more problems will be encountered during the production process.

This is very good news and I hope to receive the tracking number soon
I have ordered the Upgrade to Christmas Kit with the emo go home.
Is the planning that still that er delivered with it?
Yes, as long as you ordered, we will deliver it.
Hi there @CHUA_SOOK_YONG , Welcome to the Community…
Thanks for joining us…
Best regards and Keep Safe!
HOME STATION/EMO GO HOME
Production Latest Update Info:
Tuesday, 03, Jan. 2023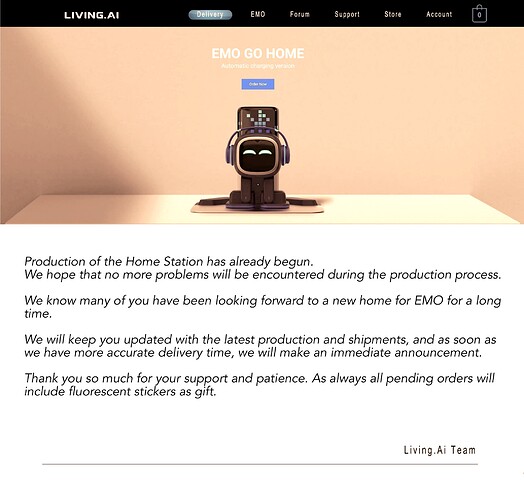 Hey all… new guy here. Please be gentle… ordered a month ago so I bet mines coming soon. My order number precedes the current showing so I assume… ha assumptions lol
Anyone know how these guys work? I'm also in the uk, what shopping currier do they use??
Thanks
C😎
Hi there @chew, Welcome to the Community…
Every order will be shipped according to the order number which can be found on the
Delivery Process Page .
On average, it should take anywhere between 4-6 weeks for EMO underway or an additional 1-2 weeks for delivery., of course, it all depends also, on how reliable your country and local postal service/courier service is.
As far as I know UK package will be delivered by Royal Mail.
In the meantime suggesting to visit the Topic below for…
Quick Help Guide for new EMO owners!
Best Regards and Stay Safe…
thanks for the quick response @edward. really appreciate it. this will be my first proper companion. can wait to see how he behaves… owned several spheros for the last 10 years so lets say im kinda excited
thank you
c😎