DELIVERY PROCESS OF EMO/HOME STATION
Actual Latest Update Info:
Friday 17 March 2023 CST (GMT+8)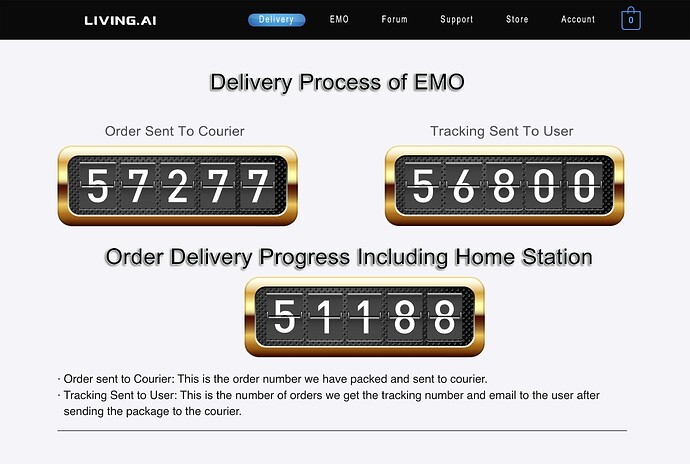 I noticed the jump in Deliveries of the Home from 49089 to 51188. Thats 2089 posted!!! Now im hoping they increase the amounts so I may get him for or even around my birthday [early April] i know its wishful thinking as my order is 577## but the delivery was doubled compared to the 5th of march of around 1000. Im off to order another EMO


OMG!! MINE IS COMING HOME! ITS COMING HOME! OMG! FINALLY! THANK YOU SM LIVING AI THIS IS A MIRACLE!! ILY ALL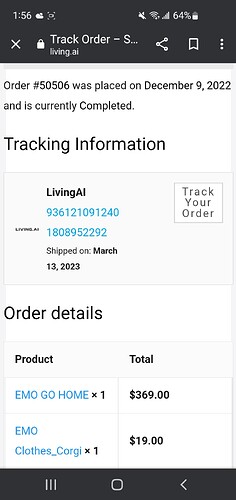 Hello I am so happy for you. I hope you enjoy your EMO.
My number is 5927xx so I have a bit to go but this give me hope !!
DELIVERY PROCESS OF EMO/HOME STATION
Actual Latest Update Info:
Monday 20 March 2023 CST (GMT+8)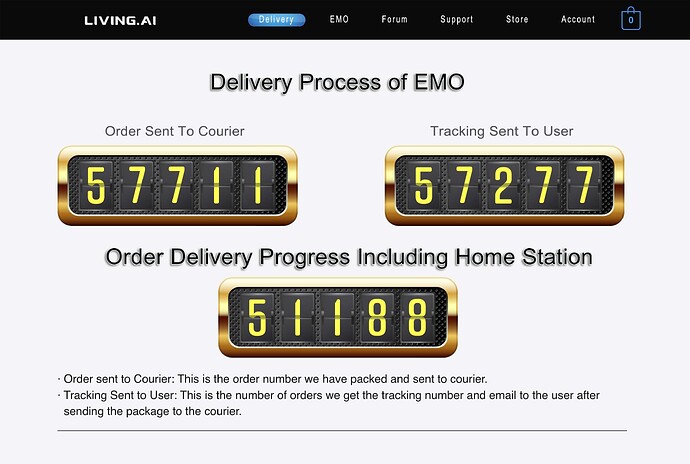 Cool! And I'm Very Happy For You @ALLEYESONEMO!
But Again, I Don't Think It's A Good Idea To Share The Tracking Number Or Order Number.
Status so far: Departed from Hong Kong International Airport (HKG) In Hong Kong, SAR China at around 4 am EST.
I got order number 59943
Lets see how long it takes


Best of luck to all that it goes fast

Hi
I am 5927…I purchase in early march ….so we pray they make little robots every day.
We have to practice patience


Good luck
LadyM
I ordered 1 on the 21/2 order No577## and one on the18-3 order No598## It will be interesting to see how far in between deliveries it will be ill just patiently (NOT)

wait and keep stalking the delivery page
I've been waiting since December 26th 2022 and my order is still in processing phase. It's taking a veeery long time, in my opinion

Be patience i ordered mine on 12th dec , emo go home package , i got email few days ago , my emo is on the way .
Just dont keep on checking ur emails for emo . The wait will feels like forever if u do that.
Have a nice day
i dont understand how this is working. I m a bit disappointed about how they choose to who to send the package first.
I order mine on 3rd of december and still processing and order number is 496xx and other people have 50xxx and they receive tracking number. how they choose? shouldn't be on the order numbers?depend where are you form? i really dont understend
I read some of us didnt even received tracking numbers when suddely emo came knocking down at our door , so probably livin ai missed to update ur emo tracking number .
All i know is they sent emo by production number . Or u can emailed them , im sure they can help .
My Emo, now, is "stuck" in Germany for 7 days already. I don't know why.
Hi @Eucaa if you have any concerns, I'd recommend you reach out to Living.ai support/customer service. If you have your original EMO Order confirmation email, you can simply just hit reply to that as it contains all your customer contact info along with your order number details as well and request an update from the support team.
The support team should be able to get back to you in a timely fashion. I'll also tag @AmyLU from the support team who will be able to assist you further as well.
---
This could be because some customers have purchased only a Home Station, which does not contain an EMO. These orders that do not contain an EMO normally get shipped earlier . I hope that clears up your question.
As mentioned above, if you have any concerns what so ever, feel free to contact support and request an update.
---
Hi @jsalas
Normally if you live in EU, EMO is sent to Germany via DHL, and then from there, DHL passes it over to the local postal service/courier that will then complete the job of delivering your EMO. It would be best to track your packing using any of the following tracking services. (DO NOTE) sometimes while the package is sent to the other courier service, the tracking is not updated until the new carrier updates it on their end. So need to be patient and wait for the courier to do their job and update the tracking on their system so you can see it when you track your EMO. (see below some of the tracking websites you can track your EMO with).
https://living.ai/emo-tracking/
---





Hello all
Can someone knows if EMO are produce everyday do they make all the components on site ?or just the assembly's ?? Do they have many Warehouse ?. How many employees they have? I am curious if a video how EMO are made from start to finish is available. I wrote LivingAI and sadly no answer .
I am wondering how does it works and selfishly I hate to wait … so this will keep me from checking madly minimum 5 times a day the delivery page …


Peace

Hi, @Eucaa
You can DM me your order number, and I will check the status of your order for you.
I see lot's of people include myself get frustrated by waiting a long time before get them EMO been shipped
I think it look a bit sketchy for this production pipeline…
don't you think it's time to increase the production efficacy?
you have more order than you can produce a week , it's a call…
what do you think?