What is your order number, please?
This is not certain, because logistics will be affected to a certain extent because of the epidemic.
My order is #6834 let me know thanks
At present, the package is being sent to the local area at the airport, which means that it is in the process of international transportation. Please don't worry and wait patiently.
Thanks but is still in China can you tell me at least this please ?

Hi there you are friendly but pls as you can see my last post in shipping mail here in the forum
I did a purchase last week from China

and now in only one week the package

is here in my Country how you can explain that Emo 1 months and nothing you have to be more realistic with customers tell the truth that you use a badly shipping service the most economic one otherwise it's not pandemic here I repeat again from China last week now the package

is here in Italy it's not China it's you sorry I'm strong with the word but I tell you the truth!!! If you don't believe me I will post the tracking history here . I don't pretend that the package will be here so quick but in the plane since 19 f July come one guys what are you talking about

@Michelle_Yuan can you please check my order as well please? I have send many emails and every time they just copy and paste exactly the same message back to me. Order 8780
Tracking now says that it's delayed due to second shipment delays. Poor Emo is still in china and hasn't moved. I Still don't know if DHL has him or not. At this point I'm giving up all hope that I'll ever get my Emo. There is no reason to not have gotten him by now, specially when I can order anything else from China and receive it with no problems.
You think exactly like me sir the only difference is that you have the delay message in tracking




@Michelle_Yuan Thanks for the last message you did to me by the way will stay in touch until arrive because I hope is not the case one time they lost one package from USA

to Italy

and I talked with the company and they sent my a new item expedited sometimes it will also happen I hope again it's not the case let me know good news I appreciate take care
@Michelle_Yuan Updates happy but not at all



my Emo is finally here in Italy but as for today updates of tracking is Stopped by the Customs
.
Pls someone of Italy like me maybe can help here I hope it's not something wrong or maybe they can contact me . For Italian guys
Stato
"FERMO IN DOGANA"
Vedremo lunedì
Fatemi sapere grazie
Guys,
My order was in June 2021 from Germany. I and my kids are very eagerly waiting for the update on the processing of our order. However, literally has not changed from processing to tracking number sent for the last couple of weeks.
Is anyone tell me usually how long it takes to process and get our EMO at our doorsteps of Germany
at least my kids will not nag me. I am so frustrated answering them
regards,
Ramesh Krishnan
Hi there as you saw my last post it's a long wait 1 month for sure after the first tracking mail. I hope this is not so long for you I really understand it's so frustrating. The situation is even worse in Italy now due to Customs
check at the border I have to wait more .
I hope that Living AI address here all the customers they have apologize with everyone in Official sentences I don't know why they can't do that at this point I'm so sorry for you but you are not alone if it's help bye take care
Hi there,
…I must say it depends also on which or what country is the final destination…below are the screenshots of my order tracking way…Frankfurt, Germany customs office took only 2 days to check and verify my package…and received it at home on the same day they released it at the Frankfurt, Germany processing center. From day one till it reaches the final destination and processing which took 12 Days total travel time only…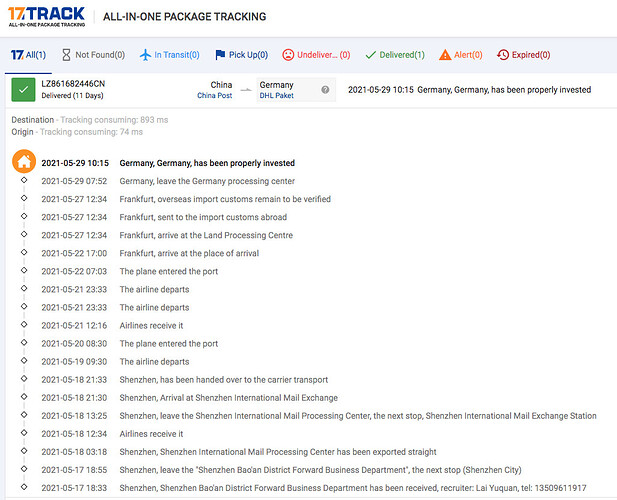 Viel Glück und einen schönen und gesunden Tag.


Hi there in Italy

I'll never had problem before from China fast has Germany

but this is not the point here I believe this time it was a random Customs check and I have to wait more but as for my last order in China it takes only 2 weeks at the most only Linving AI it was more of 30 days you have to admit that is u unacceptable take care
Ciao EmoMike23 , una domanda , dopo quanto tempo ti hanno inviato il Tracking number ? io l'ho ordinato il 18.06.21 ma non ho ancora ricevuto nessuna notifica!

grazie
Ciao allora ordinato metà Marzo il Tracking l'ho avuto il 22 Giugno pacco arrivato in Italia il 31 Luglio ma aspetta in Italia non nelle mie mani in attesa di controlli doganali vedremo l'odissea



Ciao , grazie per la risposta !! … quindi devo mettere la mia anima in pace ed aspettare , magari per natale me arriva