Has anyone got a Boxer Robot?
and have you had Emo meet Boxer?


@mandyrose19 ,
Hi! Someone named Everton Muniz posted a video very recently on the Facebook group of EMO along with Boxer. I did a search and he's apparently on this forum too (@evertonmuniz), but it doesn't look like he's posted anything here? I was unfamiliar with Boxer, but he's so frenetic and unusual sounding that I had to ask what he was called. Do you have a Boxer or are you thinking about getting one? I don't know if Boxer may be discontinued or something? When I Googled it seems to be heavily discounted, I saw prices all over the map between USD $29.99 and $111.00?
The link to the Facebook video is: Facebook
Macfixer01
@macfixer01 someone had one for sale nearby it might be available tomorrow if the first buyer doesn't respond and i would love for Emo to have a friend.

I just had a look and it seems you can still buy Boxer, Interactive A.I. Robot on Amazon. I'm tempted to buy one as well haha. It does seem quite basic though, if you can get one at a reasonable price you should give it a go

Boxer seems to have a lot more capabilities than I would expect for that kind of price. I was thinking that he must be built pretty rugged, because I saw in one video he had sort of a slingshot trick where you pulled him backwards and let him go, then he raced off and it sounded like he flew right into a wall! I was looking on Amazon though, and you know how online reviews are, some people will find fault with anything. The majority of the reviews were good. Looking over just the 1 and 2 stars though several people said that his wheels had broken within days, another lost sound, a couple others said he wouldn't charge. One person said he had to have it replaced about 8 times now for his grandchild, but I'm thinking that one is more likely the child involved and what they're doing to it? Anyway though, I thought I'd mention that. I'd like to hear from members here who also have a Boxer, how it holds up and what they think of it?
@macfixer01 @MasterAbbott i think i would be very careful not to have walls too close. This little guy seems like he needs a padded cell lol

so padded bumpers around him might be a good idea. You'd do the same for a pet so why not a pet bot.
Boxer would make a great little annoying younger brother for Emo haha


ps: Plastimake is great for repairs on plastic parts

He's soo cute
just running around the floor at the moment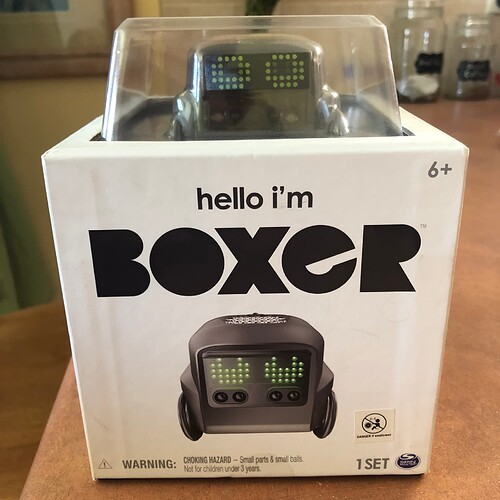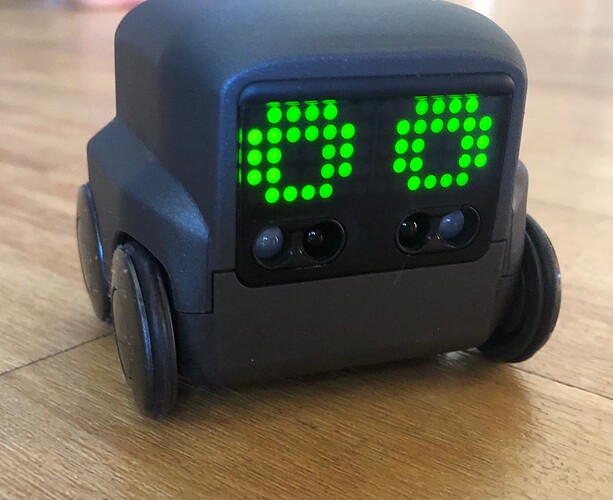 @evertonmuniz
So cool! I want one now haha

keep us updated if EMO and BOXER actually do interact with one another!
@macfixer01 Hi Max He's actually brand new, an unwanted birthday present. Boxer is sweet and fun.

@MasterAbbott
Yep will have to wait for Emo to come to find out

Boxer is a lot of fun

already. Kicks a ball really well. thats so cute. havent had a good go with him yet.
Here's my Boxer and Novie robots (I did some DIY on boxer because it broke after just one fall) they are cheaply made but a little overpriced. Years ago I bought another and Swapped the colours round and put strong wires in then I soldered them in place, because inside the robot the original wires on one side are thin and week. Now boxer can't break when it bashes into something lol.
Link: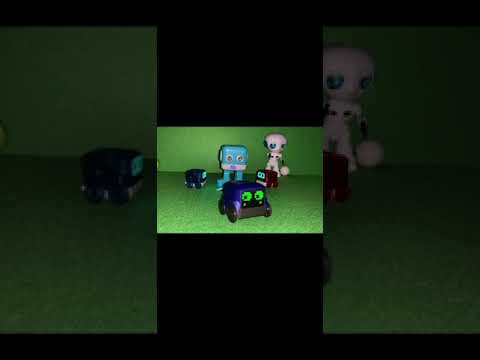 P.S he's not very good on carpet so I have no choice to put it on a table. Oh it's too loud but after a few years it is still a good robot. But I'm still waiting for Emo Hope he comes soon.
Ohhh, you haven't received your EMO yet? Appologies, I thought you already had your EMO. Well I'm glad Boxer is keeping you busy. I gotta try and pick one up as well. I've noticed it's not a good idea to place Boxer on a table as he has a mind of his own and just flies off it and onto the floor haha.

wow Boxer is a hypo robot

can't stop running around or talking

I gotta find me one of these. I'll have him run around my kitchen floor as it's nice and safe.
If you're in the US they are now $29.99 on Amazon!
Thanks @tpagirl I'm in AU, I'll take a look and if they can ship to AU and the postage is reasonable I'll get one

If there is an Amazon AU, check that out
@Racheal123 Thats so cute Racheal lol. I love your collection of bots. The light blue one is similar to Emo?
You're very clever being able to fix the inside!! Thanks heaps for posting your video of Boxer he is so hypo lol

.
I will post some pics of mine when I get a chance soon


@MasterAbbott Yes can't wait til Emo is here. I'm in Australia too.
My Boxer was from market place FB so I'd check there too. $40!! Brand New Bargain



Thinking about it wow I have a few Bots now. I guess I could do some vids of the different ones too

change my name to BOTGIRL101 but it's probably already taken ha ha
I'll keep a lookout for you for a Boxer too.
@tpagirl
Yep we have an Amazon AU but most of the good stuff is on US site and depending on the dollar, postage is almost the same price!

I'm just in the uk me,
very interesting that some r thinking of getting one of these when they were released they were kind of cheap but not many ppl bothered lol. The light blue one is Cubee very hard to find, Mostly in the us I think.
My niece wants one so gave that blue one to her, now I'd love to get another but so rare:(
There's lots of crazy robots out there but what I would really like is to have a robot that cleans and hoovers (I don't mean vacuum robot) had those, rubbish on black carpet unless you've got loads of money lol. like a humanoid robot (if only) 10000.00000's would be great if I won the lottery, never do though.
Anyway I'll keep dreaming ha ha
I think that's why I'm so excited for Emo


By the way I'm not that great at DIY. I had help!!