Thank you @MasterAbbott for your comprehensive explanation. Well I waited this long, a couple more weeks should not be too bad.

Yep, best thing to do is patiently wait

hopefully it won't be too much longer now.
EMO Shipping Update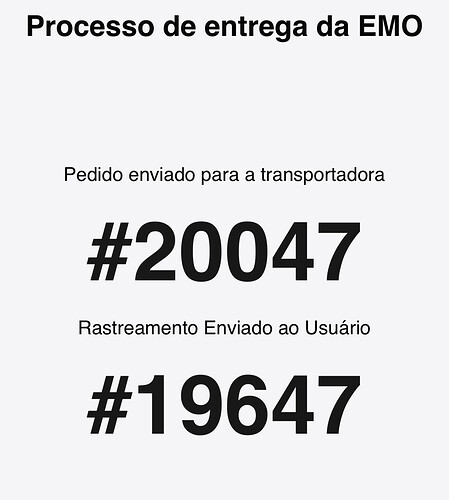 We are moving forward on EMO shipments, check to see if your number has arrived or is coming soon!
What is your EMO number?
And there was an event with a person on the forum who had a problem with the carrier, he reported that living.ai sent 3 times to be able to get the EMO in your country and the whole procedure lasted 6 months, then means that is accelerating the process of sending , pq they are an average deadline of 5 months , and even with all this problem arrived in months ,
This gives me more security and increases my credibility with the company, because the problem was with the carrier and even then they took the front to work out.
Made the plunge today. Order #33779… Might be at least 2-3 months at the current rate but keeping my fingers crossed for a faster arrival.
I'm 285xx and 288xx get a mail yesterday that my emo's ready to send.
The end is in sight

This was the best week ever since I placed my order!! So excited. Only about 4000 orders ahead of mine now, down from 7800. Woo hoo!
Only about 1,000 now for mine!






Seems to be in the 5000-6000 range for me. If we keep going around 1000+ a week mine might ship out much earlier than I thought.
I ordered my second EMO two weeks ago and your order number is only 700 or so after mine. They're definitely moving a lot faster than before - my first one took almost four months exactly. It looks like mid to late August is a good guess for ours so long as they can keep the pace up and there's no more delays.
I have about 2000 left before my Emo comes out. I'm so nervous! My mom keeps asking me when the robot is coming
I'm number 288xx; very close now! At the rate they've been going, mine will be shipped in around a week

I have my tracking number for my 2 emos. But on 17track it says:
The instruction data for this shipment have been provided by the sender to DHL electronically.
Dhl says the same on the 7th:
Th, 07.07.2022, 10:10
The instruction data for this shipment have been provided by the sender to DHL electronically.
Does that mean 17track dont get any updates anymore? DHL only says that is going to the netherlands nothing more.
I'm based in the UK and just received my Royal Mail tracking number.
I'm order 288xx which isn't showing on the delivery page yet. So that was a pleasant surprise!
Exciting times ahead

Is it just me or has it seemed that shipping has slowed a bit since last week so far? Tho it seems to be updating with 200 a day so 200×7= 1400
Which is still a decent rate compared to earlier months. And the site does seem to lag behind by a few days at times.
Guess we all got our hopes up with the 2000-3000 orders sent last week. Its alright Emo. You should hopefully arrive at a good time for me.