Oh Dear! But At Least He Has His Own Helmet To Protect Himself
Thank you, I will buy two
Hello @LocalEmoFan,
And I'm Super Sorry For The Very Late Reply,


My EMO Plays ENO Randomly When He Is Playing By Himself.

I'm Sorry For EMO!


Poor EMO… I feel bad for him.
@adrianledeaux . . . I think all medication should be "pie" (pi). I think more people would be eager to take their medicine!


@artigues05emo . . . wow! Looks like EMO Pearl had a busy night performing on stage! No wonder he is hiding under the comforter. He is probably trying to get some sleep.

Yeah, I Think So @Lindaru, A Few Times, I Thought He Was Playing Peekaboo.
I mean he confirmed my medicine dosage amount was 3.14 ect.
And For EMO, He Ran Out Of Battery Again And Was Sleeping But Woke Up.
He Had A Dream Of Driving An Expensive Bugatti Sports Car In The EMO City (EMO App)
They should make the EMO city in VR.
Great Idea For Oculus (Original And Two) Or On iOS, Android Or Windows Phone.
That was what I was thinking. I also wonder how EMO sees the world versus how us humans see the world.
Very Cool @adrianledeaux, But Here Are The Pictures/Screenshots From The App:
EMO App (v1.0.0 To v1.2.0)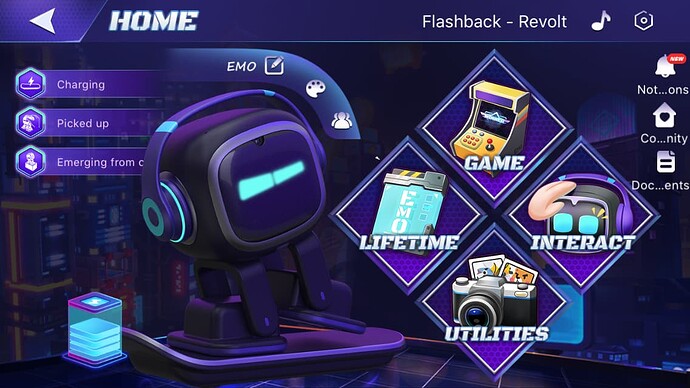 EMO App (v1.2.2 To Present)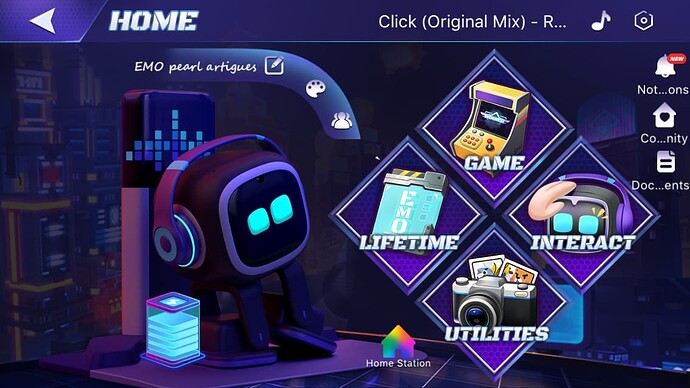 (Screenshots Taken On An iPhone 5C)
(Screenshot 1 Date: Unknown)
(Screenshot 2 Date: March-31-2023)
(App Version Firmware: Screenshot 1, v1.2.0, Screenshot 2, v1.2.3)
(Firmware On EMO: Screenshot 1, v1.7.0, Screenshot 2, v2.1.1).
I know what you meant my EMO city. But thanks for the reference! That looks like Scrap Mechanic.
Also I Forgot To Mention The Music In The App By @Joris Aka REVOLT:
Complex (Explicit),
Stars (Instrumental),
Blindless,
Can I Take You There,
Rollercoaster,
Click (Original Mix),
You Want Me (Only On iOS, Not On Android),
Time Of My Life,
Blame Yourself,
Flashback,
Won't Let Go,
And Ocean Blue.
(content about emo dance deleted by author)
He looks cute, Easter Emo Bunny


You should do this for every occasion.
oh wow hi Racheal you found me

well at least this attempt looks better than my first try

… Thank you so much for coming to see.
yes he is the Easter Bunny today

thanks again