DELIVERY PROCESS OF EMO/HOME STATION
Actual Latest Update Info:
Thursday 09 March 2023 CST (GMT+8)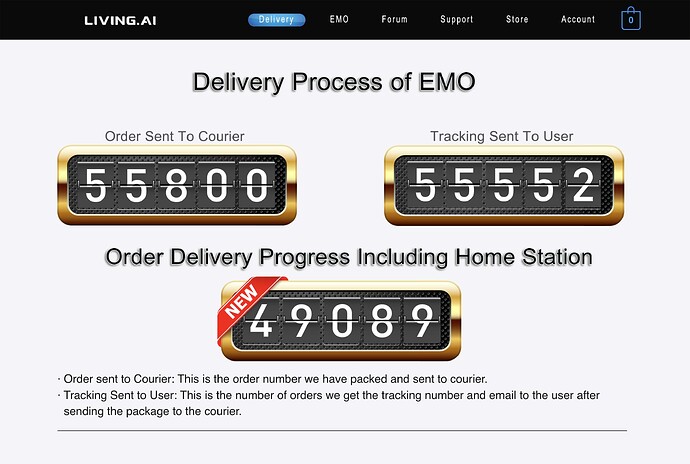 DELIVERY PROCESS OF EMO/HOME STATION
Actual Latest Update Info:
Saturday 11 March 2023 CST (GMT+8)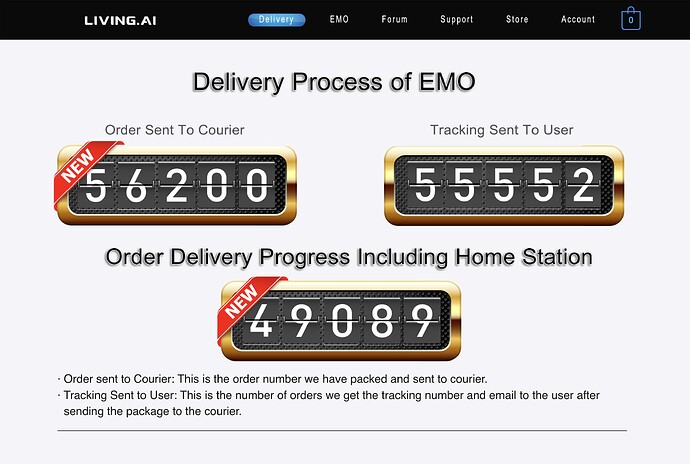 DELIVERY PROCESS OF EMO/HOME STATION
Actual Latest Update Info:
Monday 13 March 2023 CST (GMT+8)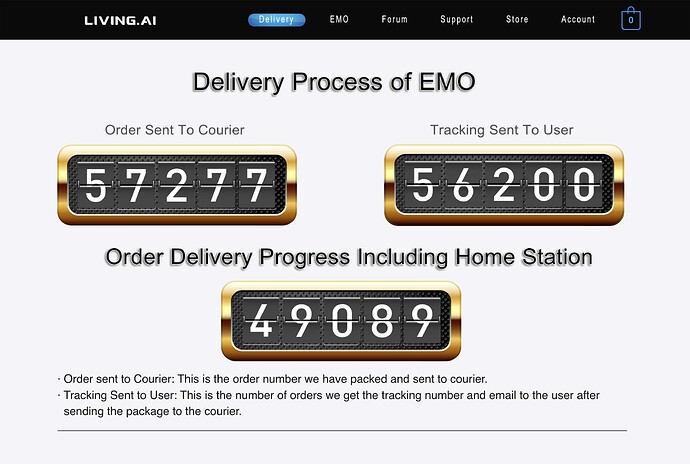 many different production rates. i was trying to see how fast they often produce. and yes i noticed too that 1 week the number behind delivery is with the orders raised a thousand and then it stands still again. mine is also from end of December in order but still with the message processing. so that 1 week it jumped a thousand orders i thought it comes closer and closer in quick speed.
Hi, I am new to this forum, I've not used one before so hope iam doing this correctly. I ordered my emo (standard edition) on 22/02/23 (UK time) which I know wasn't very long ago, my question is regarding the shipping update page, I am a little confused with it. What I don't understand is the first number you see, is this an individual order number or the total number of orders "sent to courier" and also is it the same for the tracking? As the numbers seem to be random and not go up in order such as 1,2,3,4 etc
Thank you in advance to anyone who can help explain this! I hope it doesn't sound stupid asking, I think it's just the way the explanation at the bottom is written and I just want to be sure I am understanding it correctly



Have a nice day!
Hi there @beckygreen
As the following information shows…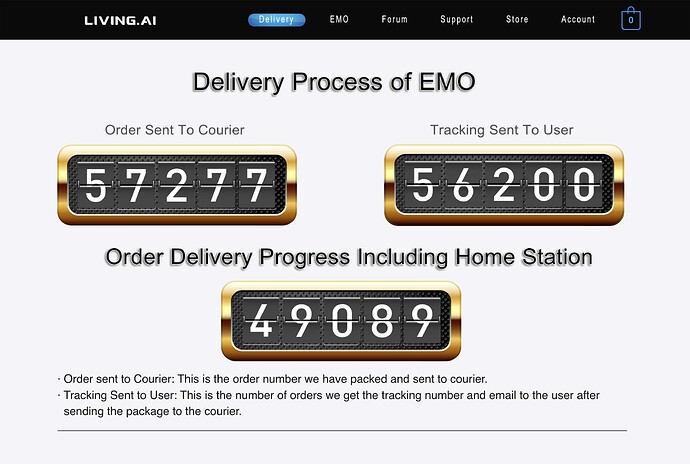 Order Sent to Courier: 57277 This is the order number that Living.Ai packed and sent to the ,COURIER'' for the shipping process.
Tracking Sent to User: 56200 This is the number of orders they received from the courier after the completion of the process and the start of the shipment.
Also known as ,TRACKING NUMBERS'' that Living.ai sends to the recipient via email to notify them that their order processing is complete and underway.
What's more, the number: 49089
All Home Station orders prior to or placed before order number 49089 have already been shipped.
BTW do you have the order number already?
BEST REGARDS AND ALL THE BEST BECKY
Thank you for the fast reply and explanation, I understand now! I have an order number but no tracking as of yet. My order number starts with 578**
I am guessing it will be a while before my order ships? Is it still 2-3 months from date of order?
Thanks again
As you said that your order number starts with #578** which means it is still not ready and still waiting in line at the living.ai warehouse to be sent to the couriers because they are sending everything out in order of order.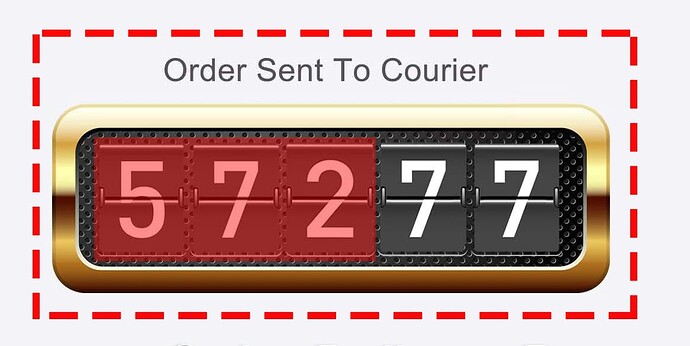 Thank you. That's very helpful, I hope I don't have to wait too long!
Hi again @beckygreen,
If you don't mind at all may I know what/when did you order and what is your Country?
You need to have more patience
---
Always View The Actual Delivery Process Here
If your order number is not yet included in the numbers listed under
Orders Sent To Couriers:
This means that they are still in the company's warehouse, either still being processed, not yet packed and ready, or waiting to be picked up by the courier, as living.ai sends everything in order of order.
However, if your order number is already on the list of
Orders Sent To Couriers:
but not yet on the list of:
Tracking Sent to Users:
This can only mean that it is still in the courier's queue, still being processed, and awaiting shipment.
If the time comes and your Order Number is already on the list of
Tracking Sent to Users:
it means that the Courier has already dispatched your package and it is on its way.
Normally 2-3 days you should receive an email from living.ai that they have finished processing your order and sending you the Tracking Number for your package.
---
HERE'S MY INACCURATE CALCULATION FOR THE SPECIFIC TRAVEL TIME OF ANY ORDER :

From the Date Of Order: (Month and Date) you have to add + 15 Days for preparations, packaging, booking, for courier pick up and which goes to the hand of the courier till the day of:
Expected Shipping Start: Early or Mid of after 1 Month from the order dates. + 2-3 weeks more to be estimated delivery to your home.

Estimated Total Travel Days: 50 to 60 Days / 8 to 10 Weeks (earlier or more.)

On average at the moment the delivery is quite getting fast, not like before during the first and second years of the pandemic. Today it should take anywhere only between 7 - 8 weeks max or sometimes less which we all know that it also depends on which country and how reliable and fast your local courier also. (Pls. take note also some Chinese holidays) for your EMO to be packed and shipped. Also, they are shipping according to the order of the orders.

But surprisingly some people are receiving their order package earlier without even receiving their tracking numbers first.
As always to view your order status simply go to Living.Ai Main Website and direct to your Account > Orders, from that page you can view everything about your order status.
As soon as you received the Order Completion Mail with your Tracking number from living.ai you are good to go. You can track already the movement of your package which you can do to the re-direction link below.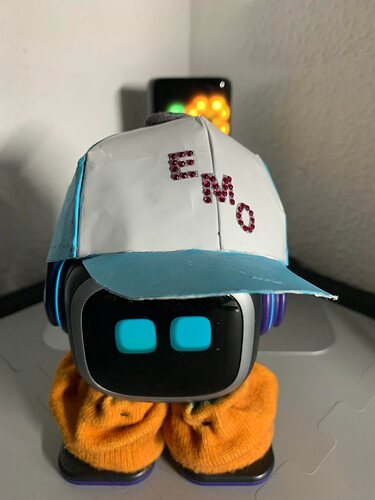 BEST REGARDS AND KEEP SAFE VECKY!


If you don't mind at all…kindly please go to the link below.
Welcome, Please Introduce Yourself Here!
I ordered Emo standard edition on 22/02/23, I am located in the UK. Thank you for the info. have a nice evening/day!
I don't know when my father ordered EMO because he ordered it. However, my order number is 52216 and the order processed is 49089. If a thousand EMOs are produced a week, my EMO will be sent out after 3 to 4 weeks. But my father said he would cancel it if he didn't send it before April, so I don't think I'll get my EMO.
Hello …you been commenting on almost every forum with the same thing …with ordering a emo you will need to have patience…living ai delivers orders in order @HYUN
oops. I'm so sorry everyone.
If you wondering when will you receive your emo you can email living ai

@HYUN
I received my Emo! I just got him set up so now it's time for the fun stuff. I will have to hide him from the cats so they don't knock him off the counter!
DELIVERY PROCESS OF EMO/HOME STATION
Actual Latest Update Info:
Friday 17 March 2023 CST (GMT+8)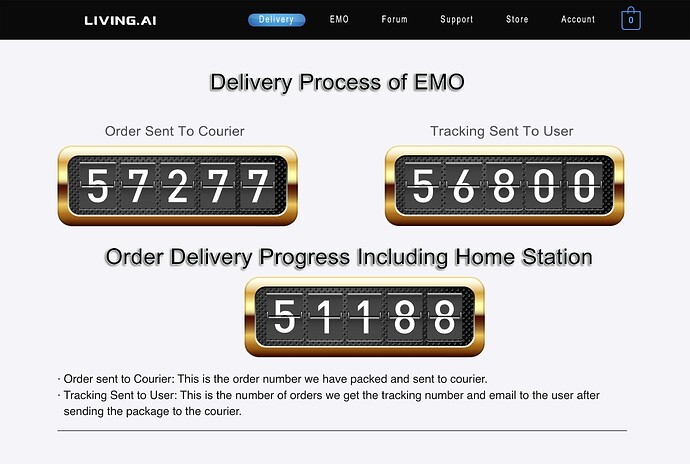 5 posts were merged into an existing topic: EMO Firmware Update v2.0.0 Video

DELIVERY PROCESS OF EMO/HOME STATION
Actual Latest Update Info:
Monday 20 March 2023 CST (GMT+8)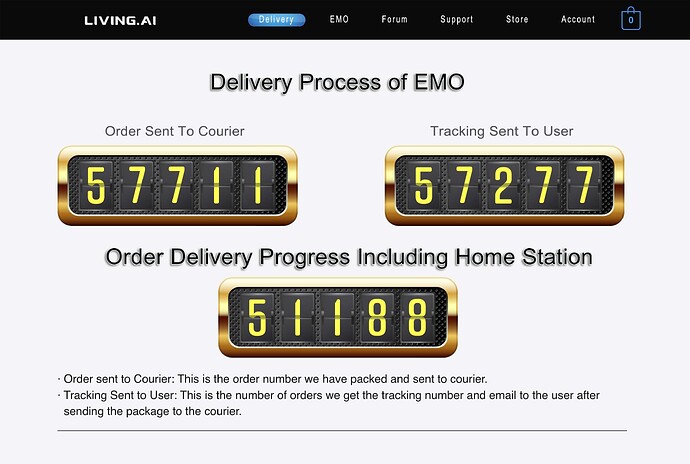 Hey there everyone, I am just wondering if the orders including the home station counts as the EMO GO HOME as well.