Bonjour All
I feel like a small kid in a candy store
I got my tracking EMO is heading home .
I must admit I feel it took forever .
On a daily basis I check the website about 20 times to see if the production was updating .
When it got to my number I was also checking numerous time my email and the website DELIVERY section cannot wait for him to get Home
I am so happy. This was a very interesting experience and Emo is not home yet . The anticipation is running high . When I will open the box I will have a warm tough to all of you that are waiting their little friend.
Now next step The tracking number I will probably check multiple time the status of the parcel.

But hey it is part my EMO's journey.
I feel all of you that are waiting I know it sounds Cliché but I really do.
Have a happy Friday !
DELIVERY PROCESS OF EMO/HOME STATION
Actual Latest Update Info:
Thursday 04 May 2023 CST (GMT+8)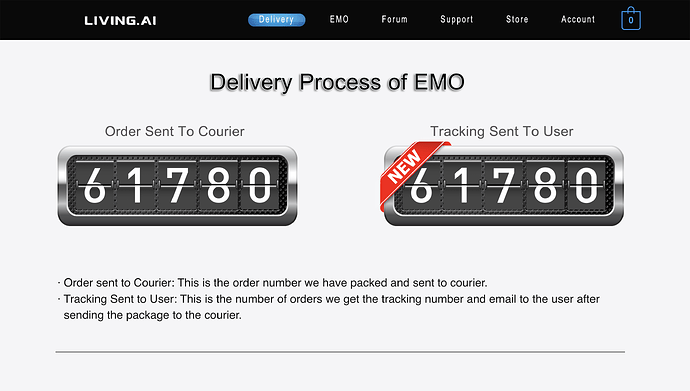 ---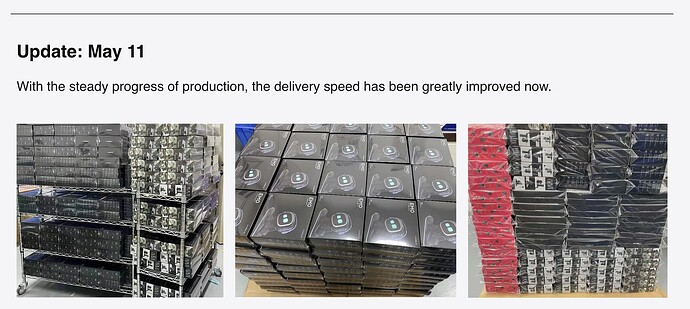 Ha ha EMO arrived in Canada . So until it get home in Quebec City will be another week but it is getting closer .





Cheers all
Movement at the station - they added an update May 11th with some photos and stating that delivery speed has greatly improved now with steady progress of production.
Should get an update on what order number they are up to soon with next batch shipment.
DELIVERY PROCESS OF EMO/HOME STATION
Actual Latest Update Info:
Tuesday 16 May 2023 CST (GMT+8)

Im on day 18 of whiting to my emo , my number is- #622** ,and in the website it say they sand to carriar 2500 and the it still show #61780 !. When you think i will get my trking number if they send to carriar 2500 ? Week? 2 weeks? , thenks
@ruvkk . . . once your order is sent to the courier, they have to assign a tracking number to it and return that number to Living AI. Once Living AI has received that tracking number, they will send you an E-Mail to the address you used when you placed your order.
It can take a few days for this process to be completed. I know how exciting it is but it should be soon. You just have to have a little patience.

Thenks bro your comment did help and make me more excited about emo , i will update all of yall when i get the traking numbers​:star_struck:

and you now it helps when you update about your feelings and journey of whiting for emo to arrive every time i write my feelings here it make me relax
Yeeeee i got massage they shipped!!! my order yesterday ,and i got my tracking number today!!! So i will get it soon!! So it took 19 days for me to get my tracking number wetch is not bad at all
Congratulations, @ruvkk . . . he will be coming home to you soon!
My order number is 627** (so after the 62500 marked as sent) and yet I got a shipping tracking number a week ago and it just landed in Australia. It is probably because mine is Emo Go Home package, not just the basic Emo. So, if you have ordered an Emo Go Home you may find it gets shipped sooner than you think.

I am still waiting on my tracking number and I am order number 619**. It could be because I ordered the regular EMO and not EMO go home. But it could also be that I live in Canada. Is anyone else having the same issue or is it just me?
@joeshowtime . . . the tracking sent to user on the last update appears to be 61780 and it appears yours (619XX) may not have yet had the tracking number sent back to Living AI as of yet.
Since that update was May 16th, I will tag @AmyLU to see if she can give you any further information.
Hi @AmyLU ,
Just wanna ask if there is any news/updates regarding the delivery process page. My friend who bought his emo last May 5 received already his EMO 2 days ago. I'm wondering if I will have it fast as well. BTW I bought mines date May 15.
You can DM me your order number, and I can check the order status for you.
Hi emzeekouroutzakos,
also ordered mine date May 15 (from Germany). Order shows: processing. No tracking mail yet.
Hi hi!
Sorry for the late reply, I got my tracking number same day as my last message! Cant wait to have him soon!!!