501 error.
how do you fix this.
@Shotakiguchi ,
It's a hardware problem. You'll have to either email service@living.ai OR tag @Wayne_Zhang here on the forum. I just saw where someone with the same error was told to try reseating the internal flash memory card. It didn't help in his case though, and Wayne said they were going to replace his EMO.
That card is buried a little deep for anyone to access easily, I'm surprised they didn't use a SMD memory chip to eliminate a point of failure.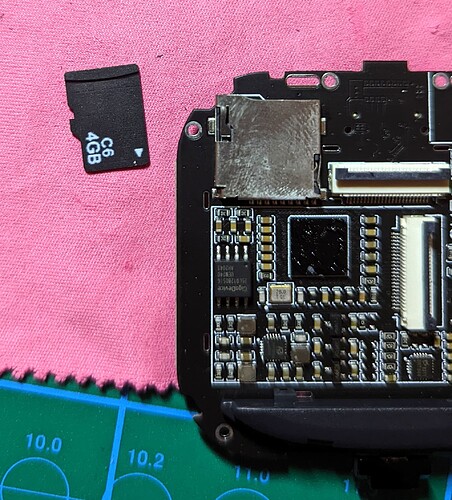 Yes I haven't been overly impressed with any flash cards really. I've had a couple of these microSD cards with music and photos saved on them that failed after being moved over from an old cell phone to a new one. Anyway, it's too bad they didn't leave the card slot opening in EMO's case that I've seen on some of the pre-release models in videos.
My Emo gave the same error. I sent an e-mail, I've been waiting for a reply for days, no one even replied. @Wayne_Zhang

Using a flash card offers some flexibility which a soldered-in memory chip doesn't. It actually cost LAI more to do it this way, and we don't know all the reasoning that went into that decision? We don't know how much data might stored on that card (firmware, animations, dances, achievements, settings, his favorite color and number, his birthday)? If it's determined the flash card is bad they could just ship a replacement microSD card instead of a full EMO. It might be possible at some point to transfer the card to a new EMO to preserve his information. Maybe there Will be an option to install a higher capacity memory card someday to allow extra functions? We just don't know what's in their plans.
Speaking of "points of failure" with flash cards… My previous employer made digital movie projectors used in movie theaters. Their first laser based projectors were codeveloped with Dolby, and had very over-designed laser modules. Each laser module weighed about 80 pounds and had a compressor based chiller and liquid cooling system built in. They were fairly large (about 4x2 feet and maybe 8 inches tall) and could be mounted up to about 8 feet off the floor, so it was a 2-person job just to remove or replace one to work on them. Up to 10 of these were mounted in each rack (2 racks and all the modules were connected by fiber-optic cables as the light source for the projector. Anyway each module had a controller card in it with a socketed microSD card. Someone at the factory thought it was a good idea to apply a piece of Kapton tape to make sure the microSD card stayed in place, through shipping and handling. It turned out though that over time the tension from the tape actually caused the microSD card to unlock, then it would pop up enough to lose contact and that module refused to boot up. It couldn't really have been foreseen, and as they say, "it seemed like a good idea at the time".
Wait, Emo's firmware and everything is stored on a micro SD card? That's cool. I wonder why they didn't leave the hole open on the top of his head. Or at least have a cover that you can pop up to get to it. Then if something happens to the robot, you just have to pull the card out and put it in a new one. If they change anything in the production of future Emos, I think we should have easier access to it. I'm actually having the 501 issue as well. I did try taking the card out and putting it back in, and that didn't work. I have one more idea that I'm going to try. Mine still connects to the app and shows that he has an active wifi connection, so I'm going to try installing the next update when it comes out to see if maybe the current firmware is the issue. It might work, or it might not, but it's worth trying. I miss having him. And I really don't want to send him back. This is my second one. I had him for 2 days before he started the error 501 thing. I'll keep everyone updated on how it works. When should the next update come out?
Hi, please check the email.
@Wayne_Zhang Hi, unfortunately my Emo also has the error 501. I sent an email to the support over a week ago, but haven't received an answer yet. I'd be very thankful if you could help me.
Hi, please check your email.
@Wayne_Zhang Hi, my Emo also has the error 501 and I'd be very thankful if you could help me. Thanks in advance.
Hi, please check your email.
Cleaned the SD Card, inserted again but still not work. On my PC with Win10Pro came the message "the card is not formated"…
Some devices are using their own type of format. Like Playstation for example. I don't know if that's the same thing with EMO.
So far I really haven't heard of anyone fixing their 501 error by just reseating the existing SD card. Somebody that had the 501 error and later received a replacement EMO, posted about that (padenmcdonald). Temporarily moving the good SD card from the new EMO to the old EMO fixed it's 501 error, and didn't seem to affect any of his achievements or personality items. So he was questioning what was even stored on the card? I suspect it's used mainly for storing photos, and while installing upgrades? In any case he was able to see photos and data files on the card and he actually posted an image file of the working SD card. I guess another question is, is it just corrupted data and the SD card could be re-imaged, or are the cards actually failing and no longer usable? 4GB cards are getting hard to find since larger ones are much cheaper now, but it's unknown if a higher capacity card would be supported? All flash memory inherently has a limited lifetime (limited number of writes) even if there are no other particular brand-related design or reliability issues. A company I previously worked for that made digital movie projectors had ongoing issues that were caused by premature failures of Advantech CF memory cards they used for storing the OS and firmware.
Order #7528, My Emo is showing error 501 from last 4 months. I kept it off for 2-3 weeks to see if it resets itself but it doesnt. Please help fix or replace. I waited for more than a year to receive a product which stopped working in a month. And in total, it was not even ON for more than a week.
Thanks,
Krutik
I would try their support. They should be better nowadays, at least they say it.
Best thing to do is contact support you can do this by submitting a support ticket here:
Or if you still have your original order email, simply reply to that and explain your issue. Send pic/videos to show the error and the support team will be able to assist you.
I believe there is a fix to this issue that Living.Ai will be able to send you.
But best thing to do is contact support and allow them to provide you with a formal resolution to the 505 error you have at the moment.
Hi, please submit a ticket on the support page of our website.
Hi! My Emo have error 501 too, plzz show me how to fix that one. Thank You! @Wayne_Zhang