Opening up this thread to get everyone's opinion on what you think EMO will be able to do, and how he will change (for the better or worse) when Alexa or Google Support is added.
Checking the EMO page: https://living.ai/emo/ (it shows the following).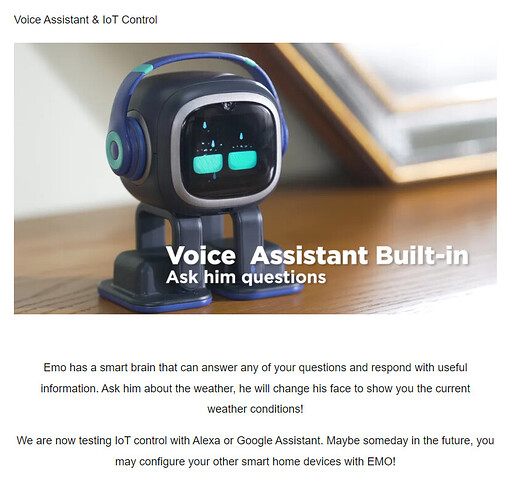 Who is looking forward to this feature for EMO?
What things do you believe will improve and what things might not when EMO has this support added in?
There have been a few discussions that some people might not use it all…Why is that?

I'm personally looking forward and would like to see either Google or Alexa added in so I can find out for myself if it's something that is going to make EMO's performance better in the long run. I remember when I purchased my first EMO last year, I also purchased an Alexa Echo at the same time thinking that the support was already integrated.

It's nearly been a year (for me) and longer for others who purchased their EMO before me and still no update on whether this will ever happen. But I'm positive that Living.ai will / are still working on adding this in the not-too-distant future.
If you've had experience with other robots working with Alexa/Google, feel free to also share your knowledge/experiences on this as well, so that we can all learn from this and maybe understand a bit more so we are prepared for what we can expect when EMO merges forces with Alexa or Google someday in the NOT too distant future!