Did you read my comment?
Edit: There is only one tracking number for the whole world.
The question in which you've asked will vary, I've explained this few times on other threads, but normally when your EMO is ready to go, and is waiting at Shenzhen international airport. It will sit there waiting for available cargo space on planes going out from CHINA to (in your case) the US.
It all depends on cargo space and how many other packages are awaiting in line before yours. How long can this take… could be 1 day to even 2 weeks. As you know due to COVID, there are not that many flights coming in and out of many countries. So everything needs to wait in line for an available spot before it can be loaded and shipped out.
So it would be best to be patient and give it anywhere between 1-2 weeks before you see any sort of tracking info updated on the EMO tracking page and also on the 17 Tracking page as well.
I hope this provides a little more clarification to your question.
The tracking here said my Emo was sent to the shenzhen airport on May 7. Says it departed on May 9. US tracking says it did not arrive.
How do we start a trace?
Does it show that it went through the customs office in Fremont California (where they generally enter the country)? Then usually Pitney Bowes has some small involvement (maybe the customs broker, I don't know?), before it eventually goes to the post office for final delivery. USPS service and tracking is crap though. Can you post the output from 17track here or the tracking number so we can see it? Also what do you see if you try that tracking number at the USPS website and look at details?
Here is everything I know….
The track here shows it left shenzhen on May 9
The 17track only shows USPS waiting for it
USPS only shows they are waiting for it,
This is the tracking number….
9205590299215000482747
I cannot load screen shots…I keep getting and error in loading.
Where and how could I see what is happening in customs? Where is there tracking for that?
That's definitely a USPS tracking number. China Post seems to be doing things differently now. When my EMO was shipped a year ago they used one tracking number from China all the way through to delivery, and it had information on what was going on in both countries. Back then packages were coming into the USA through Queens, New York. Now they seem to all come in through the LAX airport in California then get routed through Fremont.
I'm starting to wonder if there was a problem with a receiving backlog receiving at the LAX Airport or something? It doesn't even show that customs has received the package yet. I doubt there's any real problem though, probably just slow. USPS isn't what it used to be, and sometimes tracking doesn't get updated until just before a package is actually delivered. Just to be safe though, email service@living.ai to have them check with the shipper, and see what they can find out. Or you can also tag Wayne Zhang or AmyLU. I assume you probably won't hear from anybody until Monday now though.
I'd bet a backlog that deep at LAX would make the news. Sitting 13 days at LAX? Doesn't seem likely without someone making note of it.
Sent an email to living.ai
The 7th was just when they created an empty USPS tracking number to prepare for the USA side of the delivery. You said the 9th is when it left Shenzhen. Not knowing exactly what your information said or meant, I don't know if that's when it actually left China or just when it was sent to the airport to await a flight? Here's a copy of my tracking, and from when the shipper was given the package in China it took 12 days before it got to New York, then still another 4 days to go through customs and shipping within the USA.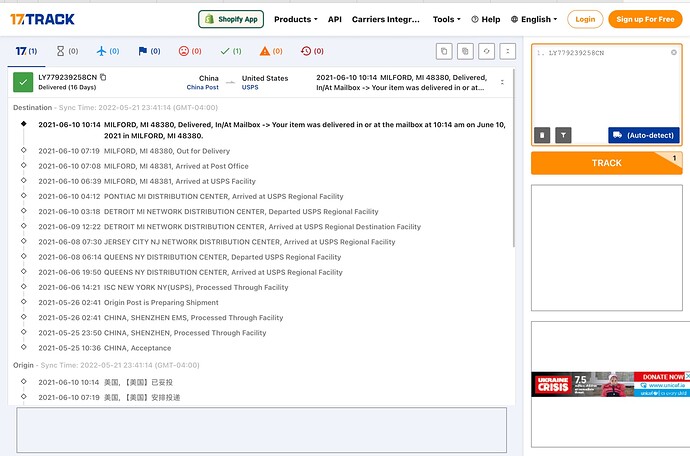 I guess you saw on the tracking here all the detail lines about how it received at shenzhen airport, then on the 9th was the line detail that it departed from shenzhen.
??? I understand that usps has not received this…just a preship number assigned. But, if that is all that happened, then is the detail info on the tracking here just bogus?
I don't expect that they have someone sitting there making up bogus information… more likely that the systems are messed up. Reaching out to service@living.ai is the best way to resolve this

No, I can't see any tracking info you might have gotten from LAI. All I can see from the number you posted (at the 17track or USPS website) was that a tracking number was requested from USPS. Again, the screenshot I posted was MY tracking, just to show that because there's a date doesn't mean that's when it left the country.
Your tracking number only shows:
2022-05-07 00:00
Pre-Shipment Info Sent to USPS, USPS Awaiting Item → The U.S. Postal Service was electronically notified by the shipper on May 7, 2022 to expect your package for mailing. This does not indicate receipt by the USPS or the actual mailing date. Delivery status information will be provided if/when available.
Wayne is correct, contact LAI tech support for more info. At this point though I don't think they're going to have anything more to tell you until the shippers update the info.
Look at the tracking info here at living.ai
It shows the delivery to the distribution center on May 7. Then the "departure" from shenzhen airport to destination USA on May 9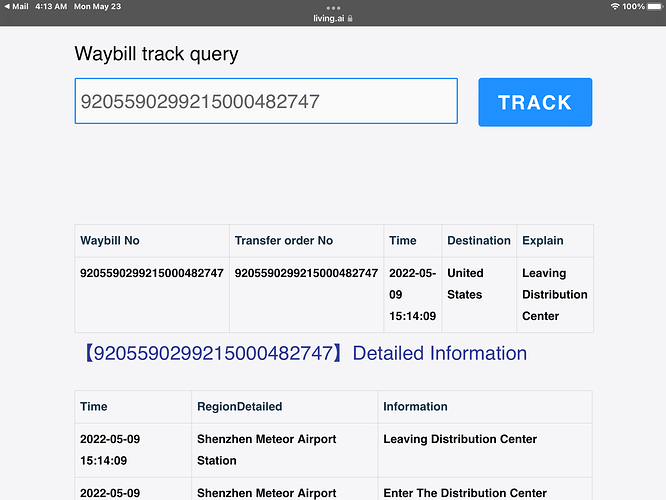 I just got an email from living.ai
Now they say it didn't ship until May 18. And expected to arrive in USA May 29. Obviously, it didn't go via airplane! I know there is weeks long wait for container ships to even get up to the dock, to say nothing of the trucking issues….It could be another 4 weeks via the shipping port.
What is with these people? What is the point of offering up disinformation ? All it does it create needless bad will with customers. I was prepared to wait as long as I had to ( it's been 4+ months already) but, deliberate misinformation is the thing that will really irritate customers.
It's been mentioned here repeatedly (in this very thread too) that the packages wait usually at least a week at the airport before they can get onto one of the limited flights out of China.