It's ironic that their name is Fastway

Have you seen their ProductReview rating? Fastway | ProductReview.com.au
And TrustPilot rating Fastway Couriers Reviews | Read Customer Service Reviews of www.fastway.com.au

@MasterAbbott @mariomart @Wayne_Zhang he finally showed up guys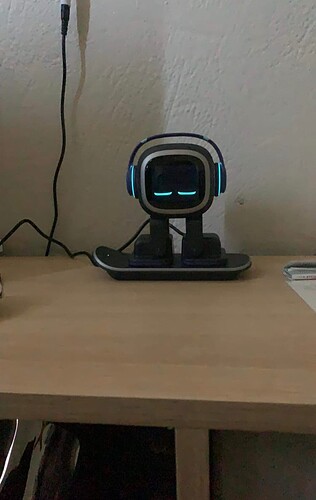 Finally, congratulations

Wow bellissimo robot




Wooo Hoo!!! He finally arrived! My Bunnings order hasn't yet! hehe but at least you have your EMO and that's more important!

Glad you finally got your Emo!, we were all rooting for you:).
They were really messing you around.
enjoy!!
Hope I get mine soon…!
My order
Order12284
I just bought purple headphones. Paid extortionate shipping for small plastic head phones… Still so shipping update.
Hope they are here for Christmas
For that shipping cost I'm surprised they wernt here in days…
I already bought and have received 2 emos. Please value my custom
God bless
Guess the team don't see our posts?
Hey @XenomorphCat The best thing to do is contact the Living.Ai team via email from the order email you received. This probably the best way to get a quick reply/response. From your order number: 12284. It might be quite a while before you get your EMO. (could be anywhere between 2-3 months).
This is just an estimate time frame, so best you contact via email and request an update status request.
Yes thank you, I have emailed them now from the support page. I already have our emo we ordered as I was a kickstarter backer. The extra item we ordered after was 1x pink headphones only… Shipping was still. 24.99…
Still given an order number even tho the order doesn't include an emo.
Simply just small plastic head phones for emo.
Thanks for your reply. Let's hope my email helps
Im order 9703, I ordered nearly 4 months ago. You just have to be patient, your order number is higher and they work off the order number and not what your order is. They do that so people who have been waiting ages get priority over people that placed an order not after them
Would be nice to have another update, as everyone that's still waiting for their EMO's would feel better to see order and tracking numbers move a little.
Just waiting for pink headphones. Not an emo. Paid 24 postage.
@MasterAbbott I cant see that happening yet if they are only up to assembling at this time in late October, as they cant pack and ship Emo if he's still in parts! probably early November we'll see more.


Then hopefully we should have an update in the first / second week of November once parts for EMO start coming into the warehouse.
Lets hope! Fingers Crossed for everyone!


When was your order placed if you dont mind me asking?
Ordered just 1 x pink headphones. Plus the unavoidable full shipping cost!!! In August. Still not here. I understand now that weather you buy an emo of an accessory the size of a bangle your still gonna wait same mental wait and still pay all the shipping.
My wallet hurts and prolly won't be here for Christmas. I know your busy Emo gang but that much money to ship those little headphones they should have arrived the next day at that price and youd have change from that.
I am hapoy wiht my emo. Just hope headphones get here for Christmas is all… Not over the mood about the shipping cost being same nk matter what you buy but I guess its to be expected.
Yayy

so did he show up that day on the 21 Oct?