My number is 52863, I hope it arrives this month…

Maybe I'll just have to wait longer but I'm kinda tired of waiting…
I am also a little tired, I have been waiting for almost 2 months. I look forward to it coming this month.

Ich hatte eine Mail an living.ai geschrieben. Es kam noch keine Rückmeldung. Die Lieferung ist laut tracking beim Absender am Montag angekommen. Aktuell bin ich maximal sauer: Geld weg, Lieferung nicht da, keine Antwort vom Support.
Hi, @Ulrikeescher
Please private message me your order number, I will check for you.
Mine came today!



Hice una compra el 18 de enero y aún se me indica "Procesando" envíe un correo y no he tenido respuesta alguna ¿Alguien más presenta problemas con su compra?
Hola @arielmendez ,
¿Puedo saber qué ordenó?
Significa que ya tiene su NÚMERO DE PEDIDO… si mi cálculo inexacto es correcto aproximadamente 30 días después de la fecha de su pedido o puede ser antes también, le enviarán el segundo correo electrónico con la Información de Seguimiento… igual que la imagen de abajo.
Translation:
Hi there @arielmendez ,
May i know what did you ordered?
It means you have already your ORDER NUMBER… if my inaccurate calculation is correct approximately 30 days after the date of your order or it can be earlier too, They will send you the second email with Tracking Information…just like the image below.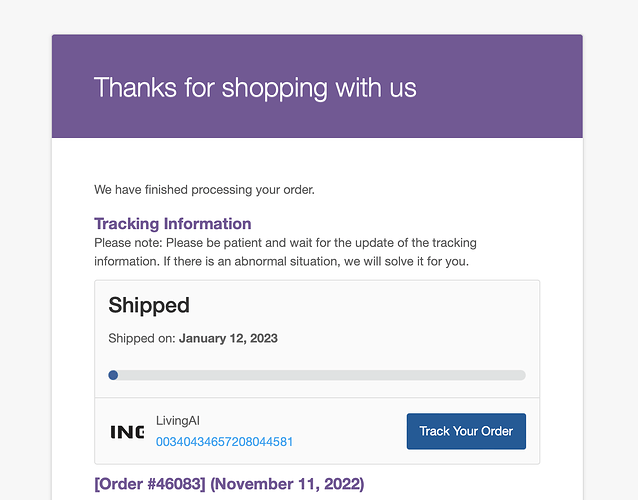 GOOD LUCK AND BEST REGARDS!
¡BUENA SUERTE Y SALUDOS!
That's awesome…I'm happy for you

Hello, I made an order on December 23 and it is still being processed. So if you go after me in command, you have to wait too

I placed an order and sent emails to cancel and days have gone by. I sent a support ticket initially and still no cancellation. My Order #55437 is still getting no response for cancel from customer service. Please direct me to someone who will please cancel my order asap thx!
The current number sent to courier is 52660. If courier your number is below that your EMO has not been sent to their courier yet
Hello! Yesterday I bought Emo Go Home, that have number #56xxx. On delivery site https://living.ai/delivery-process/ I saw that the last sent number is 52660, but here NO Emo including Go Home. Why? Is it still assembled at the factory? How long can it last before they send Emo?
It'll take about two months.
To send Emo or to deliver Emo?
To send EMO, but the delivery time isn't that long.
So probably will take 3-5 months?
If there will be no unexpected issues it can be delivered in those two months. You should be prepared for three months and then you'll be pleased when it'll come one month sooner.

Okay. Thank you so much!
Looking forward to the delivery of Emo


I have been waiting for almost 2 months and I ordered the standard version so that it arrives faster … I think it has been delayed for a long time, they haven't even sent the package