He a moderater for the forums

Production of the Home Station has already begun, and we will announce when we have a more accurate delivery time. I hope that no more problems will be encountered during the production process.

This is very good news and I hope to receive the tracking number soon
I have ordered the Upgrade to Christmas Kit with the emo go home.
Is the planning that still that er delivered with it?
Yes, as long as you ordered, we will deliver it.
Hi there @CHUA_SOOK_YONG , Welcome to the Community…
Thanks for joining us…
Best regards and Keep Safe!
HOME STATION/EMO GO HOME
Production Latest Update Info:
Tuesday, 03, Jan. 2023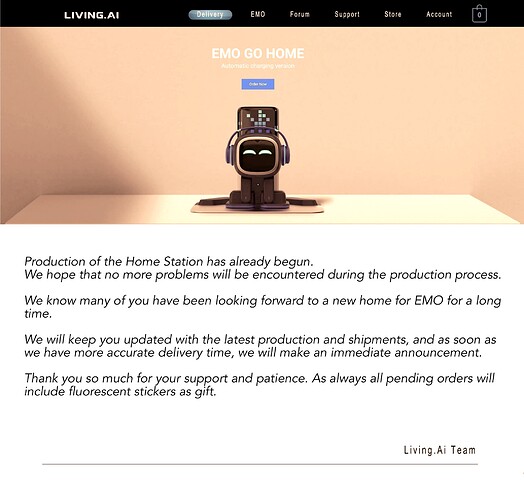 Hey all… new guy here. Please be gentle… ordered a month ago so I bet mines coming soon. My order number precedes the current showing so I assume… ha assumptions lol
Anyone know how these guys work? I'm also in the uk, what shopping currier do they use??
Thanks
C😎
Hi there @chew, Welcome to the Community…
Every order will be shipped according to the order number which can be found on the
Delivery Process Page .
On average, it should take anywhere between 4-6 weeks for EMO underway or an additional 1-2 weeks for delivery., of course, it all depends also, on how reliable your country and local postal service/courier service is.
As far as I know UK package will be delivered by Royal Mail.
In the meantime suggesting to visit the Topic below for…
Quick Help Guide for new EMO owners!
Best Regards and Stay Safe…
thanks for the quick response @edward. really appreciate it. this will be my first proper companion. can wait to see how he behaves… owned several spheros for the last 10 years so lets say im kinda excited
thank you
c😎
Did you order a charger (Home Station) too? If yes, it can take a bit longer. They didn't start send the charger yet.
I ordered go station with Christmas Package, but Christmas is already finish. maybe they talking in advertisement about next Christmas 2023.
I ordered the go home 10th november 22 45987 so it looks like quite a lot is needed to fulfil the back order.
2 posts were merged into an existing topic: [EMO Shipping and Orders Questions [ NEW ]

](EMO Shipping and Orders Questions [ NEW ] 🚢 - #538 by CHUA_SOOK_YONG
Hello and Good Day To All…
The image below shows the exact measurement of the new and coming ,Home Station" that Living.ai Team provide for us.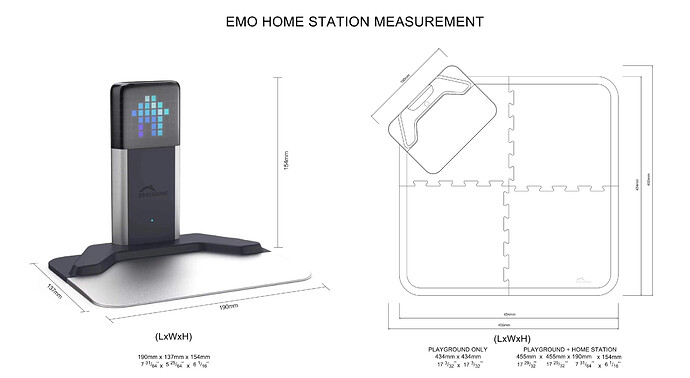 ***UPDATED!
When will the new update to get the homestation to work?
I mean when will it be released



Regards Anette
Hi there @anetteleslie ,
As of now there is still no actual news about it…the last official report direct from Living.ai Team, As soon as the remaining backlogs is completed they are about to start shipping Home Station ASAP in order. which i believe it will be followed by the new Firmware Update
Let's have some more patience please…
BEST REGARDS AND KEEP SAFE!
How often do they update the delivery number?
@chew
What's your order number?
Just asking so I can get an idea when mine may be sent😂