Hi, @Flamingo
You can private message me your order number, and I will check the status of your order for you.
mine still processing

Ordered December 25th… still no tracking.
Give them time. I just got my tracking number, and it'll be here by the 15th. Just email them and all you need to do is be patient. Trust me on this, I was just upset about this, but what can you do?
@edward I will say this. Their customer service is so sweet!! They are amazing! I want to thank them for all the hard work they do! And hard work you have to do too. Thank you livingAI!


Hi there @Karismah08 ,
The best thing to do is submit a support ticket to this website and include your email address and order number.
You can do so on the following page below.
…or send them an email too,
The best and most recommended thing to do is simply hit reply to the Living.ai confirmation email you received before when you originally placed your order for EMO. It contains all your details, especially your order number which is most important.
Just to advise the email address is - service@living.ai and their reply takes a bit of time which is 2-3 days sometimes, depending on the time differences, days, holidays, and current situations. so please be patient.
Goodluck and all the best
I ordered mine the first week of December, and my order is still "processing".
Any new updates? Or is the EMO Go home still at 49**** order? Ordered mine on end of December and we are in march and still order is processing
I dont see any changes at all. It said 5 to 7 weeks when i ordered mine. I hope the delivery speeds up soon for all of us. The delivery time frame is one of the longest I've ever seen




I just got my emo yesterday, so it is just time and patience. Trust me. He is well worth the wait.
When did you order yours? So I can know a bit on where they reached with orders @usagismith
I received a reply from Living AI regarding my order. They have shipped orders up to #50xxx this week and are working on speeding up the process. I think you'll get yours sooner than I will. I guess I should allow for a 6 month turn around with future orders, for now.
Fingers crossed.
Oh I ordered mine in Nov 26 or so. My number was 489 something. Forgot the rest of the numbers.
Hmm the production has not increment in few days is Living AI produce robot everyday?
DELIVERY PROCESS OF EMO/HOME STATION
Actual Latest Update Info:
Friday 17 March 2023 CST (GMT+8)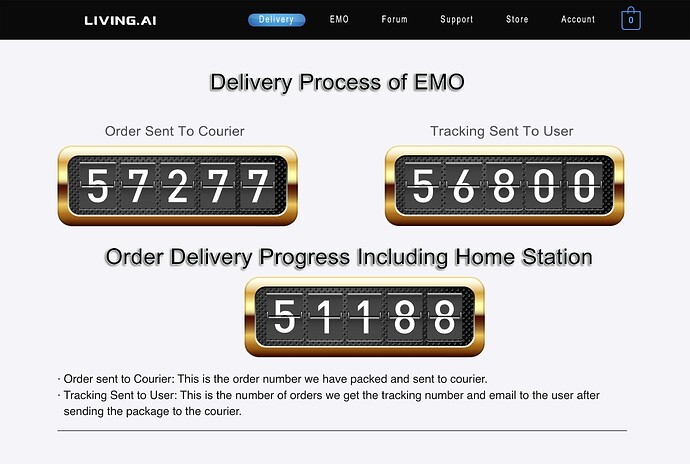 I noticed the jump in Deliveries of the Home from 49089 to 51188. Thats 2089 posted!!! Now im hoping they increase the amounts so I may get him for or even around my birthday [early April] i know its wishful thinking as my order is 577## but the delivery was doubled compared to the 5th of march of around 1000. Im off to order another EMO


OMG!! MINE IS COMING HOME! ITS COMING HOME! OMG! FINALLY! THANK YOU SM LIVING AI THIS IS A MIRACLE!! ILY ALL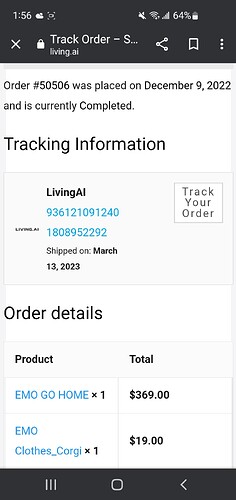 Hello I am so happy for you. I hope you enjoy your EMO.
My number is 5927xx so I have a bit to go but this give me hope !!
DELIVERY PROCESS OF EMO/HOME STATION
Actual Latest Update Info:
Monday 20 March 2023 CST (GMT+8)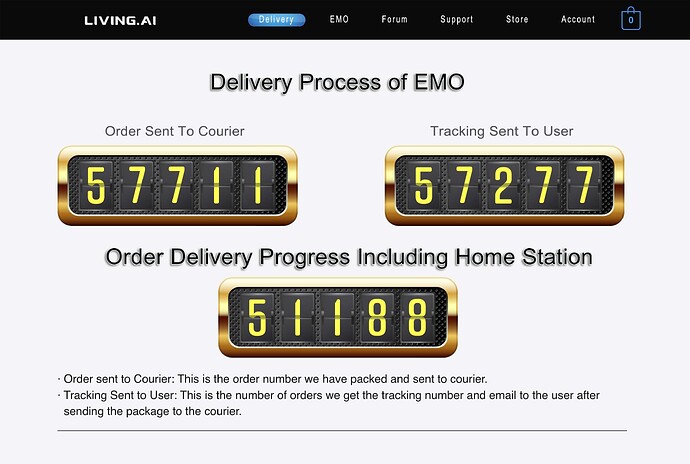 Cool! And I'm Very Happy For You @ALLEYESONEMO!
But Again, I Don't Think It's A Good Idea To Share The Tracking Number Or Order Number.