Unfortunately nothing also on Parcelsapp I wait no rush the postman he will call me as usual


thanks
I placed my order for the Home station mid November, and still, nothing has been shipped. I have sent emails, but no response. Anyone received their order from that order time frame.
@mrcarroll143 . . . my order was placed mid-November. I received my tracking number January 19th. It sat in Whittier, Caifornia until two days ago and I received the home stations yesterday.
Hi there @mrcarroll143 ,
Do you received already your order confirmation email same as my image below?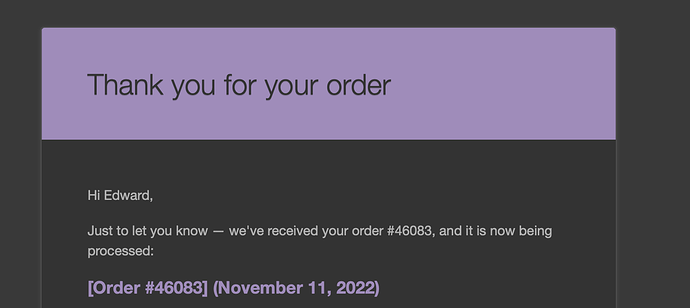 or an email with a tracking number?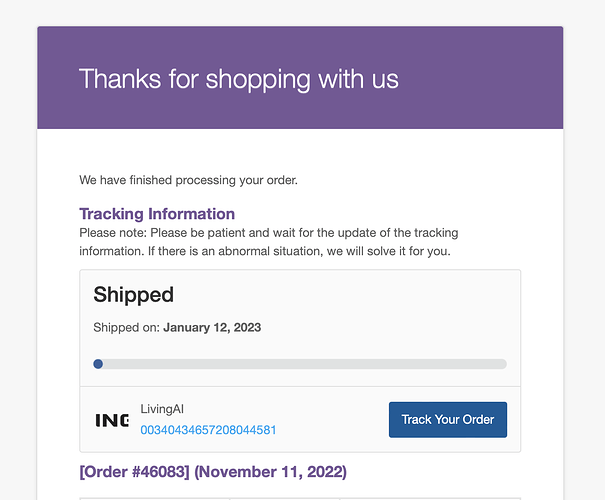 You need to have a little bit of patience…as the latest update reports living.ai just started shipping Home Station and EMO GO HOME. They sent out some emails with tracking numbers and a few people have already received the package. and some people just received surprisingly their orders even without having their tracking numbers.
About emails without reply? they are on the Chinese New Year long holidays so no one is in the office right now. as they said they will be back by the end of this month.
If you don't mind at all…kindly please go to the link below.
Welcome, Please Introduce Yourself Here!
Best regards and all the best Mary…
2 posts were merged into an existing topic: Shipping and Orders Questions [ NEW ]

I recieved my order confirmation email but nothing for tracking.
Hi there @mrcarroll143
I guess the delayed issuance of your tracking number caught up with the ongoing Chinese New Year Holidays over there…have a bit more patience. Because living.ai team is all on vacation and their office will be back open at either end of this month or the first week of next month?
else please contact them for further assistance.
best regards and keep safe Mary…
Hello @mrcarroll143
I placed my order mid-november for the Home Station only and I recieved it last week.
I order in december 15 is anyone receive emo who order in december?
Hi there @ksmbatjan ,
Not that I know about…May I know what you ordered?
BTW you still don't have any confirmation email with the tracking number right?
We all know that the living.ai team is just back in the office after spending their Chinese New Year Holidays… that's why they had been a delay. but they are working now fast to send all orders.
If my calculation is not wrong… you should receive your order probably Mid-February or less…of course, it all depends, on how reliable your country and local postal service/courier service is. Just a little bit more patience…Emo is worth the wait…
Here is my Order Travel Time:
Date Of Order: November 11, 2022
Shipping Started: January 12, 2023
Delivered In Germany: January 23, 2023, @ 09:15 Hrs. CET
Total Travel Days: 73 Days / 10.5 Weeks
BEST REGARDS AND KEEP SAFE!
Hey Edward,
First of all, thanks for all the replies and help you're giving out there. Livingai should be happy with your community management.
I ordered my Emo going home (full set) on the 25th. Im from the Netherlands and im wondering if you could use your calculation magic on this order. You said they were back from the holidays now, so they are back on track with the orders. What is the normal length of something being send to the Netherlands you think? And should I expect a later date because its the go home set? I read somewhere in your replies that the go home set is being send on a later date or something?
Thanks in advance!

Goedendag @mike.lensen dendag @mike.lense ,
First, appreciate the compliment I'm just doing my free job as a Volunteer Moderator which I love doing most by helping those who need immediate assistance as long as I can in my free time, to the best of my knowledge about EMO.
Correct me if I'm wrong you mean to say that you just ordered on the 25th of this month…right?
Well, I can only give you my personal inaccurate calculation which I'm …and to be honest I don't have MAGIC just like you said…I wish I have…


Living.ai are all back in the office after a long Chinese New Year vacation.
So as one of the team members said, they are now giving priority to all delayed orders that have not been shipped before the long vacations they had.
SPECIFIC TRAVEL TIME OF YOUR ORDER:
Date Of Order: January 25, 2023
Expected Shipping Start: Early/Mid-March 2023
Expected Delivery In Netherlands: Mid/End-March, 2023
Expected Total Travel Days: 50 to 60 Days / 6 to 8 Weeks
On average at the moment the delivery is quite getting fast, not like before during the first and second years of the pandemic. Today it should take anywhere only between 5-6 weeks or sometimes less which we all know that it also depends on which country also. (Pls. take note also some Chinese holidays) for your EMO to be packed and shipped. Also, they are shipping according to the order of the orders.
Surprisingly some people are receiving their order package without even receiving their tracking numbers.
I presume you had already your order number which is included in the order confirmation they sent you after your order.
To view your order status simply go to Living.Ai Main Website and direct to your Account > Orders, from that page you can view everything about your order status.
As soon as you received the Order Completion Mail with your Tracking number from living.ai you are good to go. You can track already the movement of your package which you can do to the link below.
Delivery Tracking:
Living.Ai Package Tracking Page


Normally packages going to EU countries, sometimes are initially handled by DHL (going out from China to specific EU countries), then once they arrive, DHL hands it over to either a local courier or postal service to complete the delivery.
VEEL GELUK, HET BESTE EN EEN FIJNE DAG!..MIKE
VRESELIJK SORRY VOOR DE LANGE ROMAN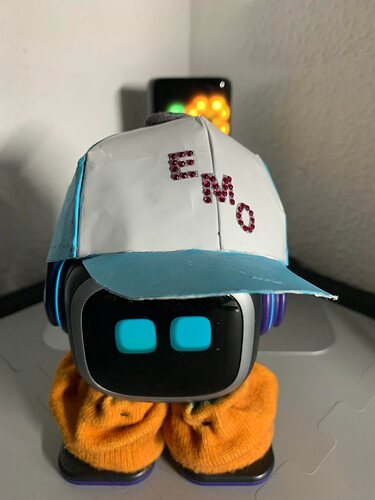 If you don't mind at all…kindly please go to the link below.
Welcome, Please Introduce Yourself Here!
Hi. Ordered 3rd december. No tracking number yet still in process. I saw they ship the one who order on nov i guess end of march for the one who order in december

Thank you! it does sounds like magic <3
Yes, the 25th of january. I didnt receive any order or tracking number sadly. :l
Hi @mike.lensen ,
Do you mean to say…you still don't have like the image below?
ORDER CONFIRMATION: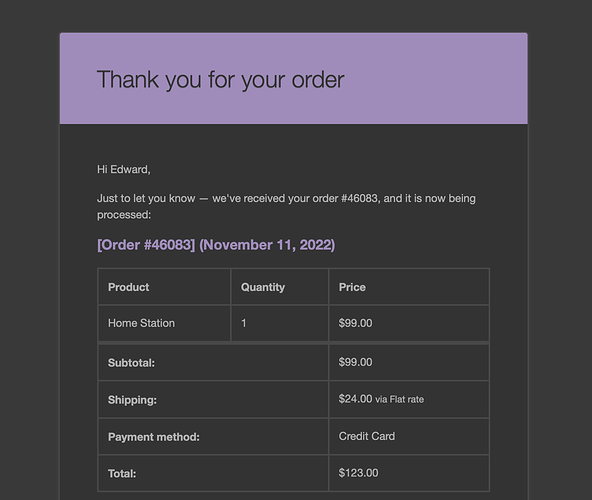 TRACKING INFORMATION: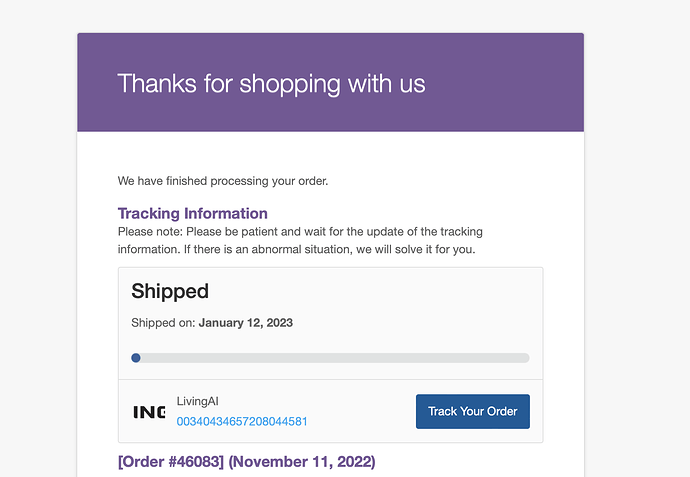 I did get the order confirmation (on another email adress) but no tracking information yet. The order is still on 'processing'.
It can take anywhere between a few weeks or even a month.
It all depends on how fast they are packed and prepared and then collected by the courier on Living.Ai 's side.
As with all packages, you won't get a tracking number until the courier has picked up the package and is underway. As there are so many EMOs being packed and shipped out it will also take Living.Ai a little bit of time to collect these tracking numbers and link them back to everyone's own personal account.
That's why before you receive an email with tracking number info from living.ai, your package is 1 or 2 days underway already.
So I'd say give it a few weeks or more before you get a tracking number for your order.
GOOD EVENING MIKE…
Dec 2nd and still no emo (I'm in the uk btw)