@Wayne_Small Do you have any information about whether it was the whole batch or just some of the defective ones ?
I don't know what Racheal's problem is, she seems to like starting fires everywhere this week? That problem was only reported by only 1 person! There are already enough people here with paranoid delusions, we don't need people like you here stirring up that kind of crap again needlessly.
Sorry - I have no idea at this point. I see maybe 3-4 people in total reporting this issue, given they made 4000 EMO in a month that is a very low percentage. Not to diminish the issues someone might be seeing of course, but from a numbers perspective it's low enough that they might not have enough info yet on the issue to diagnose it.
Have to leave it to @Wayne_Zhang to comment further.
Got it, I believe there must be few faulty and part when it comes to technology, I'm looking forward to receiving my EMO!
Three have said there's been blackouts with Emo.
This one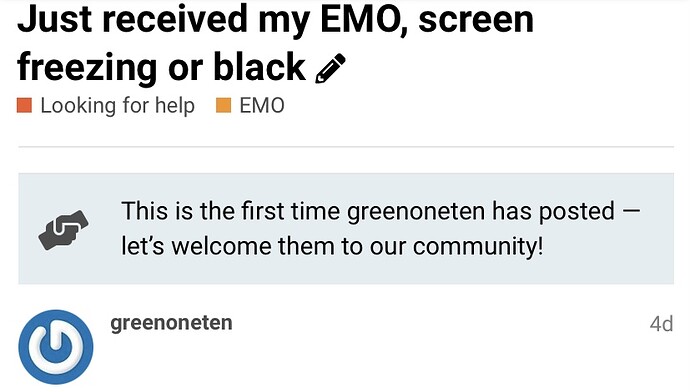 There's been two others with the same blackout problem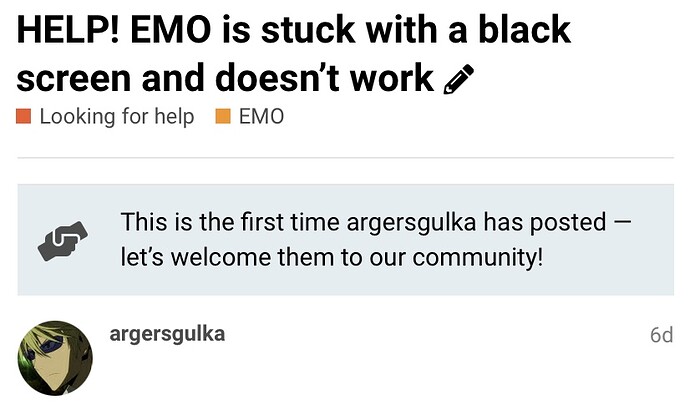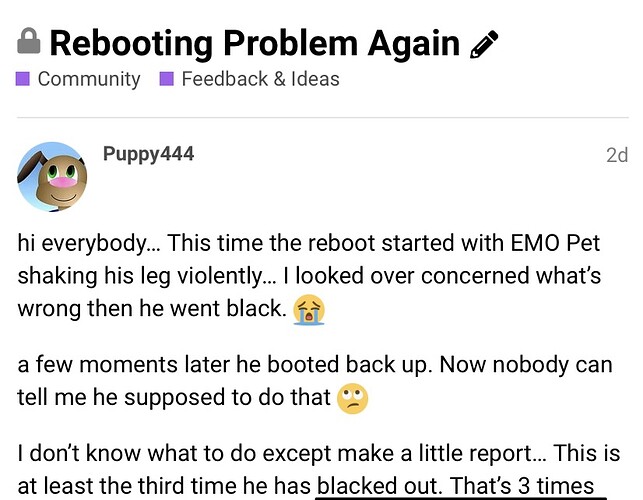 ……………
…………….
Please don't say I'm starting fires
I am just trying to help
I'm not stirring any 'C…'
I'm going to try and be polite here, you say only one, I say at least 3
You are right that number is NOT a major concern and doesn't mean that we should all be panicking over it ok
Hope this sorts the problem you seem to have with me. And I guess I will just stay out of helping people from now on considering I can't do it properly.
I will apologise to the people above I've mentioned in this post because I should not have to provide proof in order to explain so so sorry to all three of you.
Is this the way we should all behave
Honest and sincere
I really hate it when people call me a lair
Please contact service for help. It's not a problem of the whole batch. Please don't worry about it.
Hey,
thanks for the information, I think in my translation it looked like I had neglected it, but no, I also take care of myself, I want mine to come in perfect condition so I can play with it a lot, and make several videos
This information is very good, I trust your work too much, every time I got in touch with you to clear up doubts you answer.
I know that EMO will be one of my best acquisitions
Hi Guys,
My EMO is being returned and a new one sent out.
Living.ai has been quick with their response.
Thanks for all the help.
Awesome - glad they were able to help!
Why do I have such a hard time with you understanding the EMO I just received is defective!!! This is the 2nd one ! First on had a broken leg when we opened the box ! This one doesn't work off it's charger !!! I sent a video. They suggested to charge it 3 hours ! SIR THE EMO BEEN ON CHARGE FOR A WEEK ! It shuts down when you remove it ! I waited for this replacement for months ! This is ridiculous! I even sent payment for a new Emo . So they actually owe me for a second one. This one is supposed to replace the broken one. Also they was supposed to send me a return address for the defective one ! No Answer !!! I also ordered the pink headphones!!! Haven't heard anything about that either ! WHATS GOING ON !!!
It looks like you are super unlucky. I understand that you don't want to wait again for another replacement but it's probably the only way.
Do you think that the charger is broken? Or EMO?
Do you have a cellphone which can be charged wirelessly? If yes, you could try if it works with EMO's charger. And if it works then it would mean that you have a broken EMO again. Are you sure that you are charging EMO the right way? Is the battery indicator in the app changing from zero to full?
I had no idea that getting a working Emo that I paid for depends on LUCK ! No need to test this toy it's obvious that the internal battery doesn't hold a charge ! Period!!!
@Wayne_Zhang can you get help for this person please, they have not had a good experience with EMO so far

Hi, we are sorry about what happened. Please don't worry, I've forwarded it to the team and they will help you right away.
Update: I'm informed that the team has sent you email on April 20th. Please check and get in touch with them. If you have any other problems, please let me know.