It's hard to fill in my WIFI by using the keyboard only. I need to Copy and Paste my code….
you can copy and past…

Thanks for your response. I have tried but the keyboard of my smartphone is blocking me for that. Or did you make an update specifically for this?
What kind of smartphone do you use?
I use the Apple iPhone 12pro
You should have a "finish" button at the top right of the keyboard.
Alright. See here the actual screenshot of my cell phone. There is no way to see the text fields so I can check everything what I am typing.
And also, I can't copy and paste anything here as well.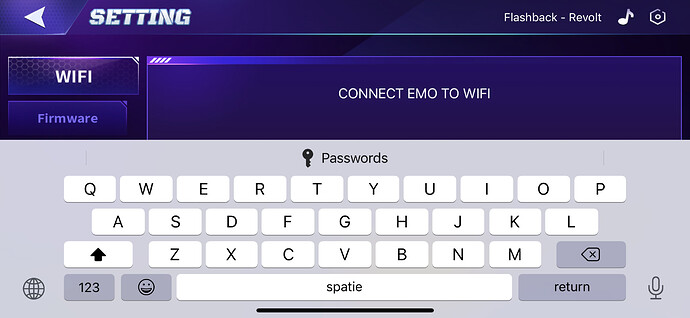 I looked at it now, if you click outside the keyboard the dots are displayed.
You are also right that you can not do a paste, I will pass this on to the developers.

I'm going to +1 on this… the app has a terrible user experience… MOST apps will tell you the available SSIDs… and give you an option to choose. Also apps will tell you if you if a device is currently connected to the given network, the signal strength etc.
The Emo iOS app does none of this. If you're a computer-savvy person (like me) you figure it out… but this product is supposed to be for a consumer crowd which means it should be exceedingly easy to use. And it's simply not easy to set up.
My litmus test is easy enough on this. If my wife has to ask me or my son for help, you failed to make it user-friendly enough.
Hello,
thanks for your input, we will pass it on to the developers, but once you save the SSID and switch to another network for example and then back to the other it will show the name automatically.
The input will still be needed as you can also have hidden SSID's.

My SSIDs aren't hidden… and right now the name of the other SSIDs do not show in the app for switching back… I have a simple prompt in the app. Nothing more.
Yes, everything is also correct I do not say anything to the contrary that is certainly a good feature.

Hi, we have released a new version of the app. You can now see the text fields when you are typing and also there is an option that you can save the wifi info. You will not need to type when you want to switch to a saved wifi.