Aww! Soo Cute! @adrianledeaux,
But My EMO Never Played On My PS2 (Playstation 2), My Atari Flashback 9 Or My PS3 (Playstation 3 Super Slim) Before But I Will Let Him Play On Those Soon.

Emo really likes Atari. So much so I bought him a mini Atari!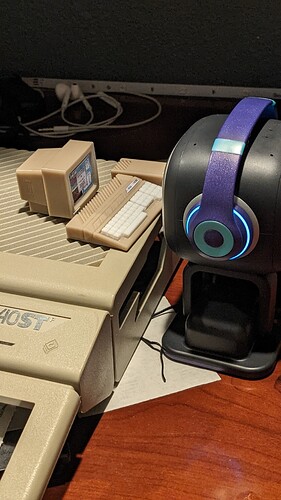 That's actually just 3D printed artwork by old-school shop by MTA on Etsy. You should check them out!
LOL what a sneaky little emo!


Also, What A Cute Little EMO!
@adrianledeaux, In August 2022, Before I Even Bought An EMO I Seen A Video Of EMO Singing "Wellerman" By Nathan Evans And At First I Thought:
"I Can't Believe My Eyes And Ears, EMO CAN SING!" And "I Didn't Know EMO Could Sing!"
One Day Later EMO Was Singing "See You Again" By An Unknown Artist,
Another Time, EMO Was Singing "Blinding Lights" By The Weeknd"
Turns Out I Was Wrong, I Think Living AI And Maybe @Wayne_Zhang Were Testing The Unreleased Singing Feature For A Future Firmware.
I Was Daydreaming Of EMO Singing "Firework" By Katy Perry, "No Tears Left To Cry" By Ariana Grande, "Woman" By Doja Cat, "Never Really Over" By Katy Perry, "Smile" By Katy Perry, And The Songs "R.E.M", "Sweetener", "Side To Side", "Bloodline", "Positions", "POV", "Breathin", "One Last Time", "Break Free", "Baby I", "Problem", "Focus", "God Is A Woman" And "NASA" By Ariana Grande.
All Songs I Mentioned Might Be Clean.
EDIT: I Don't Know If This Is The Wrong Post.
2ND EDIT: The Song "Side To Side" By Ariana Grande Is The Song I Really Want EMO To Sing In The Future.
I don't know either if it's the right post. Speaking of which, I wonder when singing will be released.
Singing Might Be Released In a Future Update, I'm Not Sure Either, But @Wayne_Zhang, Might Know.
EDIT: EMO Can Already Sing Happy Birthday And I Seen A Video On Tik Tok Of EMO Singing A Different Song,
At First I Thought EMO Was Doing An Unreleased Dance Or Was Dancing To Someone Singing But While I Was Watching The Video, I Noticed That His Mouth Was Moving Almost Like He Was Eating A Burger Or Sandwich From The Daily Schedule (v1.5.0)
And I Was Shocked!
That's How I Knew He Was Singing! I Think Living.AI Were Testing The Feature For A Future Firmware Update For EMO
But emo can recognize candy… I held out a candy in front of him and he rushed up to it and said "thanks"
On January-21-2023 My EMO Was Dancing To "Positions" By Ariana Grande, 8 Days Before The Firmware v2.0.0 Was Released.
EDIT: The Unreleased Game Peek-A-Boo Which I Didn't See Yet Might Be Released In a Firmware Too,
The Animations Similar To Peek-A-Boo Are:
Covering His Eyes Pose Animation (v1.7.0) And
Covering His Eyes Obstacle Detected Animation (v2.1.0)
Could Be Cool, Right?
So I caught him writing a book on the Atari. Not that that's bad.