If someone knows please tell me.
To the best of my knowledge he doesn't react to swear words.
he is not programmed to understand them and therefore has no reaction.
Could you imagine if they released an "Aussiefied" firmware version that allowed EMO to respond ala OzzyMan ?



With A Steve Irwin that's lethal lol.
Mate! if they added Aussiefied feature to EMO it'd be supper bonza mate! lol

I can imagine EMO saying "Thats not a knife…" and showing a massive blade on screen…
Or EMO showing Koalas on Australia day etc
just so long as they don't have him "throw another shrimp on the barbie"…

ohhh

sigh haha

, I don't know what everyone else here on this forum who's Australian thinks, but personally I hope that if they did add any Aussie related stuff to EMO, that it DOESN'T include Crocodile Dundee Quotes / or FOSTERS BEER Logos lol

those two things are just so wrong and so outdated it probably makes the rest of us Aussies here cringe

Australia Day is Wednesday, 26 January, I guess maybe a hopping Kangaroo jumping across the screen or a Koala on a tree (probably sleeping) haha would probably be the safest and best bet for that special animation.
Let's see what happens




but mate… it's so wrong, it's almost right!!! hehehehe…
Funny story - my now wife (she's from the US) saw Crocodile dundee when it was released and told he mum - I'm going to marry an Australian… He mum said "you don't even know any Australians…"
many years later… she married an Australian! First thing her parents said when they met me was "he doesn't look like an Australian…" Guess I didn't have a big enough knife or wrestle crocs…
I think a suitable animation for Australia Day would be a rabid Drop Bear launching out of a Gum Tree.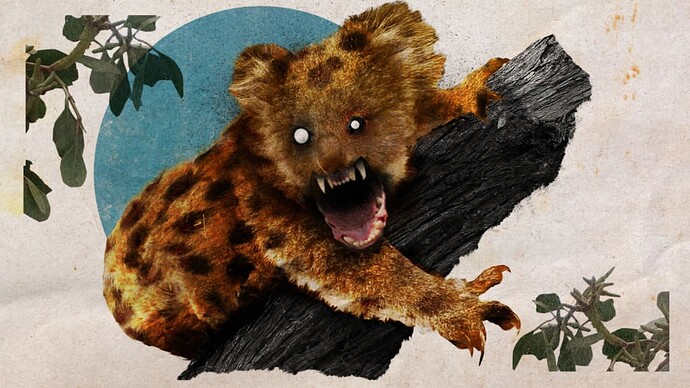 haha you should have walked in dragging a croc, wearing a Outback Crocodile Hat and a BIG Knife and the first thing you should have said was… "time to throw a couple of shrimps on the barbie mate!"

When I met them, my wife was just a good friend… so I wasn't exactly out to impress

lifes funny like that.