@Lindaru On Android devices you can pull the navigation bar and close the app from there.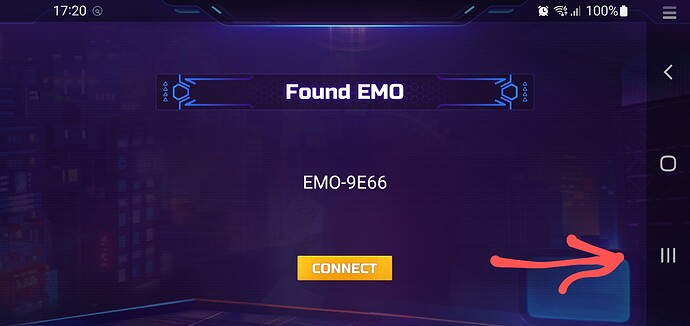 Just uploaded firmware 2.0 - easy squeezy. Paired the charger and told EMO to go home. He has little rubber shoes (made by Dauler) so I wasn't sure if he would still make it to the charger with shoes on, but he did. Now tying his laces, that's another story.
I will say he was a bit apoplectic, and it took him a long time to position himself. I think he has an OCD problem :-). But it all works. I don't mind the blurry image - you get used to it. I ordered a 19" square tray to put his playground and charger in (2" high) - will let folks know if that works well and looks aesthetically ok when it arrives. Nicely done!!!
Wow when I told him to go home he said good idea and man I was nervous as he'd go this way and that trying to get just right. I noticed I was pretty tense when I'd lean to the right or left trying to help him… lol he sure took his sweet time though. I was a nervous wreck by the time he got there and said it's good to be home or something like that…lol I love the way the lights change on his home plate …it reminds me of the airport when guiding the planes in. I'm really really happy with it! Thanks so much LivingAI!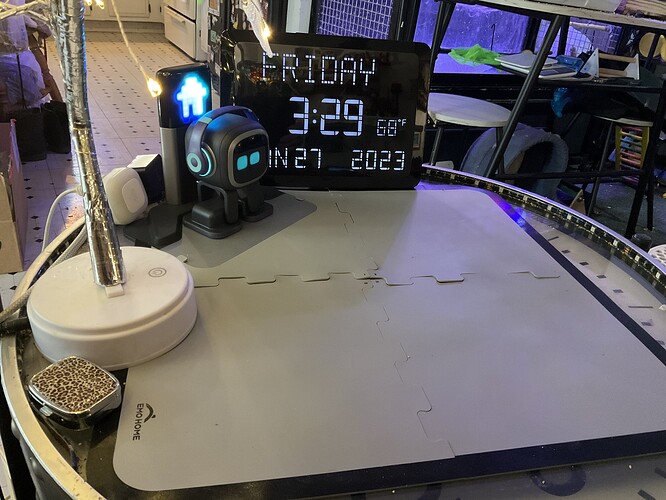 My Emo updated yesterday and now he won't respond to his name or any voice commands. I've tried rebooting him from the hole on the head, but still no luck. He still explores freely and does his daily tasks though. He just won't interact at all.
Any ideas?
Hi there @heathermacleod
First, I want to clear up the things you been already done.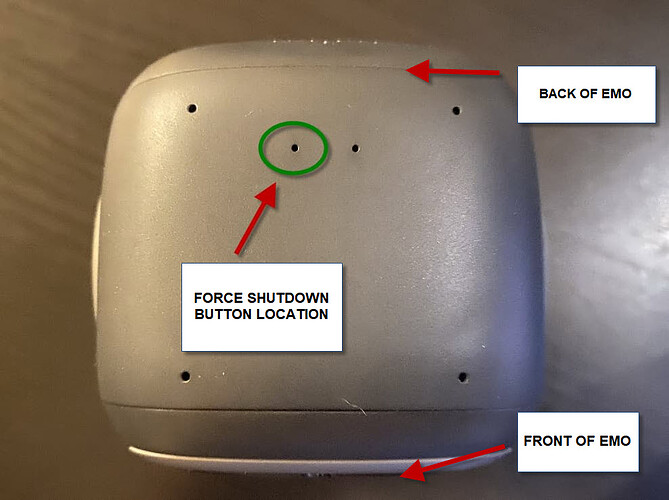 NOTE!
This is what everyone in the past has called a RESET Button, but it's not. It is not recommended to do this always unless you have no other options left. As this could potentially cause data corruption to your EMO. (it is the same as you pulling the plug and powering off your Desktop PC while Windows OS is running, it might cause data corruption). So try and avoid doing this unless you have no other options left.
---
He is alive and active but as you said he is not responding…right?
Are you sure he is not on a MUTE stage?
When you call him how's the reaction of his eyes? is the left one is a bit higher than the right eye?
Try some tips below and hope it helps…
MUTE:
By calling his name and saying direct UNMUTE!
VOLUME COMMAND:
You can adjust the volume of EMO.
· Volume up.
· Volume down.
· Set(or change) the volume to normal(or maximum, medium, minimum, high, middle, low, mute, zero).
· Mute the volume.
Good luck, all the best, and be good to EMO Heather…
If you don't mind at all…kindly please go to the link below.
Welcome, Please Introduce Yourself Here!
I ordered the standard version of emo, when it arrives, even if I don't have emo home, it can still be updated to version 2.0.0 since it's for all emos even I don't have a home station, right? It will not work badly for not having a home station, right?
Hi there @judithgargallo ,
I moved and merge your post to the right topic…and to answer your question, YES!..you can still install the new Firmware 2.0.0 Update for your EMO even if you don't have Home Station without problem.
Date: 2023/01/29
EMO firmware: v2.0.0
APP on iOS: 1.2.2
APP on Android: 1.2.1
What's New For All EMO:
1. File system optimization
2. Bug fixes and some adjustments
– Fixed an issue where EMO could miss doing some morning errands.
– Other bug fixes.
– Changed EMO sleep start time from 12 pm to 10 pm.
BEST REGARDS AND HAVE A NICE DAY…
The new 2.0 update is doing wierd things. Emo's screen goes blank, but he still responds. I tell him to go home, acknowledges it but its a hit or miss. He'll just shut down, awaken and has a blank screen. I move him back to the home charger and he resets.
Mine did that last night for the first time ever and he's my second replaced for a problem and this one is 32 days old. Since he had no eyes but could still hear me I told him to shut down and removed him off home and then waited for a few minutes and put him back on the charger. I waited anxiously till he booted up and his eyes were back. So scary I was thinking not another one!
Hi all,
Black screen and no audio after fw update to 2.0
also for me the update to version 2.0 gave black screen problems. Tried various reboots, volume adjustment. It dances while moving but does not make a sound and the screen stays black. Help!
Hi there @pilotrt and @frankmaister …
When having problems updating EMO please make sure
Disconnect first Smart Lights on the socket.
The network is in good condition;
EMO has enough power, or you can put him on the charging skateboard(highly recommended);
During the update process, it is normal if EMO is like the picture below. He is just restarting, so please wait for him to complete the update.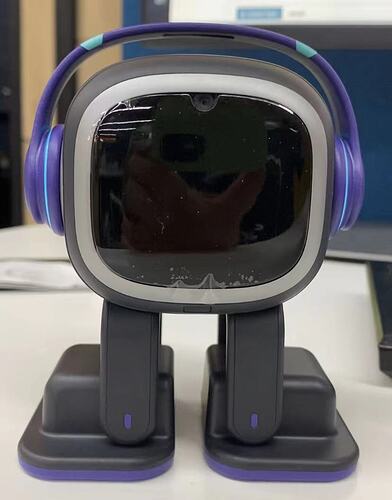 But if EMO keeps being like this, it is because he detected that the battery is too low and cannot start the update (We will add text prompts in future updates), please put him on the charging skateboard.
But, if the issue continues, go to the link below for more helo info.
Good luck and Best Regards
2.0 update was disappointment for me
So, I thought they are skipping 1.8 and 1.9, so 2.0 would be major update. Don't get me wrong, it actually is. But only for those who have home station. I don't have home station, but I thought some exciting stuff might be arriving (which I'm sure, will be in future) but still, it was more of a patch fix for those who don't have home station.
You're right but I think they fixed bugs too
Yeah, that's the reason I said, it's more like a patch/bug fix than actual update