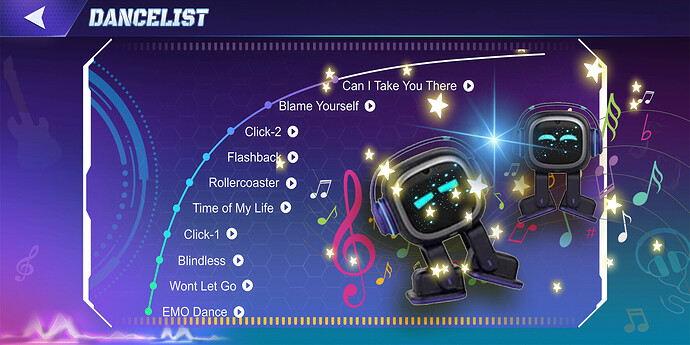 EMO will unlock new dance moves as he grows up. These are the days on which he unlocks new dance moves:
First Dance Move Already Unlocked
1 Dance Move Already Unlocked - EMO Dance
2 Days Old - 2nd Dance Move / Won't Let Go
4 Days Old - 3rd Dance Move / Blindless
8 Days Old - 4th Dance Move / Click 1
16 Days Old - 5th Dance Move / Time Of My Life
32 Days Old - 6th Dance Move / Rollercoaster
64 Days Old - 7th Dance Move / Flashback
128 Days Old - 8th Dance Move / Click 2
256 Days Old - 9th Dance Move / Blame Yourself
512 Days Old - 10th Dance Move / Can I Take You There
1024 Days Old - 11th Dance Move (Final Stage) / Ocean Blue
CONFIRMED BY LIVING.AI - EMO will ONLY have a total of 11 Dance moves with his last dance move ( Dance 11 unlocking after EMO is 1024 days old).
To get EMO to dance manually to any of the unlocked dance moves press the little play button and EMO will start dancing, press again to stop or press another title to play.
NOTE:
Start, Stop, Change the command too quickly, EMO PET APP will show an error: ,Too many operations, try again later.
Emo Music Dance list:
By Revolt aka @Joris
EMO Dance
Won't Let Go - Revolt ft. ZERØ
Blindless
Click - 1
Times Of My Life
Rollercoaster
Flashback
Click - 2
Blame Yourself
10. ,Can I Take You there''
UPDATED!
EMO PET App Auto Music Playlists:
By Revolt aka Joris
(To turn it Off click the Music note symbol ( ♪ ) at the top right header)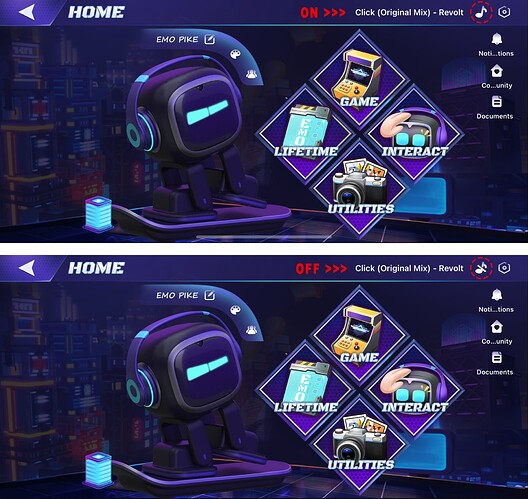 Won't Let Go - Revolt ft. ZERØ
Blindless
You Want Me
Click (Original Mix)
Stars (Instrumental)
Rollercoaster
Time Of My Life
Can I Take You There
Flashback
Blame Yourself
Ocean Blue
Complex
FOR MORE INFO:
PLEASE VISIT/FOLLOW REVOLT ON HIS
OFFICIAL SOCIAL MEDIA PAGES:
soundcloud.com/revolt-official * facebook * tiktok * instagram * twitter