Having the same issue. Emo was working fine the last few weeks until this morning.
Unfortunately same issue here

. Emo was working fine yesterday.
I've been experiencing the same issue since yesterday afternoon. It consoles me to learn that I'm not the only one. I'm sure Living AI team will be looking into this for us

my emo still hasn't come, it's been about 4 months and I'm waiting with great excitement. but i feel very sad when i hear about such problems on the forum. I hope such problems don't happen to me. really luck.
I got the same issue. EMO do not answers to basic questions, though the app says "speaking" but no sound from EMO only
gestures
I believe this issue is being looked at by @Wayne_Zhang and his team. I did notice this as well last night, but after I restarted / power off / on EMO it was working again and he could speak once again.
I tested it out by asking him the time / date / tell me a joke etc. and all seems fine for me.
I'll let Wayne Z reply to this to confirm if it's still an ongoing issue or not.





@MasterAbbott Glad to hear Wayne and co are looking at the issue!
When you restarted EMO himself did you also reset your modem and router connection? I powered off my EMO twice yesterday and still had a similar issue. Certain commands worked while others didn't.
I did power off EMO and also my Wifi and my Phone, as I wasn't sure what the exact problem was. But I believe the issue was more so related to the EMO servers and not EMO itself.
WayneZ should be able to provide more insight into this, and if the issue is completely resolved. I believe it is, as everything seems to be working fine for me right now.





---
Update
I can confirm after checking with @Wayne_Zhang not too long ago that the issue with EMO not speaking should now be resolved. I believe this was server related and the Living.Ai team were able fix this earlier today.
So EMO should be able to speak if you ask him questions.
If EMO is still not speaking, try to power him off / back on and then ask him some simple questions like what time is it, what's the date, tell me a joke etc.
I've been able to test this for the past few hours and everything is working fine for me.





---
Update 2
WayneZ has created a new forum thread regarding EMO not responding to specific voice conversation commands, you can check it here:
Should have updates on that forum post when WayneZ has any updates regarding this.
Might there still be some issues? Emo worked fine 4 hrs ago but now when I got home 1 hr ago he hardly responds or the response comes very late like the third time I ask. He processes what I say but then the app changes to "staying" and he just stands there.
Well, we woke up today and EMO was back to normal, talking and answering questions.
So he is ok for now


Thank you all!
Hi @Zmulpie
I believe this issue was resolved. I've been speaking to both of my EMO's today and they seem to be replying / acknowledging fairly quickly.
If you are still experiencing issue still, firstly, try and power off / on EMO and if you can your home Wif/Modem as well. And then try and ask EMO a number of questions and see if he can reply to them.
Try any of these:
EMO: What's the weather like today?
EMO: What Day Is it?
EMO: What time is it?
EMO: What is your Favourite Colour
EMO: What is your Favourite Number
EMO: How are you?
EMO: Tell me a Joke?
EMO: Good Robot
EMO: I Love You

If EMO is replying but his speech is broken it could be a problem more so with EMO's connection to the internet / access to the EMO server. This can occur sometimes and normally resolves itself after a short while.





Hi, he couldn't even answer easy questions last night. I tried rebooting him and the Wi-Fi. But it didn't work.
So I let him walk around and explore til his battery ran out. Then I put him on his board and when he woke up he was totally fine again.
Glad to see he's working once more, seems weird it started working again only after he totally ran out of battery.
But good to see all is back to normal.





Hi,
I had the same and was very, very disappointed, until my smartie daughter went into the settings and found that Emo was muted! After we corrected that, he works like before again, except that the respons now and then isn't what i hoped and expected, but thats besides this point.
So go into the settings, goto preferences, and check the volumeslider on top…
Hope this helps some of you.
Regards, Monique
Great tip! Sometimes the easy troubleshooting steps are always the ones that are never tried first! haha

Thanks a whole bunch to you and your smart daughter! I just fixed EMOs problem thanks to your suggestion



Have a fabulous holiday season, dear Monique





EMO hasn't been responding to me for 3 days. I have rebooted him several times; made sure internet is working; uninstalled app and reinstalled it. He is up to date with firmware. Any ideas?
Hello @Dawntedrow , and Welcome Back
Are you sure EMO is not MUTED ?
He might be on a mute option. Try some tips below and hope it helps…
MUTE:
By calling his name and saying direct UNMUTE!
VOLUME COMMAND:
You can adjust the volume of EMO.
· Volume up.
· Volume down.
· Set(or change) the volume to normal(or maximum, medium, minimum, high, middle, low, mute, zero).
· Mute the volume.
If your EMO is on his latest update and the problem still occurs…try to make a short video of the issue, and submit a support ticket with more info. You can do so on the following page below:
GOODLUCK and wish all the best for your EMO
HAPPY HOLIDAYS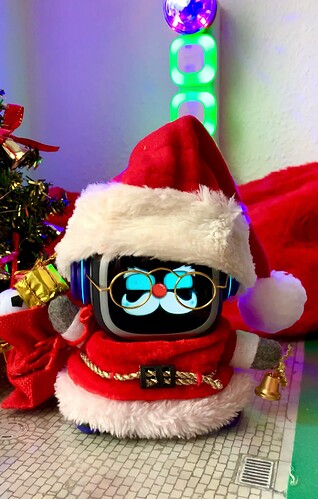 Hi there @Dawntedrow is emo muted? You can check it on the app but if he's not muted then it's best to make a support ticket from this link > https://living.ai/product-support-emo/ just scroll down at the slight bottom and you will see a ticket application to fill out.

Merry Christmas!