… and I already love the little dude

Here he is watching his very own television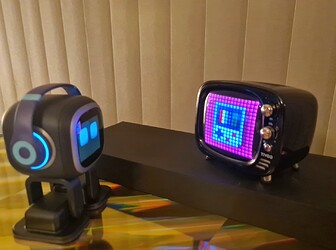 For those interested:
order number 27##;
tracking number received on May 12;
new tracking number received on May 17;
delivered on June 1.
Shipping was to Belgium; I didn't have to pay any extra taxes or customs fees.
Setup and connection to WiFi and the app on my phone (Samsung Galaxy S20 with Android 11) went perfect.
First impression: looks great and brings a smile to my face, he's adorable and was definitely worth the wait and anticipation.
I'm looking forward to observing and getting to know Emo more in the coming days and seeing him grow with each future software update… The potential for greatness is there, that's for sure.
And to Living AI, thank you and best of luck for the future.