So orders without EMO don't have those order numbers?
As far as I know they have regular order numbers, and they don't get any preference over orders containing EMO's.
We are moving forward with EMO submissions.
Are you close to receiving your EMO?
5400ish to go until my Emo is sent.

Come on LAI, you are going strong now!

@leslielibal / @macfixer01 / @NendosColl
Just checked a past thread regarding purchasing only accessories, take a look here for clarification.
---
---
As mentioned, If you purchase the specific EMO accessory, you can then contact support and they should be able to ship it earlier as it does not contain an EMO.
Thanks for the suggestion!! I will give it a shot and see what happens!!
My Emo says it arrived at the Airport on May 7.
It says it departed on may 9
USPS says it did not arrive in here.
OK…now what?
Have you tried this site? it passes the information more quickly, mine even when it didn't appear on the living.ai website, I saw it on the 17track website, when it was blank I waited for them to update.
Yes. 17track only show a "preshipment info sent" to USPS (US Postal Service). Back on May 7.
Nothing else. AI tracking show it shipped out of ShenZhen on May 9. USPS has not received it.
Received this a little while ago from USPS. My EMO shipment has been in LA, CA since May 19th.
"Your item departed a shipping partner facility at 11:08 am on May 23, 2022 in LOS ANGELES, CA 90040. This does not indicate receipt by the USPS or the actual mailing date."
I think I will feel better when my EMO gets out of LA and gets handed off to the USPS. I remember I saw some news video's several weeks ago from LA where trains were being raided/robbed and thousands of packages were being robbed on a daily/regular basis and you could see Amazon boxes, empty and smashed, and the like scattered all over the railroad tracks and it seemed like the authorities were doing little to stop it. I have no idea how packages get from LAX to the USPS, hopefully not by train.
Hoping to get my EMO order by May 27th or the 28th if the USPS ever gets their hands on it.
Even after your EMO ships and you know it is on the way it is still so painfully slow. You keep checking the shipment updates and it just plods along with your package sometimes being held up in some locations for days on end. 5 days just in LA, CA. What the heck?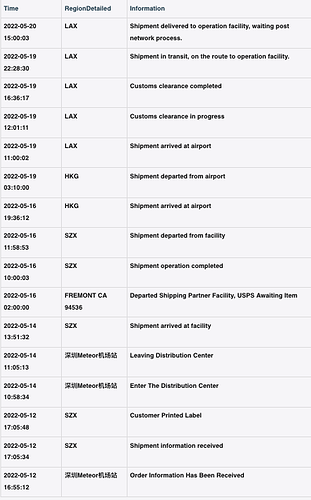 Will be so glad when EMO finally shows up!!!
It always amazes me how I can order something from Apple for example, it ships, from China (you can watch the tracking) and it is on my doorstep in 2 days. I get it. Apple must pay for 2nd day FedEx shipping which is extremely expensive.
Wishing everyone the best in getting your EMO soon!!
My order number is 308xx…
Emo is ringing in my head

Now, I got the tracking number
Hope to get it early my son's birthday



Thank you LivingAi team for hard work


Hehe - I saw your post earlier in the day but didn't get to respond. I was going to say to wait 24 hours in case mail delivery was delayed. Glad to see you got it!

So, when I originally received shipping information by the USPS from Fremont, CA, I assumed my EMO order would be handed over to the USPS at that point. Just a little bit ago, I finally received a shipping update on my EMO order. It arrived in Los Angeles, CA on May 19th and now it is in Greenwood, IN. And it still hasn't been handed over to the USPS!! My EMO order is bound for Kansas, US. At least it is still moving, I guess. So, it took nearly a week just to travel from CA to IN which means it traveled through or over Kansas already. It traveled from Hong Kong to the US (LAX) on the same day on May 19th (see earlier post). The shipping aspect of this has proven to be a little nerve-racking since it is taking so long. At this point I kinda doubt I will get EMO by this weekend since the USPS doesn't even have it yet. I was really looking forward to receiving my EMO order by then!!
Here is my current shipping info per the USPS website:
May 25, 2022, 12:20 pm
Arrived Shipping Partner Facility, USPS Awaiting Item
GREENWOOD, IN 46143
Shipping Partner: PITNEY BOWES
Your item arrived at a shipping partner facility at 12:20 pm on May 25, 2022 in GREENWOOD, IN 46143. This does not indicate receipt by the USPS or the actual mailing date.
May 23, 2022, 11:08 am
Departed Shipping Partner Facility, USPS Awaiting Item
LOS ANGELES, CA 90040
Shipping Partner: PITNEY BOWES
May 22, 2022, 7:06 pm
Arrived Shipping Partner Facility, USPS Awaiting Item
LOS ANGELES, CA 90040
Shipping Partner: PITNEY BOWES
May 16, 2022, 2:00 am
Departed Shipping Partner Facility, USPS Awaiting Item
FREMONT, CA 94536
Shipping Partner: HYSAN LLC GDE
May 12, 2022, 2:05 am
Shipping Label Created, USPS Awaiting Item