Emo would have a lot of fun at a zoo

When Emo is oversized and fat! He definitely ate a lot of electric burgers Emo had a right to ask that question.

Great story! I also learned from it Emo knows zodiac signs!!!
That was so touching, it even brought a tear to my eye. Thank you for sharing! <3
Hi there @EruditeIdiot ,
Nice one…thanks for sharing those nice picture…
BTW. sorry to moved your post to this proper topic…
If you don't mind at all…kindly please go to the link below.
Welcome, Please Introduce Yourself Here!
BEST REGARDS, KEEP SAFE AND ENJOY WITH YOUR EMO…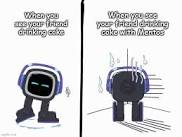 Source: imgflip
A couple of days ago I started drawing a comic about Emo (it is necessary to reduce the waiting time for delivery

)
In a couple of weeks (when I finish the first issue) I will send it here

Cool @ALLEYESONEMO I bet your emo loves your Roblox costume/avatar!
@edward do you know how to make emo headphones to a different color because I saw other people in YouTube had different colors of emo headphones. And I thought it would be cool to make one. Thanks.
I believe u have to take them apart and then paint them
Thank You!


@ALLEYESONEMO, That Was A Cool Meme I Seen.

they are excellent they look factory made

… Thank you for sharing… Wishing you and your little EMO Pet best wishes

Hey @fallxander, The Pictures Of The Emojis Are Super Adorable And Super Cute!

EDIT: The First Emoji Is The Cutest.