mine is on a solid black gaming mat, emo has never had a problem with it.
Thanks for your reply, Abbot. I have ordered two chargers.
Can I sync each Emo to a specific charger or will they just go to any charger that's available? Since the app identifies each Emo by a specific number, will the charger do the same? Thanks for any info you have.
Maybe @Wayne_Zhang knows the answer. Also, @Wayne_Zhang, thanks for everything Living Ai is doing to improve Emo. I love my twins.
Just purchased the home station. This is going to be a great addition to his play area!
At this time, there are no plans on creating "extra pieces" but you are more than welcome to create your own customized playground, I'm guessing a number of EMO owners will probably do this once the Home Station arrives. Also as the Home Station can also be used by itself as well you can place it in an existing playground area, and when EMO needs to go back to charge, he should find his way back home and recharge.
---
My work desk is also black, and both of my EMO's are working fine and also have good edge detection as well. I sometimes check this by pushing them close to the edge of my table and they shuffle back. So, black table surface is not recommended, but they both seem to work fine on it. (as long as the lighting in the room is good) and not too dark.
---
Before you get your Home Station, there will also be a new EMO Firmware update released as well (this will be happening soon - no exact date yet), but the firmware will also include features that EMO will need to sync up and use his new Home Station. EMO will sync to only one specific Home Station, once syned, that will be his own personal Home Station, your other EMO will not identity that home station as his own, and will not go home to that specific one, and in turn go to the other one that you sync him up with. (hope this make sense). – Also connection to the Home Station will be done via BLUETOOTH MESH.





Yes, you will need to connect your EMO to a certain home station.
Thanks for all the info! I really appreciate how helpful everyone is.
No problem. I'll keep updating this thread (at the top - original post) to include as much info as possible as we learn more






So…can Emo synch to more than one station? Can one Emo have two stations?
The trick will be…use a light-colored surface for your playground…and then use something like Black tape to lay down that "wall" in any shape desired, eh?
Hey @Heineknn
EMO will only be able to connect to ONE Home Station at a time, he won't be able to connect/sync up to two Home Stations at the same time. So you will need to choose whichever Home Station you want your EMO to connect to and he will stay synced to that Home Station.
If you want your EMO to connect to a different Home Station, you must un-sync him first from the Home Station he is connected to, then Sync him to the other Home Station.
Do Note that if you have a second EMO that is synced to the other Home Station, you will need to un-sync him first before you attempt to make the new connection with the other EMO.
Hope this makes sense






---- EMO GO HOME ---- AND ----- Home Station ----- WHATS INSIDE!
This is what EMO GO HOME & HOME STATION packaging will look like (sneak peek) – image provided by Living.ai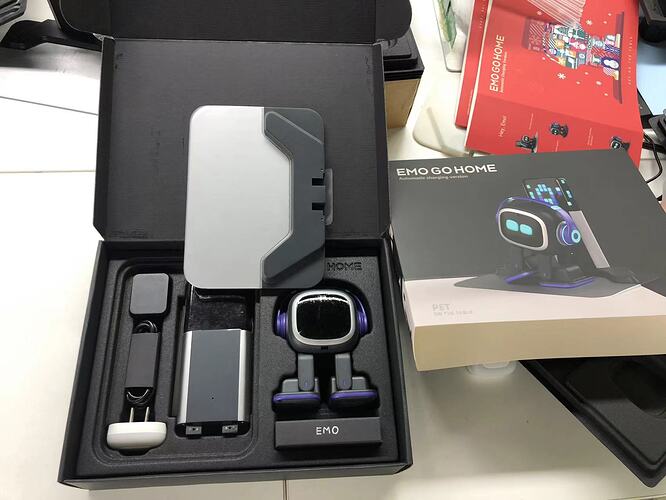 NOTE – For the HOME STATION, the box will be exactly the same, but it not contain an EMO, but will still have the empty spot where you can place your EMO.





Thanks for sharing, that provides a nice impression of the actual size of the home station (compared to Emo).
Yes very true! and it's also a good travel box as well

everything fits perfectly and securely, so if you need to take EMO with you somewhere just him back in this box and he's good to go!
if i was travelling with emo i would just use his skateboard instead of having to set up the home station. plug and go. I do love how snug emo is in his box.
Hi there any news about Shipping obviously for Emo Home Station . I guess the Delivery Update numbers are not the same for us with the Home Station maybe I'm wrong thanks @Wayne_Zhang i appreciate take care
My home station order number (just the stations not the Go Home version with EMO) has the same sequence of tracking number as the EMO orders only. Not sure how that is going to play into the deliver/tracking updates.
@Wayne_Zhang Will be sharing an update on the status of the Home Station and when it will be shipped out to customers very soon.






The update comes with home station or it is just a general update everyone get?
I believe its' a general EMO Pet App update for all users, and a Firmware Update also so that we can set up EMO to be able to use his new Home Station by himself if you have one.