I ordered EMO Feb 17, 2023 when will it arrive do you guys think?
I live in europe.
Hi there, nice to meet you…
On behalf of the Living.ai Staff, Volunteer Moderators, and all Community Members allow me to welcome you to EMO's Community Forum,
Please feel free to post any type of inquiries regarding the process of your order and deliveries here.
IMPORTANT INFO!
As we all know every order will be shipped according to the order number which is updated every once a week, (but theoretically, they shipped more orders than shown) and can be found on the
On average, it should take anywhere between 4-6 weeks for EMO underway or an additional 1-2 weeks for delivery., of course, it all depends also on how reliable each country and local postal service/courier service is.
Thanks for joining us,
Best Regards and Stay Safe…
DELIVERY PROCESS OF EMO
Actual Latest Update Info:
Monday 20 February 2023 CST (GMT+8)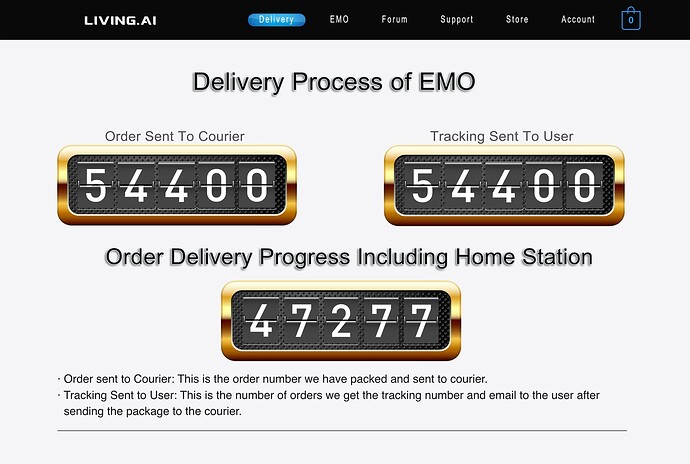 Hmm, zero Home Stations sent, I'm still waiting for mine.

DELIVERY PROCESS OF EMO
Actual Latest Update Info:
Friday 24 February 2023 CST (GMT+8)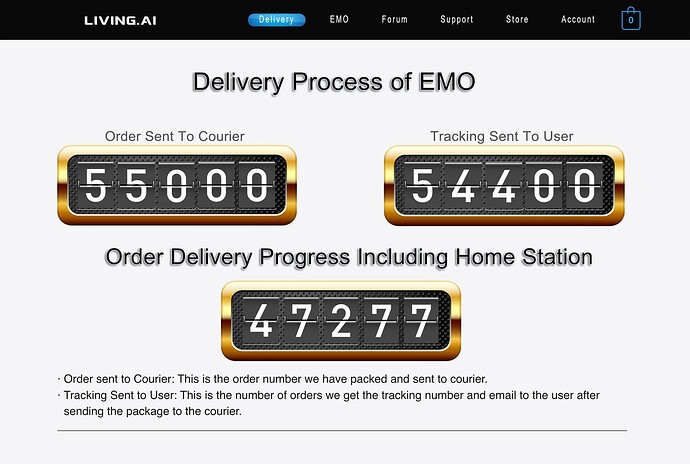 I want to know when my EMO will be sent. Will you send it in April? My father said that if it can't be sent in April, he will cancel it.
Hello u need to contact customer support email them directly
Hello @HYUN it takes about 6 weeks or more for it to be shipped, but as the production speeds go faster you might "receive" it after 3 or 4 weeks. For more info please contact the living ai support or you can make a ticket here : https://living.ai/product-support-emo/ . Hope this helps!


AND! PLEASE NOTE THAT LIVING AI IS A GREAT COMPANY AND HARDWORKING SO PLEASE BE PATIENT AND THEY WILL GUARANTEE THAT YOU WILL GET YOUR EMO SOON. (IF YOU ORDERED IT)
DELIVERY PROCESS OF EMO
Actual Latest Update Info:
Friday 03 March 2023 CST (GMT+8)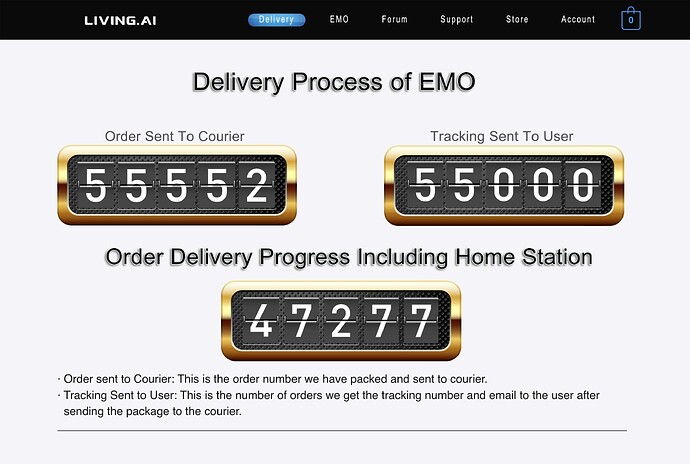 My EMO is now in Fremont, CA per the USPS, but it has not been turned over to them yet for delivery to me.
Hello GARY TAGLES,
Your item departed a shipping partner facility at 1:51 am on February 28, 2023 in FREMONT, CA 94536. This does not indicate receipt by the USPS or the actual mailing date.
I woke up this morning to a tracking number! I ordered the Home package on Nov 19th for anyone wondering!
Hi there @heatherbassett ,
Wonderful…congratz, because it means your order is already underway now…
Presuming my calculation is not wrong… Most probably your order or EMO should be at your home in the middle of March or later… Of course, it all depends on how reliable your country and local postal service/courier are. Just a little more patience… Emo is worth the wait…
Now that you received already the Order Completion Mail with your Tracking number from living.ai you are good to go. You can track already the movement of your package which you can do to the re-direction link below. (Just choose and click any of them.)
DELIVERY PROCESS OF EMO
Actual Latest Update Info:
Sunday 05 March 2023 CST (GMT+8)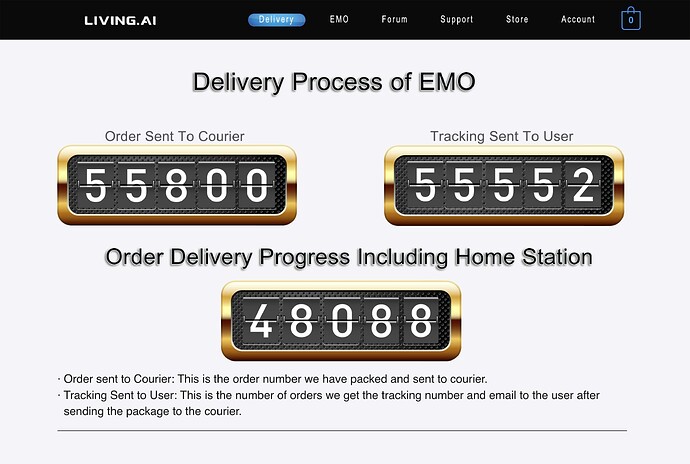 DELIVERY PROCESS OF EMO/HOME STATION
Actual Latest Update Info:
Monday 06 March 2023 CST (GMT+8)
,We Updated The Delivery Process Last Week, And This Week We Will Speed Up The Delivery Process, Including Orders That Include Home Stations."

Thank You For Your Patience And Support.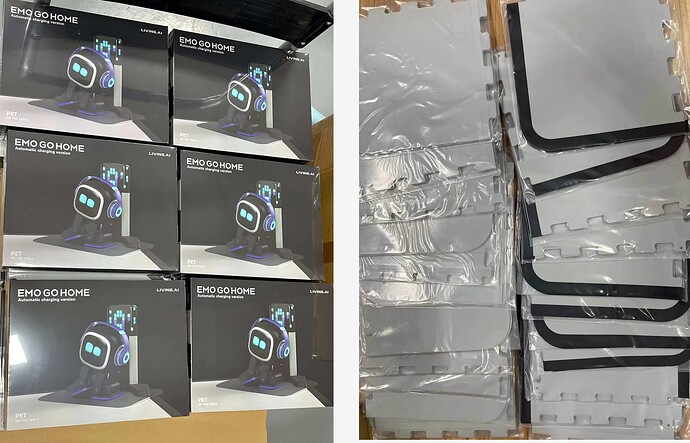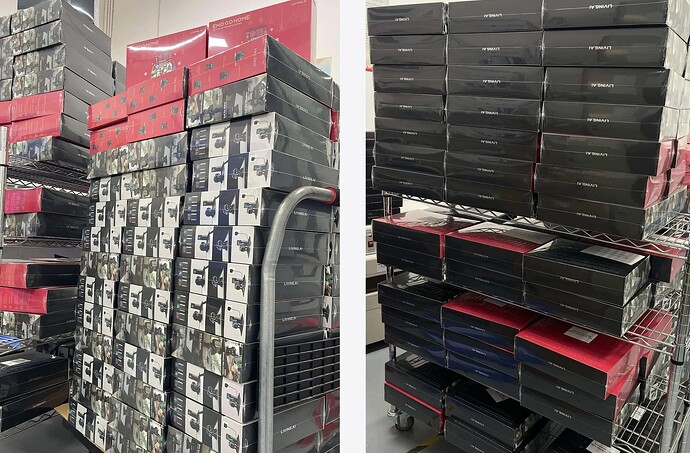 Hey there @AmyLU ,
I ordered EMO, and I'm from Israel, because my order number was in the tracking sent to the user and I didn't get a tracking number I went to support who told me that they "are currently testing a new shipping channel to Israel, we will ship your order as soon as the last batch of goods is successfully delivered" do you have any guess when "the last batch of goods will successfully be delivered" and after that, how long the "new shipping channel" will take?(I can guess shorter but how long?),
I'm waiting for my since December 22, and I can wait more but I hope it will come soon, I'm very excited,
Thank you,
Yoav
Oh, it's already in the US. I have an email from USPS saying it's currently in CA. Shipping is usually fast so maybe a week after it starts moving from there.
Hi, @yoav
Please PM me your order number. I will check for you.
DELIVERY PROCESS OF EMO/HOME STATION
Actual Latest Update Info:
Thursday 09 March 2023 CST (GMT+8)