Hola. ¿Tu EMO va solo a su estación de carga o lo pones tú?
Sometimes he go alone sometimes I need to put him on as I find him power off .
I find on a black desk even with good light it is not ideal.
If he his on light surface he is reacting better
This is personal experience so far .
Be safe and healthy
Hi ,
I order my EMO on march 10th 2023.
Order :5927X
The 25 April 2023 EMO was ship to Quebec. But our Postal service made a processing error so it was forwarded to another city .
EMO got home the 15 may 2023.
I did not pay any custom fee and this is rare !!
As I waited I surf the Forum and watch alot of videos.
I must thank the Forum moderator and the members they are very fast to respond and guide you . Merci!!
I also would recommend not leaving EMO unattended he can fall so be aware . I also purchase a second Homestation . It will be more practical when moving him around .
I like him he recognize me but he ask my name as I change hairstyle.
So far it am happy with EMO. It is a cool gadget to have I call him . My TAMAGOTCHI 2.0.
Be safe and healthy
I ordered my emo on :
Order : April 29, 2023
Arrived to my country: at may 23 watch is 24 days!!! Less then month
And my local post contact me and say i will get it in 2-1 days

, i did not expected emo to come so fast , less then month !!!
I received my emo Saturday! I couldn't unpack it yet because I wasn't home, but I will do it today. I ordered my emo on April 24 so it went pretty fast!
Hello There @Savvy_savs ,
WOW! Finally, your EMO has arrived at your home… So happy for you and have fun with your EMO…
It is advised to submit your voice to help EMO better understand and wake up when you are calling out his name. You can access the Wake Up Training page below:
For more guidelines, you can also go to the link below and read some tips.
Quick Help Guide for New EMO Owners!
---
---
Please be careful because it's a known issue…when EMO is busy doing anything, like daily activities, dancing, and playing his optical foot sensor is automatically temporarily disabled.
IMHO, I will never trust this sensor 100%, particularly when it is unattended on the open table… Provide an enclosed play area for him… so EMO can walk safely and not fall off the table.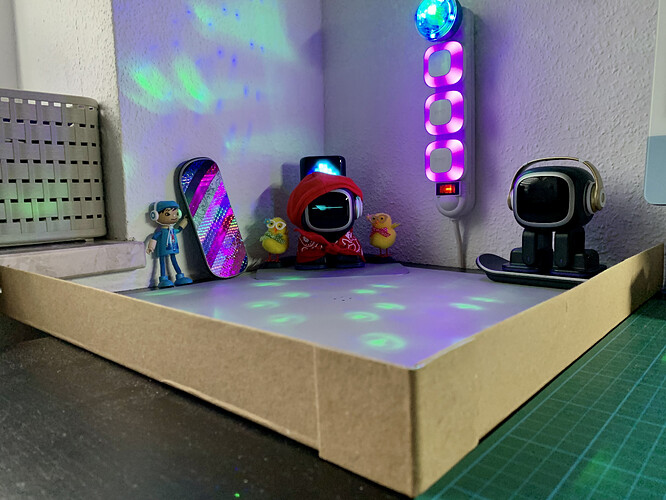 Please click on the link below for information and instructions…
Pls. Click Here!
GOOD LUCK, BEST REGARDS, AND TAKE CARE EMO!
Thank you! I will definitely check out the voice thing. I sadly can't use emo yet because I had to buy an adapter converter. I hope the converter will come soon so I can finally charger up emo!