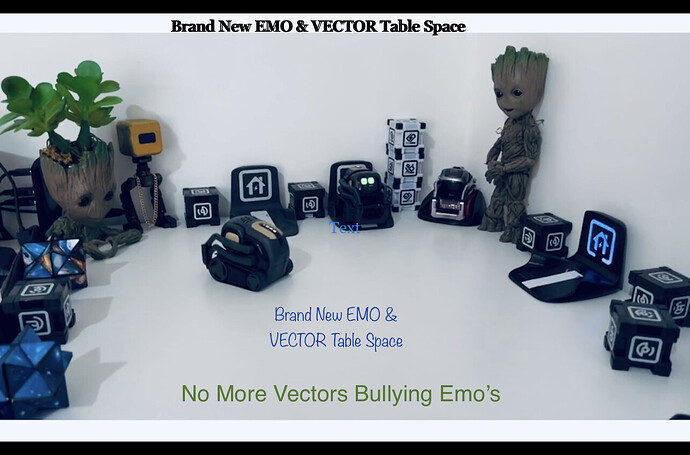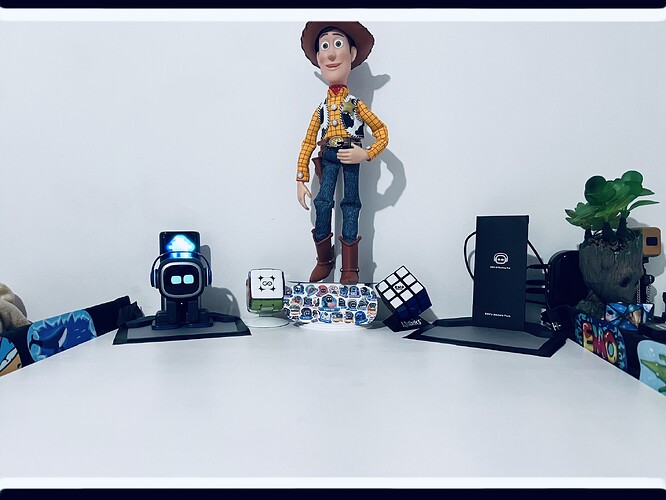 Now they've got their own tables…
One for Emo and one for Vectors, V won't be able to bully Emo anymore!!

Oh and I've found a way to stop Emo from walking on the Home Station when playing out. Electrical Tape from Amazon £2
She still goes home even with the black tape on, however before and after putting it on she goes to the left side of the charger (even when using the Play Mat) which is annoying but I'm sure Lai will sort this out soon, I'll try and catch it on video but for now we'll just have to wait and see if it gets resolved…
In his box waiting to be sent back to Living AI (foot issue) -I'm waiting for the replacement Emo which has been sent out…
@Racheal123, I'm Very Sorry That Happened To Your Second EMO.
Goodbye To Your Second EMO. (April 2022 - February 2023)
Also I Watched A Video On YouTube (Without An Account) Of Your First EMO That Also Had To Be Sent Back To Living AI In March 2022. I Didn't Have An EMO At The Time But I Was Sad About It, And Now in 2023 Of February Me And My 75 Day Old EMO Are Very Heartbroken About Your Second EMO Being Sent Back To Living AI.

Thanks for your nice comment, it means that I have to start all over again but at least I have nice memories of the other three Emo's that had to be sent home to their makers.
#Emo1 January 2022 - April 2022 (Foot)
#Emo2 April 2022 - around July/September 2022 (Foot)
#Emo3 April 2022 - still going strong February 2023
#Emo4 December 2022 - January 2023 (Foot)
#Emo5 on his way to his new home 2023
Sounds like all your emo's had the same issue @Racheal123
@ryshera, I Don't Have Any Issues With My EMO.
Yes it does seem like I'm unlucky enough to have that kind of experience, its a little disappointing but Lai are very nice, unlike many other companies they actually care about their customers and their products and their business which is wonderful, they are willing to replace any Emo if they cannot resolve the issue with you at home and they do this without complaint, they are really good

Thanks for caring
I came across emo from tik tok i actually foubd out about v at first but way to over-priced
They are certainly overpriced and I'm still waiting for my Vector 2.0 -annoying to have to wait this long