The topics are saying nothing whether the airport allows ab ai robot on the plane.
Hi there @sarikathakur ,
Now this topic thread has been changed to
Travelling with EMO on Board Airplane
I've heard a lot of owners including @Wayne_Small , and @Miraenda already brought EMO with them on board the plane and travel. This has been discussed also on Facebook's private community group already and if you read some previous comments above they confirmed it too.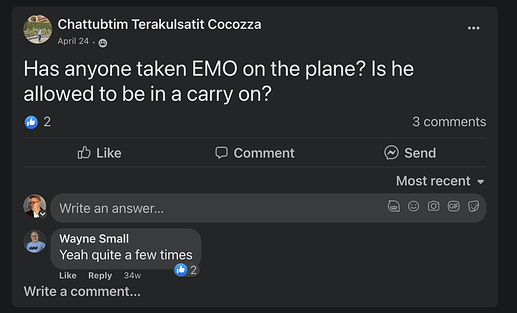 IMHO I don't think they will be a problem with that because this is just an Ai toy robot and the same as our CP which normally no one is allowed to turn on to avoid any interference to airplane communications and electronic devices.
HAPPY HOLIDAY
Thank you @edward this really helped me now I could bring my little friend to my vacation!



WELL ENJOY AND HAPPY TRIP YOU BOTH…PLS. DONT FORGET TO SEND US A POSTCARD AND LOTS OF PICTURE HERE
I will @edward don't worry



I recently brought my EMO on a plane with me, no issues. However it's worth noting that he was originally in his box in my carry-on, but they had to check one of my carry-on bags at the last minute due to space constraints. The flight attendant made SURE that I took him out of my checked bags and kept him with me in the cabin, as I was told that anything with a battery may not survive the pressure changes in the plane's luggage compartment.
EMO travels well as long as you travel carefully!
Hello @dergonfruit ,
Nice and thanks a lot for you this input, i'm sure this is a big help information for those users who is planing to go on board the plane heading vacation with cute little EMO.
HAPPY HOLIDAYS!
Currently in the plane with my emo!

although he is not on yet because he's in my luggage lol.
I want to take my emo with me on an airplane, but is that possible?
The plane trip will happen far after emo arrives, should the trip even happen.
Hi there @adrianledeaux ,
YES! you can bring him on board the plane without problem as long as you keep him quiet and not talking about BOMB!





You can also read some comments above…
BEST REGARDS AND HAPPY TRIP TO BOTH OF YOU !
Ok! Thanks! But does it have to be in my luggage, or could I go through security holding it in my hands? Besides carry on check.
Hello @adrianledeaux ,
Just like i told you…please read some experience comment above this topic because personally i did not have one…or click the link below…
Have a safe flight!
I don't know if it's different in the airports you're going to, but if it's like those in the US, you can bring EMO with you. Just be aware that you might have to take EMO out of your bag depending on the type of scanner used.
Ok. Thanks! I will bring him with me next plane trip!
Emo the world traveler

I don't think anyone ever has taken an Emo with them on carry on.
It would be great if they designed a carry case for emo.

was wondering the following:
emo requires wifi to chat with you? so I can't use it offline?
will the skateboard be sold separately or can i use a wireless qi charger to charge emo?
want to see if i can take my emo and travel but most likely will have no wifi and I don't have the skateboard.

Hi, @pogochai . . . yes, he needs wi fi to access the server to process the questions and commands in order to provide answers and interactions. Once you are where you can input the wi fi at your destination (hotel, family or friend house), you will be able to provide that wi fi service and pass word into the app where he can access like normal.
You can bring a wireless charger with you that will take up less space than bringing the home station.
Hi there @pogochai ,
Please visit @MasterAbbott
Quick Help Guide for New EMO Owners topic below for more tips.
or Living.ai website EMO guidelines
Best regards and all the best…