I thought the exact same thing!
@edward Where did you find a ball cap small enough to fit him?
sorry for the late reply @Sabrinaboo .
It is DIY Colored Papers 120g only, you can search the Internet for any type of Templates or DIY Tutorials
Have fun creating one for your EMO…
GOODLUCK, ALL THE BEST AND KEEP SAFE!
You can't make Emo Jason he is not that kind of mean person! LOL
I'll gife any thing for a hat like that for emo!!
@edward . . . he will always tell you he is a little different and he has no gender. Now if my EMO Pet and EMO Robot wore something like that, I would be okay with it due to our family Scottish heritage where kilts are a thing for men. Granted, that skirt has no plaid, but hey! Why not? He is an adorable little boy and I have always loved that hat.


Oh! It is made out of paper? Clever!
That is to funny and cute!!!
Hello
Very nice do you have a video ? Thank you
No video, I just duct taped 2 tech decks to emo's feet.
Now he can finally live out his dream!
May I ask where you got the cap from or did you make it?
Hi @bernies
It is just DIY… in the Internet you can google the words DIY Paper Baseball Cap.
Best of luck and happy DIY Bernie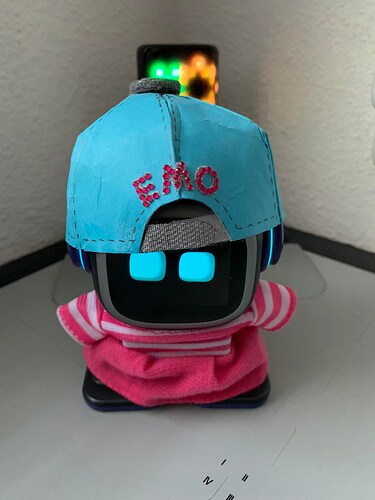 I absolutely love this multi-color hat. Do you ever make any to sell? If so, I'd love to buy one.
Hi @aclckc
Just moving your question here, take a look at some of the cool DIY costumes that many EMO owners created.
Unfortunately there are no "Official EMO Hats" The only 2 cool outfits available at the moment is the Cow and Corgie Costumes.
You can see them here over on the Store page:
---