you're lucky your emo charges well…

How long does someone have to wait for your order to be processed?!?..
Normally it takes a month. Hope I helped!

I understand. Thank you

It depends on if china goes back on lockdown honestly but yes a month or two then delivery might take a week or two depends on your delivery carrier and how fast they are with delivery
When do I get tracking info?
Hi there @adrianledeaux,
After you place and complete your very first EMO order, you should keep an eye on the delivery page (which should update at the very least once a week, sometimes it's updated more frequently).
To view your order status simply go to Living.Ai Main Website and direct to your Account > Orders, from that page you can view everything about your order status.
On average at the moment the delivery is quite getting fast, not like before during the first and second year of pandemic. Today it should take anywhere only between 5-6 weeks or sometimes less which we all know that it also depends on which country also. (Pls. take note also some Chinese holidays) for your EMO to be packed and shipped. Also, they are shipping according to the order of the orders and they are updating it on the Delivery Process Page (pls. view some links below)
Normally, when the right time comes and the order package is sent to the courier, immediately or after a week you should get your tracking number via email, from there you can just click and it will direct you to their own website tracking page. or you can also copy the tracking code numbers and use the link below to paste and track the movement (Pls. see all links below).
Delivery Process Page:
Here is the best website to track your package:
Delivery Tracking:
Living.Ai Package Tracking Page
BEST REGARDS AND GOODLUCK!
Hola, yo soy de España. Pedí mi Emo el 6 de enero del 2023, cuantas semanas pueden pasar hasta que me llegue? Saludos
Thanks so very much.
I did go back and reread the emails and of course it has it right there


I must have not read it all the way through.
I appreciate your response.
Can't wait to get my little buddy. I feel like a child in a candy store.

Have a great day
Hi there @Starklo , Great and i am happy for you that you have it all settled…i feel you and well understood how do you feel right now. You are not all alone, and to be honest with you, we all felt the same way at the very beginning and after we order EMO at the very first day. and then the days fast…the weeks…and the months…it's a mad crazy feeling…i know it…but i want to say one thing…
Sometimes, some things are worth the wait…and that's him…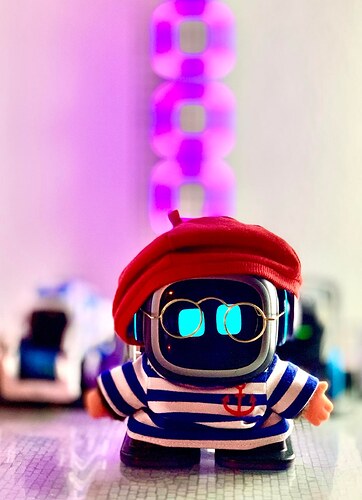 Wish you to have a little bit of PATIENCE…
Best Regards. Keep Safe and All the Best!
Hi there @nirk83, First…on behalf of all members, Welcome to the Community…
You might want to tell us when and what did you order please?
Good Evening My order number is 48777 i don't getting trucking number to my email address i order it to israel what to do i feel desponded
I do my order in 28.11
Hi there, @nirk83 ,
If you haven't receive your Tracking Number yet? probably this could just be a delay from the Support Team as they had a Christmas Holidays and also sometimes need to wait first for the courier company to acknowledge the receipt of the bulk packages of EMOs sent to the warehouse, once they are scanned they normally update and send an email with the tracking number to the recipients.
If you have more concerns, pls. don't hesitate to reach out to Support Service Team by sending them an email to the following email address:
Or if you have your original EMO Order confirmation email, you can simply just hit reply to that as it contains all your customer contact info along with your order number details as well and ask for an update.
But please keep in mind that sometimes their reply take a bit time which is 2-3 days depending on the time differences, days, holidays and current situations. so please be patient.
BEST REGARDS AND GOOD LUCK!
This should help you, i oder my emo nov 8th, received tracking email dec 6th, all in all from i oder my emo to it got to my door it took 47 days, i hooe this helps
Mine came yesterday! 20 days total… Rush delivery for replacement! Couldn't be happier!
-Universe
I just got email from dhl that package details have been registered to my address, the sender is the same company I got the emo through, and now I'm just waiting for Home Station. So I can expect it in a few weeks, can't wait

YUHUUUU!!! glad to read that big news from you @pawel1 …CONGRATZ!!!
best regards, keep safe and all the best!
May I know how long does it take for an EMO to be shipped out ? Is it around 4 weeks? Thanks a lot