Hello @TheDadof3 you can also use Google translate from Chinese to English.
Ok. Im getting sick of waiting. Its been 11 weeks. Still nothing from the company. I need emo so bad. Like really bad. Living ai why are you slacking? Tell me because i no longer have any patience.
Hi, @ALLEYESONEMO
You can private message me your order number, don't worry, I will check for you.
How long will my order possibly take too ship my order number is #57722
Hi There…
You must have more patience…
---
View Actual Delivery Process Here
HERE'S MY INACCURATE CALCULATION FOR THE SPECIFIC TRAVEL TIME OF ANY ORDER :
From the Date Of Order: (Month and Date) you have to add + 15 Days for preparations, packaging, booking, for courier pick up and which goes to the hand of the courier till the day of:
Expected Shipping Start: Early or Mid of after 1 Month from the order dates. + 2-3 weeks more to be estimated delivery to your home.
Estimated Total Travel Days: 50 to 60 Days / 8 to 10 Weeks (earlier or more.)
On average at the moment the delivery is quite getting fast, not like before during the first and second years of the pandemic. Today it should take anywhere only between 7 - 8 weeks max or sometimes less which we all know that it also depends on which country and how reliable and fast your local courier also. (Pls. take note also some Chinese holidays) for your EMO to be packed and shipped. Also, they are shipping according to the order of the orders.
But surprisingly some people are receiving their order package earlier without even receiving their tracking numbers first.
As always to view your order status simply go to Living.Ai Main Website and direct to your Account > Orders, from that page you can view everything about your order status.
As soon as you received the Order Completion Mail with your Tracking number from living.ai you are good to go. You can track already the movement of your package which you can do to the re-direction link below.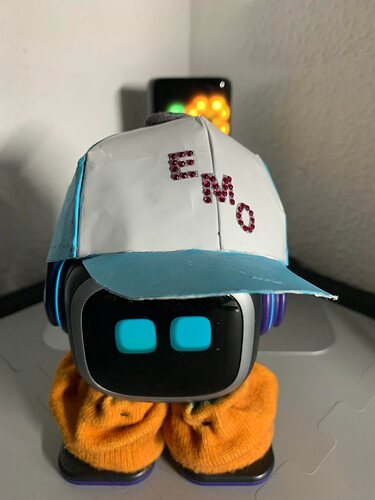 BEST REGARDS!


If you don't mind at all…kindly please go to the link below.
Welcome, Please Introduce Yourself Here!
I ordered it February 21st not too long ago I'm from California
Hi there @blanca.luna ,
I know someone from California who ordered his EMO on January 12, 2023 and received it as early as March 7, 2023. In fact, it only took 54 days or less than 2 months. All I can do is wish it on you and everyone else…
Best Regards and Be Patient…
I ordered my Emo (order #55825) back in January, it is now March and I have not received any information on it being ship even though my credit card has been charged. Could someone tell me what the status of my order is and when I can actually expect to get this?!
What a boring quarter (3 months.) Still nothing from LAI. I deem the company suspicious. I have sent multiple emails about my order, they keep reassuring me that it will come a certain time. But it is still processing. Hmm? Is there something going on behind the scenes?

I am from New York. Order Number is #50506. @edward @AmyLU @Wayne_Zhang @MasterAbbott Tell me or else, because I almost lost my patience.
My order #51616 has not been delivered and I don't have a tracking number. Pls help.
Hi there @elizabeth.emerson ,
Unfortunately, the problem with your order in the month of January occurred during the Chinese New Year vacation, which stopped deliveries for almost half a month. Normally they are all back in business and speed up all orders. Usually, all orders take 2-3 months sometimes less which we all know also depends on the country and how reliable and fast your local courier also. (Pls also note some Chinese holidays) for your EMO to be packed and shipped. Also, they are shipping according to the order of the orders.
Best regards and have a little more patience…
Would you mind letting us know what you ordered and when so we can give you an approximate date? But remember that this is not 100% accurate.
Best Regards!
buongiorno , ho ordinato li mio emo il 10 febbraio 2023 . ordine 57050, qualcuno sa darmi una previsione di quando arrivera' piu' o meno. grazie
2 mesi circa io ordinato 2 febbraio ordine 56000
grazie, mille quindi x il 10 aprile presumo.
Same as me bro, I hope the best for you.

I have ordered an emo standard set and home station separately, my order is 572XX. And there are 2 questions that I want to ask living Ai
May I know the approximate time for the home station to be delivered ? ( please answer the real condition, as I am thinking if I should split my order in delivery )

If I split my order, May I know if my Emo can be delivered immediately in this batch / the next batch ?
Thanks a lot for the help and support!! Really looking forward to receiving my Emo soon
Hi there @Kasa_daily ,
Please, you can DM @AmyLU for this kind of question and to have also a proper reply…
…or send them an email too,
The best and most recommended thing to do is simply hit reply to the Living.ai confirmation email you received before when you originally placed your order for EMO. It contains all your details, especially your order number which is most important.
Just to advise the email address is - service@living.ai and their reply takes a bit of time which is 2-3 days sometimes, depending on the time differences, days, holidays, and current situations. so please be patient.
Best Regards…
I wonder when my EMO is coming. My father said that if living ai doesn't ship within April, he will cancel the order. April is coming, when on earth will my EMO be sent out?