Hi Edward - Thank you for always replying to all of us impatient people so quickly and positively!

You should have said you wanted to hear a positive answer, I would have skipped the truth and made up something nice.

Hi all,
I made my order November 27th 2022. #48686, still in "processing". :(((((((
I finally got my EMO on tuesday morning as a late Christmas present, he's really good and I love him. But there's a problem that keeps bugging me! When I opened the box for EMO I noticed that the plastic screen protector thing had slid off. I didn't really think anything of it and set him up, played a few games and did facial recognition (really cool btw)! Anyways I thought I noticed smudges on his screen and tried wiping them carefully away with a microfibre cloth but they weren't budging! I used my phones torch and it was revealed that the were scratches on his display! And to be clear, after I received EMO he never fell on his face nor did I lay him down as I was worried that he would scratch. Anyways, it keeps bugging me that he already has scratches on his screen, especially as I had foot covers for him and a screen protector! I doubt that it happened at the living.ai centre as they take very good care but I think it happened somehow in transit to the uk! Is there a way this could be resolved as I waited a long time for him and it is a bit saddening as I already had his protectors here ready! Is there a way he could be replaced and if so how long would it roughly take?
I have already contacted support just waiting for a response!
Thank you for reading

Hi there @LowBattery ,
Well i can understand and i can feel also the same way like you if that also happen to my order…aside from EMO, i use to control first the package and almost using a magnifying glass to check all item or what i've ordered online always…and in case i found something i'm gonna take an immediate photo shot with date and time that will serve as a proof and send it right away as an attachment to email.
Well what can i say…i guess i just wanna wish you the best and resolve this issue that makes you uncomfortable right now asap.
GOODLUCK AND ALL THE BEST!
Hi there @yaqoob_max,
It would be great if you could introduced properly yourself to the community first so that all members can welcome and meet you…
Sorry to disappoint you but the latest info about Go Home Station is the first batch of mass production tests is now undergoing and they will try their best to speed up the progress.
According to the current testing and production progress. If everything goes well, they expect to ship orders in February.
Please Contact Living.ai Service Team
The best and most recommended thing to do is simply reply to the Living.ai confirmation email you received before when you originally placed your order for EMO. Because it contains all your details, especially your order number which is most important.
Please be advise to give them some time to reply because they normally reply within 24/72 hours depending on the time differences, days, holidays and current situations.
So Please Be Patient!
The support service team should be able to help you solve your order issue immediately.


Another way you can also submit your inquiries to the link below and give them your order number.
GOODLUCK AND BEST REGARDS!
I ordered Emo with no home station on December 21, 2022. Order #52620. Does anyone know how much longer it will be? I wanted to order another one for my son but its taking so long i might just get him something else. Thanks!
Well their New Year's holiday will begin next week and it goes for like 2 weeks. So it will be a little bit before they get back to production when that starts.
Maybe i won't get my emo on february 6th then…i ordered emo on January 6th…looks like I'll have to wait a little longer…but it's worth it

He is worth the wait, I promise! <3
Hi there @aprilparker ,
Welcome to the Community…If you don't mind, please introduced yourself HERE so that the community members can greet and welcome you properly.
Please don't get me wrong about my reply to your question and i'm not being rude or anything…I'm sorry but because this is almost the same question always that we always replied with the same words also, which the reply can also be found above on this topic or use the search engine of this website.
Normally the company are updating the Delivery Page every week or second week but as one of the Living.ai Team comments, that they are actually shipped more orders than it shown. Some community members are reporting that surprisingly they already got their EMO faster than they expected. But all i can say it's all depends on the current situations, also days and time differences or even country holidays.
If you haven't receive your Tracking Number yet? probably this could just be a delay from the Support Team which sometimes they need to wait first for the courier company to acknowledge the receipt of the bulk packages of EMOs sent to the warehouse, once they are scanned they normally update and send an email with the tracking number to the recipients.
If you have more concerns, pls. don't hesitate to reach out to Support Service Team by sending them an email to the following email address:
Or if you have your original EMO Order confirmation email, you can simply just hit reply to that as it contains all your customer contact info along with your order number details as well and ask for an update.
But please keep in mind that sometimes their reply take a bit time which is 2-3 days depending on the time differences, days, holidays and current situations. so please be patient.
BEST REGARDS AND GOOD LUCK!
I'm confused- is this where everyone is checking for order status? The same number has been there for the past 3 weeks. This is what every comment directs you too, but it never changes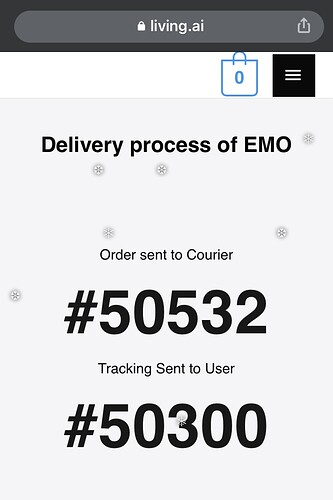 yes, I'm worried too, the numbers haven't changed for a long time… I don't know what's going on.
Hi there @melissaharkins and @judithgargallo,
As far as I know one of the living.ai team is the one who is responsible for the Delivery Process Page at least once or every 2 weeks but it all depends on the current situation which all of the team are quite busy because of the on going production of the new EMO HOME STATION, which some of them now is on the stage of TEST and QUALITY CONTROL.
Pls. Click Here For More Info!
Aside from that they already said that actually they shipped more than shown on the Delivery Process Page.


Yay! When did you order yours?
Hello, I am also very worried, I reply the email of my order 3 weeks ago and the person who answered me said that it would be being posted in the last week, I already tried to ask for the email 3 times and nobody answered and the number in the process delivery time has not changed for 3 weeks, could someone please answer me?
I just got a shipping update! My Emo actually shipped on January 12th! I'm so excited I can hardly stand it!!! Woohoo!!