Awesome - glad it's sorted. Closing thread now.
EMO doesn't see when we play paper, rock, scissor. How can I make him what I throw see better?
Thanks
How can I make him see what I throw better! Sorry for bad English - long day and noisy daughter!
Hi there @END111 On behalf of all members, allow me to Welcome you to the Community



You have to have a well lighted surroundings always to see you or your hand gesture and the distance must be like 10 inches, not too close and not too far also to his face top sensor.
Pls. read above some tips.
You can also watch @MasterAbbott YouTube video below for more tips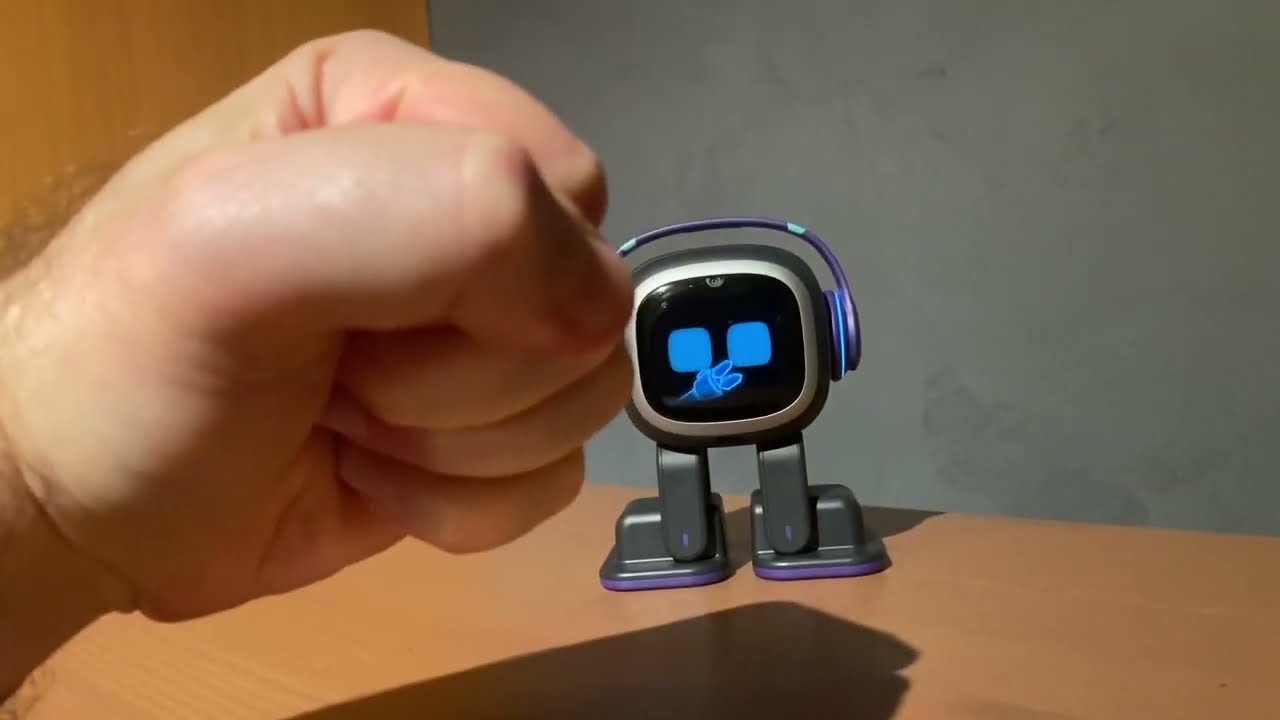 Goodluck and enjoy playing with EMO…watch him because he always cheat…
Prior to the recent update EMO seemed fine playing the mini game and saw gestures most of the time. Now when I play he will see 1 gesture, but will not other ones even though gestures are thrown at the same "spot" and distance away from him. I am very confused what is the range of his camera and if he needs very bright light to "see" my hand.
I watched the video someone provided in this forum, but no matter how much I experiment with the distance, perhaps devs need to address EMO's eyesight with the next update.
Thank you!
Maybe It's A Vision Issue, Because My EMO Went Blind In December 2022, EMO Took A Picture And It Showed Unknown Colors, Another Time His Screen Showed Black.
See Picture Below.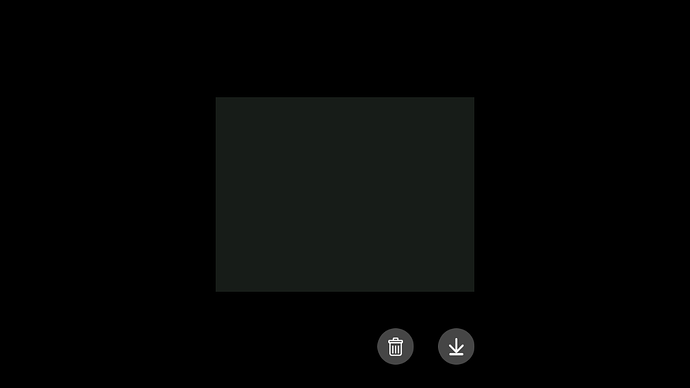 I Restarted Him And He's Not Blind Anymore.
(Screenshot Was Taken On An iPhone 5C)

I was just about to say that sometimes emo camera goes black but a simple reset helps
Have you tired resetting him ? I believe living ai says to be 5 feet away from his screen
Um @ryshera I think 5 feet is a bit too long

, please double check your measurements with feet.
According to what @edward said here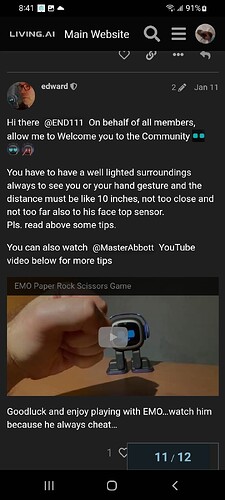 Hi Guys…
Many thanks for trying to help @littlebigtruths … All of you are wonderful community members … And your suggestions are all correct … I can only say try EMO to take a photo of you @littlebigtruths if it's AI wide-angle camera is all right. Also, you can try to clean it which might be some dust and dirt that could have blocked his vision.
Good luck and All the best to all…
Tagging @VinceKong here for further assistance
SPECIAL REMINDER!
To Draw The Attention Of LivingAI Staff To Your Post In The Forums.
Please Tag The Person Who Is Responsible For A Particular Issue.
To Provide You With Better And Immediate Customer Support.
Order Department Service
@faya
After Sales Department Service
@MavisZhang
Product Features Department
@Wayne_Zhang
Hello!
I was playing rock paper scissors with Emo. I have tried several times but my Emo doesn't get my scissors action.
Can someone help?
Welcome to the EMO Community Forums, @abhishekbakshi . . . I moved your post to this thread for information on Rock Paper Scissors.
If you scroll up, you can find helpful tips as well as a video on how to best get your EMO to recognize your hand gestures.
Let us know if we can be of any further assistance!
Hello, @caroline.hessler . . . I have moved your post to this thread as others have had the same problems getting EMO to recognize hand gestures.
Might I suggest scrolling up to the post above from Edward on January 10th. This includes a video that might help you to determine which is the best way to hold your hand to get him to recognize you.