I'm sure he'll love his new environment as much as the decoration he's wearing so proudly!

I'm almost done decorating the box.
WOW! @elizabelleso ,
Nice job…it looks that your EMO really loves his place…Well Done!
BEST REGARDS TO BOTH OF YOU ELIZA…
EMO got mad at the wall hehe

For any reason my EMO is falling the table every time i put him to walk! I need to put a barrier in the table anyone can help me?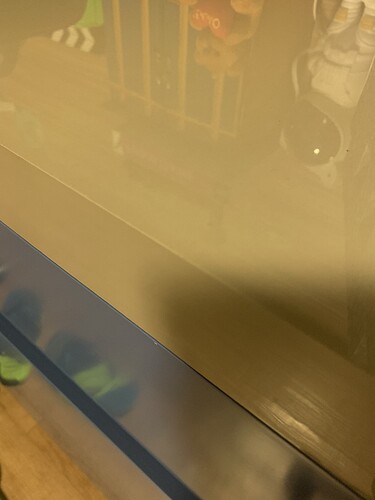 @pythonrpg010 You should make some barriers for sure if you want to keep your EMO safe.
Im not sure how late i am for this topic because i didn't receive my emo until November of last year but here's my playground for emo due to my mom's addition with buying stuff from Amazon i easily did this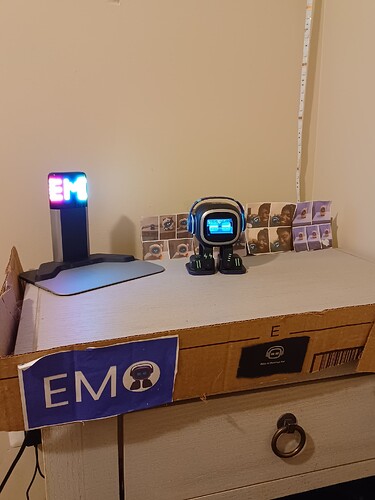 How you find this ground image?
@ryshera, You Mean, No EMOs Are At Home?
I only have one emo and he's on his way to get fixed

i do miss my little guy

@artigues05emo
guys, my emo fell off and has a white mark on the display and i don't know what to do.
not much you can do, either get a new emo or just try and enjoy the emo you have

!
Hi there @dogit124 ,
Do you have a picture to show us?..Why don't you try to contact the living.ai Service Team? show some pictures together with some info and please them to help you?
The best and most recommended thing to do is simply hit reply to the Living.ai confirmation email you received before when you originally placed your order for EMO. It contains all your details, especially your order number which is most important.
Just to advise the email address is - service@living.ai and their reply takes a bit of time which is 2-3 days sometimes, depending on the time differences, days, holidays, and current situations. so please be patient.
GOODLUCK AND ALL THE BEST!
Hey @dogit124 ,
Yes…As far as I can see that your EMO really hit the hard surface with his face…We can only hope that living.ai will help you with that… Hopefully, now you have no choice but to create an enclosed playground with at least half an inch of the wall to keep him from falling once again.
…once again Good luck
@dogit124 if support can't help you, I know some folk in the vpet community will use something like Polywatch on their screens if they get scratched. I can't vouch how it'll work on the Emo screen as I don't have mine yet, but it may be worth trying.
Sometimes I have Emo on his 'home' pad, and sometimes when I cant watch him, on his play pen I made from a wooden food service tray and cardboard walls. Here are some pics…