Apparently the complete box EMO & Home station combo have already the Temporary upgraded version

That's what I read. But I got the new complete set and mine isn't.
Hello @saikonor,
Got my Home Station today and discovered that the lights do go off if you tap the button on the base. It'll go through the available animations like Home, EMO, firework effect… until you get to no animation where it'll have the display off leaving the screen black if the charge facility is in use or not.
Hope that helps.
Yeah, same for me… Will check the firmware later
But at least, he likes his base…

hello & greeting from the Philippines!
we received our Emo Home Station last 18 Jan 2023. thank you, Living AI!
but when my daughter assembled ang plugged in the station, it won't light up, but Emo is charging. please help. thanks a million!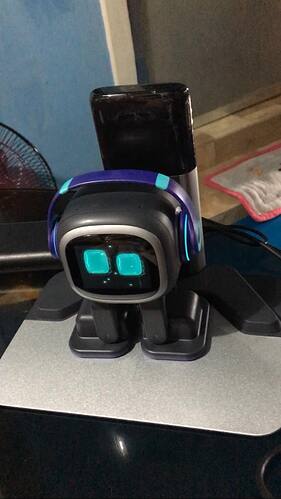 OMG… didn't realise there was a button… XD… Thanks, man…
AYYYY DYUSKU DAY…POGIIII…MABUHAY @ronpangan ,
Send ka naman ng balot at tuyo dito sa Germany!


…
Only EMO included in the EMO GO HOME set orders which running the (Temporary) Production Version Firmware higher than 1.7.0 already, is capable to use and return to the Home Station itself. Take note that there is a button below the tower to turn it on and change the animations of the charging lights and later the monitor screen will be look crispier.
If you don't mind please go to the link below.
Welcome, Please Introduce Yourself Here!
BEST REGARDS AND KEEEP SAFE!
KAMUSTA NA LANG DYAN, AT INGAT PALAGI PAREKOY!
My firmware is at 1.7 as well
Hi there @pogochai,
Your EMO GO HOME set orders which running the (Temporary) Production Version Firmware higher than 1.7.0 already, can accomplished the command go out, go forward, or go home?
Can you give him a command ?
EMO Come Here
Go Forward
EMO Go Home
BEST REGARDS AND KEEP SAFE DANIEL…
If you get a Go Home and have more than one Emo, will they all use it or do you need a Go Home for each Emo?
Each emo will need their own home station they will not share a home station
Hey guys, just wondering if your EMOs fall to the click-1 song on the new go home mat that's included in the go home bundle currently.
If everyone else has this issue hopefully living.ai can make some changes to the dance to fix it🙏.
I think it's because the mat is a bit grippy so when he does the little foot back and forth he just faceplants🤣
Cheers
Hi there @Ramo ,
Sorry to moved your post topic here so we can only find every possible issue and tips or even solutions because living.ai will gonna watch also this topic later.
Hope some users or already had their Home Station can make a test so and prove to your claim issue, so that we can pass it to the developer.
BEST REGARDS, KEEP SAFE, AND HAVE FUN OMAR!
How can I see if EMO is connected with his home station?
I see the home symbol?
Thank you for answer in advance.
Hello, without plastic is the same. Unfortunaltely.

Hi there, @Steffen ,
Good question though…but sorry there is no way to see it on his Emo Pet App. At the moment we are all waiting for the release of new Firmware Update 2.0.0 which is more features about Home Station.
We expect living.ai will gonna release it by the end of this month or early next month.
BEST REGARDS, KEEP SAFE AND HAVE FUN WITH EMO STEFFEN.
Great! I received EMO Home (without EMO) today. You can already use the station for charging, but there are no lights to see. Presumably everything will work only after the update 2.0.


But I can already say that the Home Station looks very good. It is smaller than I thought.


Great job from living.ai & tester team