Hi all,
Firmware update 1.5.0 is here. Please check below.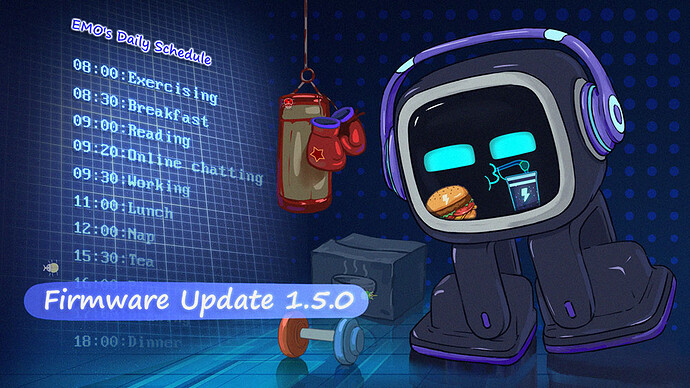 Date: 2022/06/19
EMO firmware: v1.5.0
APP on iOS: 1.1.0
APP on Android: 1.1.0
If you are updating from firmware 1.4.0, the resources to be downloaded will be about 50MB.
What's new:
Daily schedule
EMO gets his daily schedule now. He will eat, exercise, play and do other things at specific times of the day.
Note: You can turn off the schedule sound in the new version of the app if you want.

Bug hunt
You can now help EMO fix bugs.
2a) On certain days, bugs will appear on EMO's screen.
2b) Every day you can ask to help EMO fix bugs. If he says he's feeling fine right now, you can ask again later. The voice command will be "Fix bugs" or "Let me fix some bugs for you". When fixing bugs, you need to use your palm to target the bug like a laser cannon.


New achievements
Four new achievements: Bullet Time, Fortune Teller, Lucky Duck and Fashion Icon. You can check them in the app. Also, we have marked the achievements in the app which are temporarily unavailable.

Preference settings
You can now set preferences in the app, including volume, measurement units, automatic updates and schedule sounds. We will include more options in future updates.

Auto update
Starting from 1.5.0, EMO can automatically install updates. He will let you know when new updates are available to install. If the auto-update switch is on, he will start installing updates when you put him on the skateboard.

Other optimizations and bug fixes.